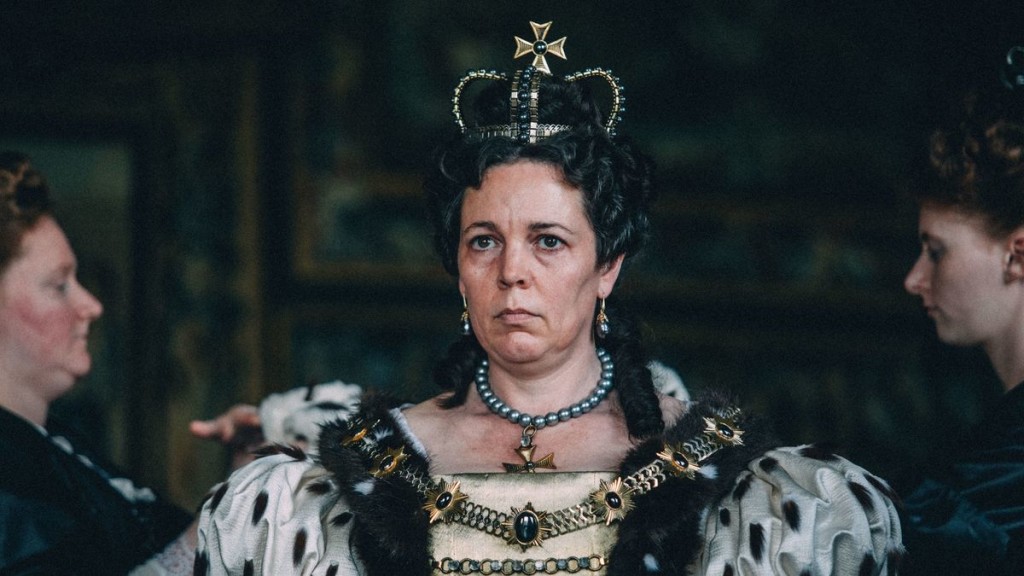 Olivia Coleman won an Oscar for her work in "The Favourite" (HBO, 8 p.m.) alongside Rachel Weisz and Emma Stone. Yorgos Lanthimos' black comedy makes its premium cable debut. Also new tonight is the 2018 vigilante flick "Peppermint" (Showtime, 9 p.m.), starring Jennifer Garner.
The second in a series of films adapting the work of "Flowers in the Attic" author, "V.C. Andrews' Dark Angel" (Lifetime, 8 p.m.) follows the life of young Heaven Casteel (Annalise Basso) living in Boston with her grandparents, Jason Priestly and Kelly Rutherford.
In the other made-for-TV movie tonight, "Love and Sunshine" (Hallmark, 9 p.m.), Danica McKellar plays a garden center owner who fosters a retired service dog, whose owner (Mark Deklin) is the other half of this romance.
But there's also another chapter in "Descendants 3" (Disney, 8 p.m.).
The 2019 Pro Football Hall of Fame Enshrinement Ceremony (ESPN, 7 p.m.), inducts Champ Bailey, Pat Bowlen, Tony Gonzalez, Ty Law, Kevin Mawae, Ed Reed, Johnny Robinson and Gil Brandt.
In the first of two episodes of "Dr. Jeff: Rocky Mountain Vet" (Animal Planet, 8 and 9 p.m.), the vet marks 30 years in the business with an episode that looks back at some of his work.
The season ends for "Million Dollar Mile" (CBS, 8 p.m.), which will likely also be its series finale since the show was shifted to lowly Saturday a couple of weeks into its run.
How to tell it's a bad night of TV: Prime time boxing (Fox, 8 p.m.).
The seventh day of Shark Week has "Sharks Gone Wild 2" (Discovery, 8 p.m.) and "Shark Week Immersion" (Discovery, 9 p.m.).
The series "Wild Singapore" (BBC, 9 p.m.) proves that David Attenborough's investigations into wildlife needn't be outside of city limits.
There are mother problems on "Iyanla: Fix My Life" (OWN, 9 p.m.).
"Restaurant: Impossible" (Food, 9 p.m.) helps a Caribbean joint in Grand Rapids and a Mexican restaurant in New Hampshire at 10 p.m.
"The Vanilla Ice Project" (DIY, 9 p.m.) tries to fix up the kitchen. Word to your mother.
A woman goes for a dress that's twice her budget in "Say Yes to the Dress" (TLC, 9 p.m.).
It's Marlon Brando all day on Turner Classic Movies, in "Julius Caesar" (6 a.m.), "Reflections in a Golden Eye" (8 a.m.), "The Fugitive Kind" (10 a.m.), "Morituri" (12:15 p.m.), "A Streetcar Named Desire" (5:45 p.m.), "On the Waterfront" (8 p.m.), "The Wild One" (10 p.m.), "Guys and Dolls" (11:30 p.m.), "A Dry White Season" (2:15 a.m.) and "The Freshman" (4:15 a.m.).
Baseball includes Boston at Yankees (Fox Sports 1, 1 p.m.), Milwaukee at Cubs (MLB, 4 p.m.), Angels at Cleveland (Fox Sports 1, 7 p.m.) and San Diego at Dodgers (MLB, 9 p.m.).
There is third round play in the Women's British Open (Golf, 7 a.m.; NBC, 11 a.m.) and in the Wyndham Championship (Golf, 1 p.m.; CBS, 3 p.m.).
Soccer has Ireland at the U.S. (ESPN2, 10 p.m.) in a women's international friendly.
In WNBA action, it's Las Vegas at Dallas (NBA, 8 p.m.).
Auto racing includes NASCAR's Zippo 200 (NBC, 3:30 p.m.) and the drag racing Saturday Nitro Seattle (Fox Sports 1, 5 p.m.).
The Pan American Games (ESPNU, 11 a.m.) reach Day 11.
It's Day 4 of the U.S. swimming championships (NBC, 2 p.m.).
And it's Day 3 of the X Games Minneapolis (ABC, 1 p.m.; ESPN2, 7 p.m.).
The Head and the Heart and Benjamin Booker perform on a 2017 edition of "Austin City Limits" (PBS, 11 p.m., check local listings).
The Idris Elba-hosted "Saturday Night Live" (NBC, 11:30 p.m.) with Khalid, is rerun.