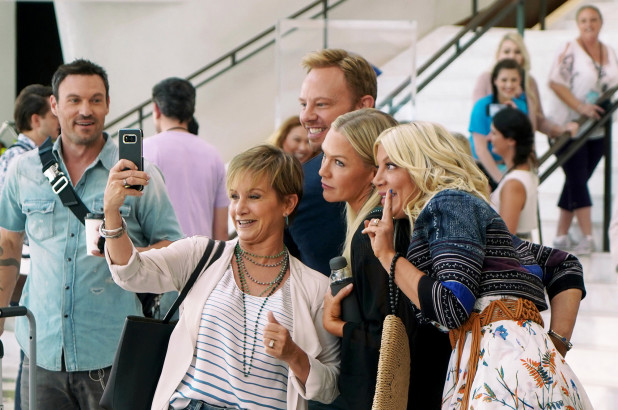 It's useless to try to urge the former teen actors (and those who pretended to be teens) in the bad 1990s series "Beverly Hills 90210" to redo the series 20 years later, but here they are on something annoyingly called "BH90210" (Fox, 9 p.m.) portraying fictionalized versions of themselves as middle-aged actors of varying life successes considering whether to have a reunion for said show. It begins with a drunken meeting at a Las Vegas fan convention and will continue for five more episodes. Jennie Garth, Tori Spelling, Jason Priestly and Brian Austin Green take part. Their acting doesn't seem to have improved all these years later. Luke Perry, who died in March at 52 is given a brief tribute and Shannen Doherty is only glimpsed fleetingly. It's not good.
The least publicized new scripted summer series on broadcast TV is the British import "Bulletproof" (CW, 8 p.m.), about a pair of detectives fighting crime in East London. Noel Clarke and Ashley Walters star.
It's paired with the new "Hypnotize Me" (CW, 9 p.m.), a game show in which contestants compete while hypnotized. Sounds illegal. Taye Diggs hosts.
Coupling is rewarded on the first season finale of "Love Island" (CBS, 8 p.m.), in which the winning couple is awarded $100,000 in the surprisingly successful nightly romance series.
Also ending its first season with two episodes, the sharp comedy "Florida Girls" (Pop, 10:30 p.m.).
It's not Monty, but a 70-pound python is featured in a special "Queen of the Pythons" (Smithsonian, 8 p.m.).
On "Suits" (USA, 9 p.m.), Harvey and Donna's relationship is tested.
Rifts mark the end of sophomore year on the season finale of "Grown-ish" (Freeform, 8 p.m.).
"Ancient Skies" (PBS, 8 p.m., check local listings) winds up its look at humanity's place in the universe.
Josh Gates goes to Jerusalem and Istanbul on "Expedition Unknown: Unearthed" (Discovery, 8 p.m.).
On "MasterChef" (Fox, 8 p.m.), the Top 10 cook at a race track.
Turner buys a building on "South Side" (Comedy Central, 10:30 p.m.).
Ashley resurfaces on "Southern Charm" (Bravo, 9 p.m.).
On "Big Brother" (CBS, 9 p.m.), Jack has nominated Jack and Jackson for eviction and now it's time for the veto competition.
Shareef's recovery is celebrated on "Basketball Wives" (VH1, 8 p.m.).
Saturn's rings are studied on "NOVA" (PBS 9 p.m.).
"Full Frontal with Samantha Bee" (TBS, 10:30 p.m.) will likely have something to say about the dark week.
On the new "Contact" (Discovery, 10 p.m.), new software depicts whether aliens have been to Earth.
Sag reunites with Val on "Krypton" (Syfy, 10 p.m.).
"The Strongest Man in History" (History, 10 p.m.) goes to Vegas.
A cold case is investigated on "The InBetween" (NBC, 10 p.m.).
"Snowfall" (FX, 10 p.m.) has been renewed for a fourth season.
Time for the debutante ball for first time authors on "Younger" (TV Land, 10 p.m.).
On "Pearson" (USA, 10 p.m.), the deputy mayor tries to grab some power.
Michael Che, Kirstie Alley, Chris D'Elia, Sherri Shepherd, Mark Duplass and Brooklyn Decker play "Match Game" (ABC, 10 p.m.).
James Stewart reigns over Turner Classic Movies today in "After the Thin Man" (6 a.m.), "No Time for Comedy" (8 a.m.), "The Strattom Story" (10 a.m.), "The Naked Spur" (noon), "The Man from Laramie" (2 p.m.), "The Mortal Storm" (4 p.m.), "The Shop Around the Corner" (6 p.m.), "Harvey" (8 p.m.), "Anatomy of a Murder" (10 p.m.), "The Spirit of St. Louis" (1 a.m.) and "Mr. Smith Goes to Washington" (3:30 a.m.). What no "Vertigo"?
Baseball includes Atlanta at Minnesota (MLB, 1 p.m.), Colorado at Houston (MLB, 4 p.m.), Milwaukee at Pittsburgh (ESPN, 7 p.m.) and Philadelphia at Arizona (MLB, 10 p.m.).
The Pan American Games (ESPNU, 9 a.m.) reach Day 16.
In the Little League playoffs, it's Georgia vs. South Carolina (ESPNews, 9 a.m.) with Virginia (3 p.m.) against the winner; and Louisiana vs. Texas West (ESPN, 1 p.m.).
Daytime Talk
Kelly Ripa and Ryan Seacrest: Milo Ventimiglia, Geena Davis, Mark Iacono, Lisa Rinna. The View: Vivica A. Fox (rerun). The Talk: Tiffany Haddish (rerun). Ellen DeGeneres: Bill Hader (rerun). Wendy Williams: Gary Owen. The Real: Aisha Hinds, O'Shea Jackson Jr. (rerun).
Late Talk
Stephen Colbert: Tiffany Haddish, Jared Harris, Smashing Pumpkins. Jimmy Kimmel: Josh Gad, Michael Mizanin, Chris Janson. Jimmy Fallon: Greg Kinnear, Phoebe Waller-Bridge, Big Sean. Seth Meyers: Amanda Seyfried, Sandra Bernhard, Storm Reid, Julian Dorio. James Corden: Joel McHale, Betty Gilpin. Carson Daly: Anna Chlumsky, Robert DeLong, King Keraun (rerun). Trevor Noah Sen. Michael Bennet, Natasha Lyonne. David Spade: Nevin Nealon, Christina Pazsitzky, Guy Braune. Conan O'Brien: Tig Notaro, Becky Lucas (rerun).