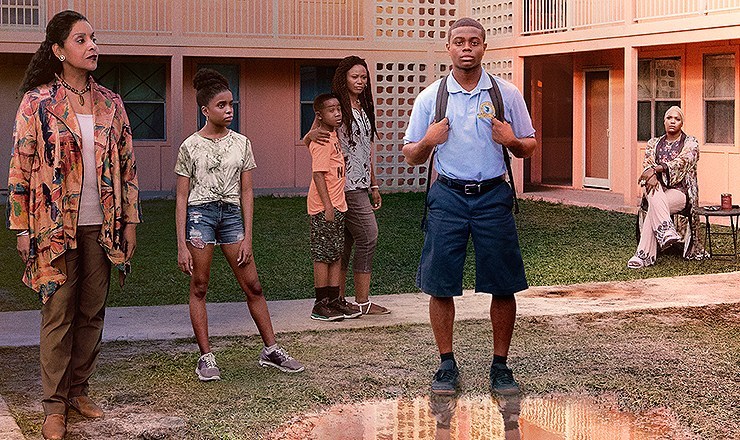 There are a lot of coming of age series around, but none quite as lyrical and sensitive as "David Makes Man" (OWN, 10 p.m.). That's likely because it's from Tarell Alvin McCraney, the Oscar-winning cowriter of "Moonlight," who creates a singular world in a south Florida setting, with a strong cast that includes Akili McDowell in the title role, as well as Alana Arenas, Nathanial Logan McIntyre and Travis Coles. It premieres after a new episode of "Queen Sugar" (OWN, 9 p.m.).
Make way for a new house party. Rapper Danny Brown hosts the slack new "Danny's House" (Viceland, 10 p.m.), welcoming friends and celebrities into a wood-paneled basement meant to look like his basement in Detroit (though it's not shot there). His first guest is timely — ASAP Rocky, recently freed from Swedish custody, in a segment taped before that incident, as well as comic Ron Funches.
The documentary "Alternate Endings: Six New Ways to Die in America" (HBO, 8 p.m.) looks instead at new ways Americans are considering the end of their life and how their funerals will be handled. One arranges for ashes to be shot up in space, for example.
A five-part docuseries "Happy Jail" (Netflix, streaming) follows the dancing life inside the Philippines detention center where they made that  famous group dance of "Thriller" in 2007.
A second season starts for the Indian gangster series "Sacred Games" (Netflix, streaming).
The season's first results from a live show come on "America's Got Talent" (NBC, 8 p.m.).
Having three people up for eviction this week — Cliff, Kat and Christie — ought to make the veto competition more interesting than usual on "Big Brother" (CBS, 8 p.m.).
A new "Full Frontal with Samantha Bee" (TBS, 10:30 p.m.) may be just what's needed.
Some information you may not know about Neptune, Uranus and Pluto are on "Nova" (PBS, 9 p.m., check local listings).
Not sure the Dead Sea Scrolls mystery will be solved on an episode of "Expedition Unknown: Unearthed" (Discovery, 8 p.m.).
There are one-month anniversaries on "Married at First Sight" (Lifetime, 8 p.m.).
The nine remaining contestants on "MasterChef" (Fox, 8 p.m.) learn unconventional plating.
The murder of a young teacher is investigated on "The InBetween" (NBC, 10 p.m.).
Shannen Doherty gets pulled into "BH90210" (Fox, 9 p.m.), the summer reboot that actually did OK on the ratings last week.
A season finale comes for "Card Sharks" (ABC, 9 p.m.).
TV's creepiest show "Hypnotize Me" (CW, 9 p.m.) returns for a second season.
The chaos of the 2014 "Neighbors" (FXX, 6 p.m.) runs alongside its 2016 sequel "Neighbors 2: Sorority Rising" (FXX, 8 p.m.).
The new Jordans are dropping on "South Side" (Comedy Central, 10:30 p.m.).
Cease has a 40th birthday party on the eighth season premiere of "Black Ink Crew: New York" (VH1, 9 p.m.).
Ashley thinks of crashing the party on "Southern Charm" (Bravo, 9 p.m.).
On "Suits" (USA, 9 p.m.), Mike picks a fight with Harvey.
Macklemore steps in on "Songland" (NBC, 9 p.m.).
On "Krypton" (Syfy, 10 pm.), Seg and company square off against General Zod.
Worst vacation yet: "When Monsters Attack" (Travel, 10 p.m.).
On "Younger" (TV Land, 10 p.m.), there is fallout from the Debutante Ball.
Alton confronts Franklin on "Snowfall" (FX 10 p.m.).
"Contact" (Discovery, 10 p.m.) finds a link between UFOs and earthquakes.
Keri's past returns to haunt her on "Pearson" (USA, 10 p.m.).
The American Revolution is fought again on "The Strongest Man in History" (History, 10 p.m.).
OG and Cece are at cross purposes on "Basketball Wives" (VH1, 8 p.m.).
Bae tries to save her marriage on "Black Ink Crew" (VH1, 9 p.m.).
Joel McHale, Mayim Bialik, Kal Penn, Sarah Chalke, Donald Faison and Bebe Neuwirth play "Match Game" (ABC, 10 p.m.).
Liv Ullman is star on Turner Classic Movies all day, with the documentary "Live & Ingmar" (8 p.m.) and four of the films she made with Ingmar Bergman, "Autumn Sonata" (9 p.m.), "Hour of the Wolf" (11:30 p.m.), "Persona" (1:15 a.m.) and "Scenes from a Marriage" (3 a.m.). Earlier, she's in "The Night Visitor" (6 a.m.), "Lost Horizon" (7:45 a.m.), "The Abdication" (10:15 a.m.), "Sandy's Bride" (noon), "The Emigrants" (2 p.m.) and "The New Land" (4:30 p.m.).
Baseball includes Boston at Cleveland (MLB, 1 p.m.), Tampa Bay at San Diego (MLB, 4 p.m.) and Chicago at Philadelphia (ESPN, 7 p.m.).
WNBA action has Seattle at Washington (CBS Sports, 8 p.m.) and Connecticut at Phoenix (ESPN2, 10 p.m.).
Golf's U.S. Amateur (Fox Sports 1, 4 p.m.) reaches its round of 64.
A final is played in the Little League Softball World Series (ESPN, 10 p.m.).
Daytime Talk
Kelly Ripa and Ryan Seacrest: Will Smith, Amy Poehler, DJ Khaled. The View: Elisabeth Hasselbeck (rerun). The Talk: Ron Howard, Diana-Maria Riva (rerun). Ellen DeGeneres: Seth Rogen, Charlize Theron, Ellen Page, Pink (rerun). Wendy Williams: Karen Huger (rerun). The Real: Kelly Rowland (rerun).
Late Talk
Stephen Colbert: Curtis "50 Cent" Jackson, Jillian Bell, Tori Kelly. Jimmy Kimmel: Jim Gaffigan, Dave Salmoni, Snoop Dogg. Jimmy Fallon: Ice Cube, Kieran Culkin, Alessia Cara, Juanes. Seth Meyers: Michael Che, Alison Brie, Torche, Nate Smith. James Corden: Anthony Anderson, Jared Harris, Smokey Robinson, Christian Finnegan. Carson Daly: Bridget Moynahan, Rayland Baxter, Leven Rambin (rerun). Trevor Noah: Bill de Blasio, Jada Pinkett Smith. David Spade: Chris Franjola, Ron Funches, Megan Gailey. Conan O'Brien: Kristen Bell, Jason Dohring, Enrico Colantoni, Ryan Hansen, Percy Daggs III, Francis Capra, Kirby Howell-Baptiste (rerun).