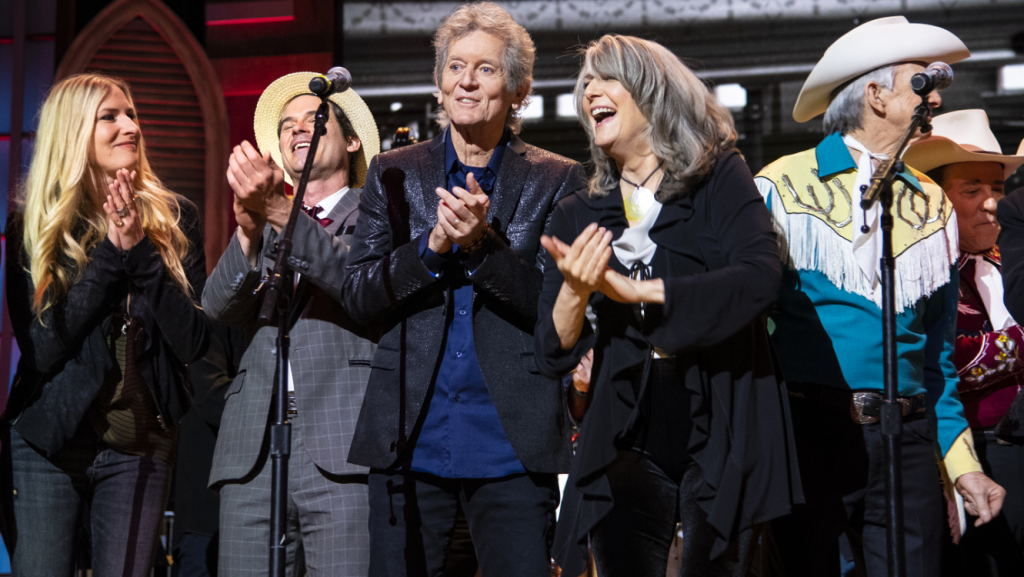 Before his eight part, 16-hour documentary opus "Country Music" begins next Sunday, Ken Burns hits on some of its major themes in a concert, "Country Music: Live at the Ryman" (PBS, 8 p.m., check local listings). Shot last March in Nashville's former home of the Grand Old Opry, it features Rosanne Cash, Dierks Bently, Marty Stuart, Dwight Yoakam, Rodney Crowell, Ricky Skaggs, Vince Gill, Connie Smith, Kathy Mattea, Rhiannon Giddens, Asleep at the Wheel and Riders in the Sky.
There's no crossover with the 2019 Black Girls Rock! Awards (BET, 8 p.m.), hosted by Niecy Nash. Performers include Common, India.Arie and Erykah Badu; honorees are Ciara, Regina King and H.E.R.
It's Rafael Nadal vs. Danlil Medvedev in the men's single's final at the U.S. Open (ESPN, 4 p.m.), preceded by the women's doubles final at 1 p.m.
The first Sunday Night Football of the season has Pittsburgh at New England (NBC, 8:20 p.m.). Earlier games include Washington at Philadelphia (Fox, 1 p.m.), Baltimore at Miami (CBS, 1 p.m.) and Giants at Dallas (Fox, 4 p.m.).
A meeting with another rich family considering selling its network to the Roys makes for another good episode of "Succession" (HBO, 9 p.m.).
Things keep going wrong for Noah on "The Affair" (Showtime, 9 p.m.), where he also sings Tom Petty in karaoke.
Logan has his motives exposed on "Fear the Walking Dead" (AMC, 9 p.m.).
"Big Brother" (CBS, 8 p.m.), now down to five, has to have its head of household competition.
Lester Holt moderates the prison reform discussion "Justice for All Town Hall" (MSNBC, 10 p.m.) from Sing Sing.
Dre remains in federal custody on "Power" (Starz, 8 p.m.); it's all discussed on "Power Confidential" (Starz, 9 p.m.).
Ernie tries recruiting in a new episode of "On Becoming a God in Central Florida" (Showtime, 10 p.m.).
"The Real Housewives of Potomac" (Bravo, 8 p.m.) has a party to launch a new perfume.
Jess and David try to buy an inn on "Chesapeake Shores" (Hallmark, 8 p.m.).
Tensions are high after the fire on "Serengeti" (Discovery, 8 p.m.).
"The Weekly" (FX, 10 p.m.) looks at Russian meddling in other elections as well.
A  seventh season starts for "Married to Medicine" (Bravo, 9 p.m.); a 17th season starts for "Keeping Up with the Kardashians" (E!, 9 p.m.).
"Alaskan Bush People" (Discovery, 9:17 p.m.) has a season finale.
"Last Week Tonight with John Oliver" (HBO, 11:10 p.m.) is back with a new episode. The third and final season of "The Deuce" doesn't start until Monday.
The second cheerleader-themed movie in as many days is "The Wrong Cheerleader" (Lifetime, 8 p.m.), premiering at the home of "The Wrong Affair," "The Wrong Son," "The Wrong Stepmother" and "The Wrong Cruise."
Joel McHale, Rich Eisen, Jerry Ferrara and La La Anthony play "The $100,000 Pyramid" (ABC, 9 p.m.).
Justin Long, Missi Pyle, tim Meadows and Liza Koshy play "To Tell the Truth" (ABC, 10 p.m.).
Odd that "Preacher" (AMC, 10:05 p.m.) plays opposite "The Righteous Gemstones" (HBO, 10:02 p.m.).
The deal for the football team is still not done on "Ballers" (HBO, 10:40 p.m.).
A Carol Lynley double feature on Turner Classic Movies has "Bunny Lake is Missing" (8 p.m.) and "Blue Denim" (10 p.m.). Then there are three Charlie Chaplin silent comedies, the shorts "A Dog's Life" (midnight) and "Shoulder Arms" (12:40 a.m.) as well as "The Circus" (1:20 a.m.), followed by the Thai film "Mysterious Object at Noon" (2:30 a.m. ) and, from Iran, "Close-Up" (4:15 a.m.).
Baseball includes Philadelphia at Mets (TBS, 1 p.m.), Detroit at Oakland (MLB, 4 p.m.) and Yankees at Boston (ESPN, 8 p.m.).
Auto racing has the Italian Grand Prix (ESPN2, 9 a.m.) and NASCAR's Brickyard 400 (NBC, 2 p.m.).
The WNBA has Minnesota at Los Angeles (ESPN2, 4 p.m.).
Soccer includes Norway at Sweden (ESPNews, 2:30 p.m.) in a UEFA Euro 2020 qualifier.
Sunday Talk
ABC: Secretary of State Mike Pompeo, Democratic National Committee Chairman Tom Perez. CBS: Pompeo, former Defense Secretary James Mattis, Sen. Chris Coons. NBC: Pompeo, Sens. Amy Klobuchar and Roy Blunt. CNN: Pompeo, Klobuchar, Julián Castro. Fox News: Pompeo, Mark Sanford.