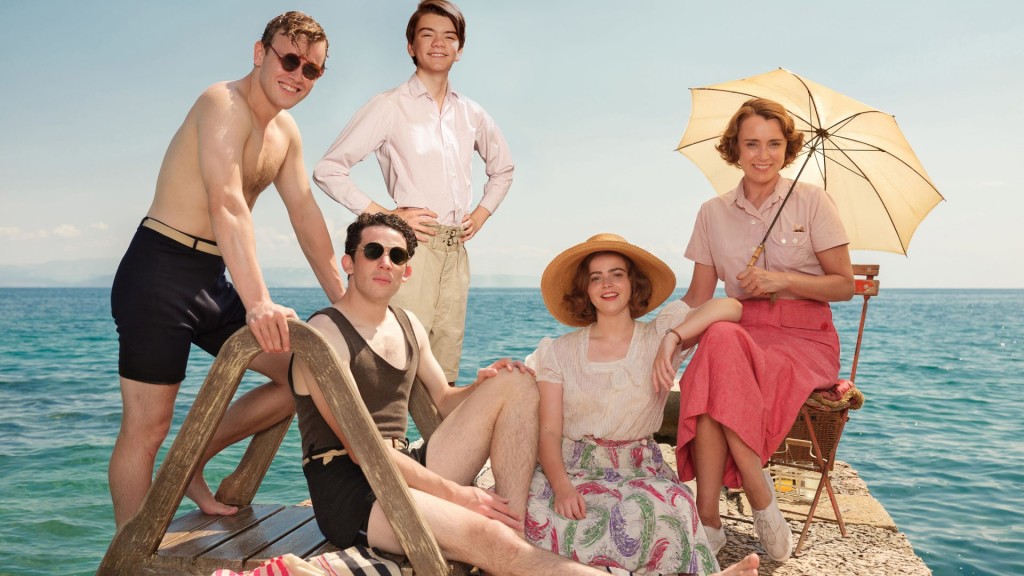 Public television has two premieres tonight of British imports, the fourth season start of "The Durrells in Corfu" (PBS, 8 p.m., check local listings), in which a mysterious new guest places Louisa's boarding house under police scrutiny, and the fifth and final season of "Poldark" (PBS, 9 p.m., check local listings), which begins with the return of Ross to the capital.
A video of Bart and Homer goes viral on the 31st season premiere of "The Simpsons" (Fox, 8 p.m.).
Sunday Night Football has Dallas at New Orleans (NBC, 8:15 p.m.). Earlier games include Washington at Giants (Fox, 1 p.m.), Cleveland at Baltimore (CBS, 1 p.m.)and Minnesota at Chicago (CBS, 4:15 p.m.).
"Succession" (HBO, 9 p.m.) has been big on travel this season. After last week's trip to London, here's an episode in Logan's hometown of Dundee, Scotland to mark his 50 years in the business.
Though her role to date has been small, Anna Paquin's Joanie has a longer story on tonight's episode of "The Affair" (Showtime, 9 p.m.).
Krystal drums up some press for her idea on a new episode of "On Becoming a God in Central Florida" (Showtime, 10 p.m.).
The fate of the world is determined on the series finale of "Preacher" (AMC, 10:14 p.m.).
On "Ballers" (HBO, 10:40 p.m.), Spencer prepares for his first owners meeting.
A Middle East missile attack needs to be neutralized on the 11th season premiere of "NCIS: Los Angeles" (CBS, 9 p.m.).
It's also the 11th season start for "Shark Tank" (ABC, 9 p.m.).
On the second season of "The Rookie" (ABC, 10 p.m.), an attack on Los Angeles leaves one officer ailing.
"Family Guy" (Fox, 9:30 p.m.) goes on a Yacht Rock cruise in its 18th season premiere.
God must have friended "God Friended Me" (CBS, 8 p.m.). It's back tonight for season two.
Perhaps "UFOS: The Lost Evidence" (Travel 8 p.m.) is on the Travel Channel because of the saucer space travel?
"iHeartRadio Music Festival Greatest Moments" (CW, 8 p.m.) shows highlights from past shows.
Impeachment means Christmas for "The Circus: Inside the Wildest Political Show on Earth" (Showtime, 8:30 p.m.).
Bob plans to surprise Linda for their anniversary on "Bob's Burgers" (Fox, 9 p.m.).
On "Fear the Walking Dead" (AMC 9 p.m.), Morgan leads the group on a mission.
Easter Sunday is the biggest day of the year on "The Righteous Gemstones" (HBO, 10 p.m.).
Shelly meets her granddaughter on "Unexpected" (TLC, 10 p.m.).
Mike and Megan celebrate their old life on "Chesapeake Shores" (Hallmark, 8 p.m.).
It's the 30th season opener for "America's Funniest Home Videos" (ABC, 7 p.m.), but the 52nd for "60 Minutes" (CBS, 7:30 p.m.).
"Declassified: Untold Stories of American Spies" (CNN, 9 p.m.) begins its third season, followed by the sixth season start for "This is Life with Lisa Ling" (CNN, 10 p.m.).
It's not October yet, but here's "Halloween Wars" (Food, 8 and 9 p.m.) and some "Outrageous Pumpkins" (Food, 10 p.m.).
Back from last week's Emmy haul, there's a new episode of "Last Week Tonight with John Oliver" (HBO, 11:11 p.m.).
Vincent holds Tariq hostage on "Power" (Starz, 9 p.m.) and it is discussed later on "Power Confidential" (Starz, 9 p.m.).
"Mysteries Decoded" (CW, 9 p.m.) is still dwelling on Bigfoot.
There are financial problems on "Married to Medicine" (Bravo, 9 p.m.).
It's the cast of "Black-ish" against the cast of "The Goldbergs" on the season five finale of "Celebrity Family Feud" (ABC, 8 p.m.).
Turner Classic Movies plays a pair of Ernest Hemingway adaptations starring Gary Cooper: "For Whom the Bell Tolls" (8 p.m.) and "A Farewell to Arms" (11 p.m.). They are followed by the silent 1912 "Cleopatra" (12:45 a.m.) and two films from Gillian Armstrong, "My Brilliant Career" (2:30 a.m.) and "Mrs. Soffel" (4:15 a.m.).
The last regular season baseball is played today, including Cleveland at Washington (TBS, 3 p.m.).
The WNBA finals begin with Connecticut at Washington (ESPN, 3 p.m.).
Preseason hockey includes Chicago at Berlin (HNL, 1:30 p.m.) and San Jose at Vegas (NHL, 8 p.m.).
Auto racing includes the Russian Grand Prix (ESPN2, 7 a.m.), the Midwest Nationals (Fox Sports 1, 2 p.m.) and Roval 400 (NBC, 2 p.m.).
Sunday Talk
ABC: Rudy Giuliani, Rep. Adam Schiff. CBS: Giuliani, Sens. Lindsey Graham and Chris Murphy, Reps. Will Hurd and Terri Sewell. NBC: Schiff, Rep. Steve Schlisse, Iranian Foreign Minister Javad Zarif. CNN: Sen. Cory Booker, Reps. Elissa Slotkin, Hakeem Jeffries and Jim Jordan. Fox News: White House adviser Stephen Miller, Jeffries.