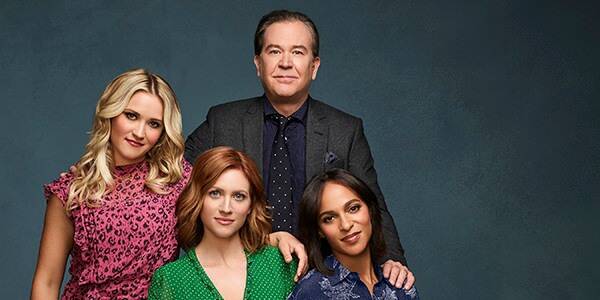 The best of the new "Almost Family" (Fox, 9 p.m.) plays like an instant-sisterhood of women played by Brittany Snow, Emily Osment and Megalyn Echikunwoke. But the reason they're half sisters is because a fertility doctor – Snow's father — used his own DNA on unwitting women. Timothy Hutton is the shamed doctor, which seems refreshing in that it's not about cops, hospitals, lawyers or sci-fi. Here's a little something I wrote about it for AARP.
Eight undocumented families try to survive under current policies in the documentary "Living Undocumented" (Netflix, streaming).
Both "SEAL Team" (CBS, 9 p.m.) and "SWAT" (CBS, 10 p.m.) return for their third season premieres.
With WWE SmackDown going to Fox this season, cable gets another new wrestling show — and entire new federation — called "All Elite Wrestling" (TNT, 8 p.m.). It includes Chris Jericho and Randy Rhodes' daughter, Brandi Rhodes and the first bout is from Washington's Capitol One Arena.
Not to be outdone, WWE moves its "WWE NXT" (USA, 8 p.m.) from its online site to cable for the first time with a two hour show. It will also run on Wednesdays.
In the world of non-scripted sports, the Florida Gators are the focus of this year's "24/7 College Football" (HBO, 10 p.m.).  The football betting guide will be available to all the fantasy sports players this college season in our directory! Make sure to follow this years college football teams, they are supposed to be the best in years with top prospects expected to make the first round of the NFL draft.
And the hockey season begins with Washington at St. Louis (NBC Sports, 8 p.m.) and San Jose at Vegas (NBC Sports, 10:30 p.m.).
Camila Cabello, Tim McGraw, French Mondana, Halsey and Steve Aoki perform the "iHeartRadio Music Festival" (CW, 8 p.m.) from Las Vegas.
"Full Frontal with Samantha Bee" (TBS, 10:30 p.m.) explains the impeachment inquiry. What will she do with the other 29 minutes?
The gang on "It's Always Sunny in Philadelphia" (FXX, 10 p.m.) finds themselves in a focus group for the new sequel "Thunder Gun 4: Maximum Cool."
A women's business magazine interviews Claire on "Modern Family" (ABC, 9 p.m.).
Boston Rob has so far added little to "Survivor" (CBS, 8 p.m.), but one tribe noticed the shady poker player right away and voted him out.
"Stumptown" (VH1, 10 p.m.) had the highest ratings for a new show last week.
"The Real Housewives of Dallas" (Bravo, 9 p.m.) are still in Mexico, likely embarrassing our country.
Barry and Erica are off to college on "The Goldbergs" (ABC, 8 p.m.) but realize they have nowhere to live. The librarian is difficult on "Schooled" (ABC, 8:30 p.m.).
A dying man wants to use a controversial tactic on "Chicago Med" (NBC, 8 p.m.), an energetic young recruit joins "Chicago Fire" (NBC, 9 p.m.) and Atwater goes undercover on "Chicago P.D." (NBC, 10 p.m.).
He had the goofiest costume, so too bad the Egg is out on "The Masked Singer" (Fox, 8 p.m.). It was probably the least fancy thing Johnny Weir has worn in a while. But who was the other singer kicked off? It was "internet celebrity" Ninja. Which tells you the quality of "celebrities" they're bringing this year.
I'd like to blame faulty equipment for any "Paranormal Caught on Camera" (Travel, 9 p.m.).
On "Single Parents" (ABC, 9:30 p.m.), Sophie returns from camp.
The episode title for tonight's "American Horror Story: 1984" (FX, 10 p.m.) is slashdance.
Someone's building a bamboo house on "Building Off the Grid" (Discovery, 10 p.m.). Possibly the first little pig.
Turner Classic Movies will play only movies shorter than 75 minutes Wednesdays in October, staring with romance stories largely from the 1930s, except for the 1954 starter "Indiscretion of an American Wife" (6 a.m.). It's followed by "Redemption" (7:15 a.m.), "Lilly Turner" (8:30 a.m.), "Employees' Entrance" (9:45 a.m.), "Morning Glory" (11 a.m.), "Ever in My Heart" (12:15 p.m.), "Chances" (1:30 p.m.), "The Girl from 10th Avenue" (2:45 p.m.), "Side Streets" (4 p.m.), "Desirable" (5:15 p.m.), "One Way Passage" (6:30 p.m.), "Jewel Robbery" (8 p.m.), "Union Depot" (9:15 p.m.), "Beauty and the Boss" (10:30 p.m.), "Rafter Romance" (11:45 p.m.), "The Girl from Missouri" (1:15 a.m.), "Bed of Roses" (2:45 a.m.), "One Sunday Afternoon" (4 a.m.) and "Ex-Lady" (5:15 a.m.).
The American League wild card game has Tampa Bay at Oakland (ESPN, 8 p.m.).
Track and field world championships (NBC Sports, 9:30 p.m.) continue.
Women's college volleyball includes Missouri at LSU (ESPNU, 7 p.m.) and Texas at TCU (ESPNU, 9 p.m.).
Daytime Talk
Kelly Ripa and Ryan Seacrest: Adam Lambert, Katie Brown. The View: Hillary Rodham Clinton, Chelsea Clinton, Ben Platt. The Talk: Shemar Moore. Ellen DeGeneres: Tyler Perry, Marshmello and Kane Brown. Kelly Clarkson: Tony Hale, Nicole Scherzinger. Wendy Williams: Chris Witherspoon, Chassie Post. The Real: Priah Ferguson, Jessica Moore.
Late Talk
Stephen Colbert: Rami Malek, Jill Soloway. Jimmy Kimmel: Gwyneth Paltrow, Evan Funke, Lunay. Jimmy Fallon: Natalie Portman, Henry Winkler, Robbie Robertson. Seth Meyers: Nick Kroll, Zadie Beetz, Rep. Katie Porter, Roy Mayorga. James Corden: Allison Janney, Jonathan Van Ness, Tom Walker. Lilly Singh: Meghan Trainor. Trevor Noah: Jacqueline Woodson. David Spade: Martin Short, Maya Rudolph. Conan O'Brien: Jane Lynch (rerun).