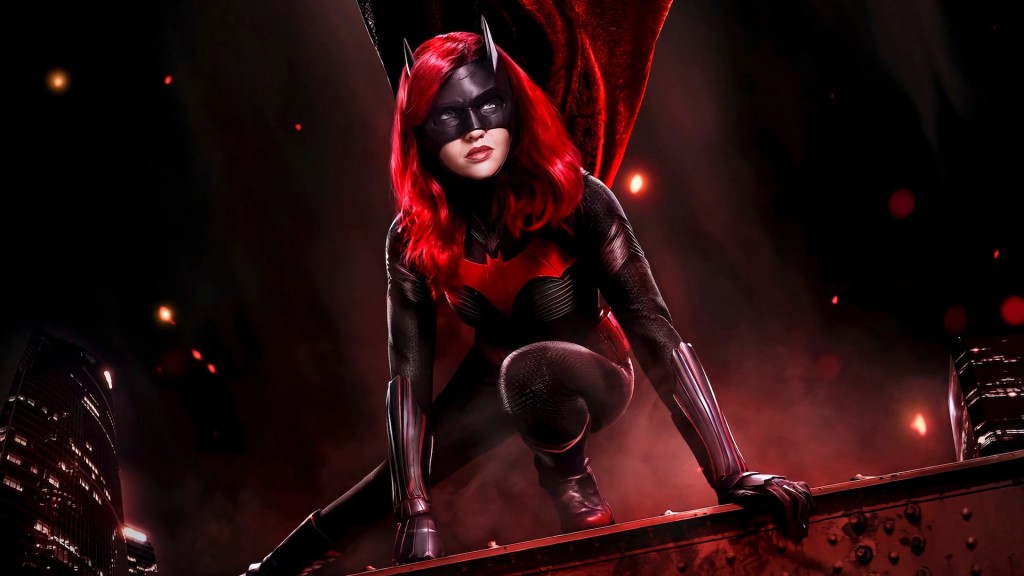 While another "Batman" character dominates the movies, here's yet another starting a TV show. Ruby Rose stars as "Batwoman" (CW, 8 p.m.), TV's first openly lesbian superhero, who decides to don a cape and protect Gotham City three years after Bruce Wayne has gone missing (and presumably blown his cover). It's meant to mesh with the three (!) other DC Comics series on CW, and comes from the same producer Greg Berlanti. Hence it's followed by the fifth season premiere of "Supergirl" (CW, 9 p.m.).
How about a strong woman without a cape? "Madam Secretary" (CBS, 10 p.m.) returns for its sixth and final season, with Elizabeth now President. Plus the First Gentleman goes on Colbert.
The fourth and final season of "Mr. Robot" (USA, 10 p.m.) returns, with the recent Oscar-winner in the lead role.
Tiffany Haddish picks up where Art Linkletter (and then Bill Cosby) once trod with a new version of "Kids Say the Darnedest Things" (ABC, 8 p.m.), on which the comedian coaxes the kids to say funny things and then riffs accordingly.
A new imported British drama "Press" (PBS, 10 p.m., check local listings) concerns the competition between a broadsheet and a tabloid.
"The Walking Dead" (AMC, 9 p.m.) returns for its 10th season. Seems like the zombies would have all died out on their own by now. Whatever happens is then discussed on "Talking Dead" (AMC, 10:14 p.m.), just as "Power Confidential" (Starz, 9 p.m.) talk session will follow another episode of "Power" (Starz, 8 p.m.).
Look who's called to testify before Congress: The Roys on "Succession" (HBO, 9 p.m.).
On "The Affair" (Showtime, 9 p.m.), Noah and Whitney go to Montauk to plan the wedding.
Krystal loses her job on a new episode of "On Becoming a God in Central Florida" (Showtime, 10 p.m.).
Sunday Night Football has Indianapolis at Kansas City (NBC, 8:15 p.m.). Earlier games include New England at Washington (CBS, 1 p.m.), Minnesota at Giants (Fox, 1 p.m.) and Green Bay at Dallas (Fox, 4:25 p.m.).
A self-help guru gets a hand on "God Friended Me" (CBS, 8 p.m.).
Impeachment is roiling "The Circus: Inside the Wildest Political Show on Earth" (Showtime, 8 p.m.).
"The Righteous Gemstones" (HBO, 10 p.m.) has some fallout after the Easter events.
Jenny gets a second job on "Bless the Harts" (Fox, 8:30 p.m.).
Leslie ponders fatherhood on "The Durrells in Corfu" (PBS, 8 p.m., check local listings).
On "The Simpsons" (Fox, 8 p.m.), Homer befriends a millennial.
The team has to split up to cover everything on "NCIS: Los Angeles" (CBS, 9 p.m.).
"Bob's Burgers" (Fox, 9 p.m.) goes into mushroom foraging.
Jackie builds a new practice on "Married to Medicine" (Bravo, 9 p.m.).
"E! True Hollywood Story" (E!, 10 p.m.) looks into the NXIVM sex cult.
On "Poldark" (PBS, 9 p.m., check local listings), Demelza gets caught in a dangerous web.
Nolan investigates a murder on "The Rookie" (ABC, 10 p.m.).
"The Weekly" (FX, 10 p.m.) looks at the opioid crisis.
Ricky meets with a Hollywood bigwig on "Ballers" (HBO, 10:37 p.m.), which bumps "Last Week Tonight with John Oliver" (HBO, 11:05 p.m.) until a bit later as well.
A couple of films with Katharine Hepburn out West are on Turner Classic Movies, "Rooster Cogburn" (8 p.m.) and "The Sea of Grass" (10 p.m.). Then comes the silent anti-KKK film "The Symbol of the Unconquered" (12:15 a.m.), and two films with Maggie Cheung, "Irma Vep" (2 a.m.) and "In the Mood for Love" (4 a.m.).
Postseason baseball has Atlanta at St. Louis (TBS, 4 p.m.) and Dodgers at Washington (TBS, 7:45 p.m.).
The WNBA reaches game 3 with Washington at Islanders (NHL, 7 p.m.).
It's Shanghai vs. Clippers (NBA, 7 p.m.) in exhibition basketball.
NASCAR runs its Drydene 400 (NBC Sports, 2:30 p.m.).
Track and field world championships (NBC Sports, noon) continue.
It's Chesapeake at Denver (ESPN2, 1 p.m.) in the major league lacrosse championship.
Women's college volleyball includes Mississippi State at South Carolina (ESPNU, 1 p.m.) and Illinois at Purdue (ESPNU, 3 p.m.).
Sunday Talk
ABC: Reps. Hakeem Jeffries and Jim Jordan. CBS: Reps. Eliot Engel and Jim Times, Sen. Roy Blunt. NBC: Sens. Ron Johnson and Chris Murphy. CNN: Sen. Amy Klobuchar, former Gov. Mark Sanford, former Rep. Joe Walsh. Fox News: Reps. Val Demings and Chris Stewart.