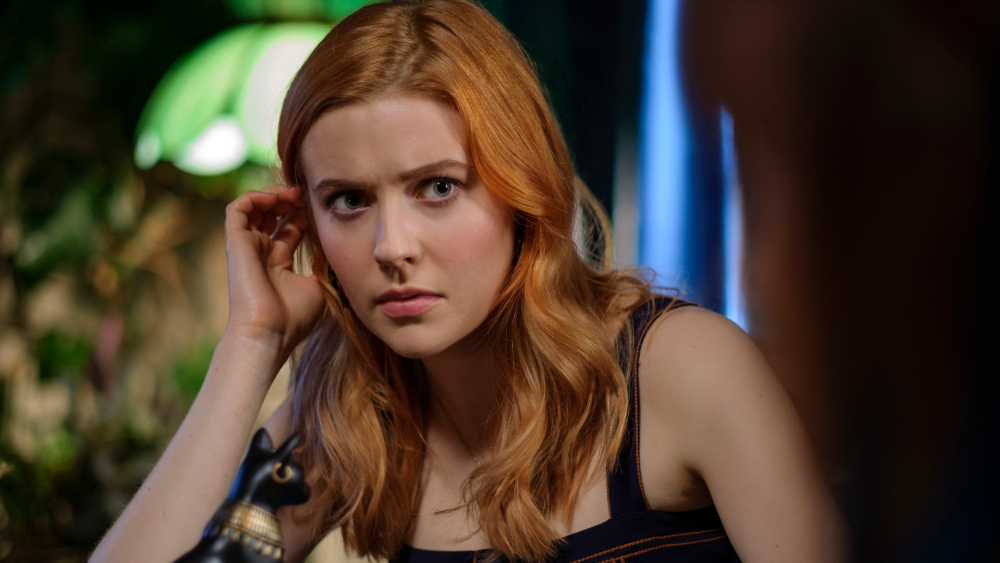 As a dark, updated story of the 175-book teen detective series, the new "Nancy Drew" (CW, 9 p.m.) stars Kennedy McMann as an 18-year-old sleuth who foregoes college to look into a local murder of a socialite in her small town. She's got a stake in the inquiry, since she's also a suspect.
From the makers of "Gossip Girl," the new adaptation promises to be sexier with more pop culture references. But also: a flock of ghosts. Maddison Jaizani, Alex Saxon and Tunji Kasim round out the cast. Scott Wolf ("Party of Five") plays her dad.
The new show has as little to do with its source material as the accompanying "Riverdale" (CW, 8 p.m.), the Archie series which begins its fourth season paying tribute to Luke Perry, the actor who died after season three wrapped last May. They get another "90210" star, Shannen Doherty, to guest star.
The streaming service's first music competition show, "Rhythm + Flow" (Netflix, streaming) seeks a new hip hop star. The formidable judges' panel has Cardi B, Chance the Rapper and T.I.
The unusual new series "Taken at Birth" (TLC, 9 p.m.) seeks to locate the estimated 200 babies illegally sold by a Southern doctor in the 1950s and '60s, and reunite them with their biological families, while unearthing more information about the doctor in question, Thomas Hicks. Which is not quite the plot of the new "Almost Family" (Fox, 9 p.m.) that premiered last week.
On "Modern Family" (ABC, 9 p.m.), Phil and Claire are exhausted by watching the twins.
Derek suddenly reappears on "Single Parents" (ABC, 9:30 p.m.), throwing Angie in a tailspin.
Geoff starts a food delivery service on "The Goldbergs" (ABC, 8 p.m.).
"The Masked Singer" (Fox, 8 p.m.) unveiled the Panda as Laila Ali last week. I didn't think it sounded like her at all.
Dee throws herself a Dee Day on "It's Always Sunny in Philadelphia" (FXX, 10 p.m.).
Dr. Manning upsets a holistic family on "Chicago Med" (NBC, 8 p.m.). A juvenile detention center is attacked on "Chicago Fire" (NBC, 9 p.m.). And a carjacking turns into something bigger on "Chicago P.D." (NBC, 10 p.m.).
"SEAL Team" (CBS, 9 p.m.) continues its Serbian mission. And there's a departmental review of "S.W.A.T." (CBS, 10 p.m.).
LeeAnne holds a lingerie show on "The Real Housewives of Dallas" (Bravo, 9 p.m.).
On "Schooled" (ABC, 8:30 p.m.), a Boyz II Men concert looms.
Counselors try to escape the camp on "American Horror Story: 1984" (FX, 10 p.m.).
A new episode of "Nature" (PBS, 8 p.m.) looks at the Serengeti.
Rescued chimpanzees in Uganda are featured on the special "Isle of Chimps" (Smithsonian, 8 p.m.).
"South Park" (Comedy Central, 10 p.m.) has been quite up on the news lately.
Dee still has to be a certified private investigator on "Stumptown" (ABC, 10 p.m.).
Sarah Silverman, Abbi Jacobson and Will Forte are voices on a new "Crank Yankers" (Comedy Central, 10:30 p.m.).
"Wild Metropolis" (PBS, 10 p.m., check local listings) continues to look at animal migration into cities.
With the new "All Elite Wrestling: Dynamite" (TNT, 8 p.m.) and "WWE NXT" (USA, 8 p.m.), there's almost as much wrestling tonight as there is non-scripted postseason baseball with deciding game fives with St. Louis at Atlanta (TBS, 5 p.m.) and Washington at Dodgers (TBS, 8:30 p.m.).
"24/7 College Football" (HBO, 10 p.m.) looks at Penn State's game with Purdue.
Turner Classic Movies packs another Wednesday with movies shorter than 75 minutes, starting with a day of short Westerns: "Powdersmoke Range" (6 a.m.), "Home in Oklahoma" (7:15 a.m.), "Flame of the West" (8:30 a.m.), "Gun Smugglers" (9:45 a.m.), "The Durango Kid" (11 a.m.), "The Longhorn" (12:15 p.m.), "Gypsy Colt" (1:30 p.m.), "Riding Shotgun" (2:45 p.m.), "Westbound" (4 p.m.), "Ride Lonesome" (5:15 p.m.) and "Hell's Heroes" (6:30 p.m.).
Then tonight, it's shorter than usual war movies: "The Red Badge of Courage" (8 p.m.), "The Eagle and the Hawk" (9:30 p.m.), "Address Unknown" (11 p.m.), "The Lost Patrol" (12:30 a.m.), "Captured!" (1:45 a.m.), "Ace of Aces" (3:15 a.m.) and "Mademoiselle Fifi" (4:45 a.m.).
Preseason basketball includes New Orleans at Chicago (ESPN, 8 p.m.).
Hockey has New Jersey at Philadelphia (NBC Sports, 7:30 p.m.) and Los Angeles at Vancouver (NBC Sports, 10 p.m.).
In college football, it's Appalachian State at Louisiana (ESPN2, 8 p.m.).
The rugby world cup has Wales vs. Fiji (NBC Sports, 5:30 a.m.).
Daytime Talk
Kelly Ripa and Ryan Seacrest: Clive Owen, Conkarah with Shaggy, Josh Groban. The View: Susan Rice. The Talk: Shannen Doherty. Ellen DeGeneres: Woody Harrelson. Kelly Clarkson: Chloe Grace Moritz, Theresa Caputo, Drew Carey. Wendy Williams: Neil deGrasse Tyson. The Real: Michael Ealy, Tisha Campbell.
Late Talk
Stephen Colbert: Jonathan Van Ness, Brett Gelman, Big Thief. Jimmy Kimmel: Howard Stern, Aaron Paul. Jimmy Fallon: Jesse Eisenberg, Hailee Steinfeld, Steve Miller. Seth Meyers: Ted Dawson, Elizabeth Olsen, Diane Von Furstenberg, Steve Gorman. James Corden: Adam DeVine, Kieran Culkin, Ismo. Lilly Singh: Kal Penn, Kiran Deol, Moses Storm. Trevor Noah: Will Smith. David Spade: Brad Garrett, Taran Killam, Leighton Meester. Conan O'Brien: Niecy Nash, Gavin Matts (rerun).