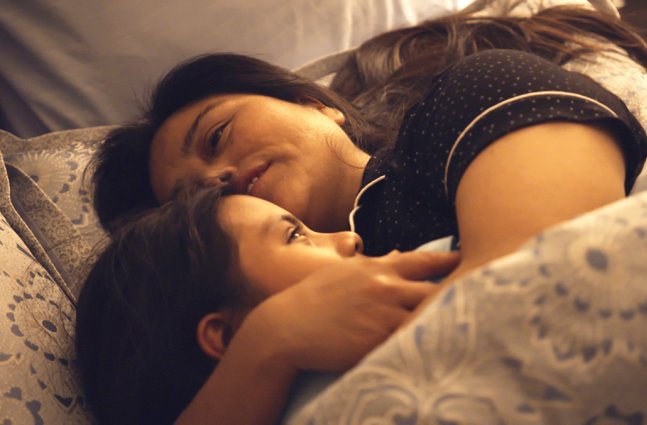 A new 40-minute documentary "Torn Apart: Separated at the Border" (HBO, 9 p.m.) looks at two mothers from among the nearly 3,000 families with children separated at the U.S. Mexico border last year. Filmmaker Ellen Goosenberg Kent follows the women over nine months as they escape dangerous conditions in their home countries to seek asylum in the U.S.
"Supernatural" (CW, 8 p.m.) begins its 15th (!) and final season, with San, Dean and Castiel left to defend the world from all the zombies in hell who have been released.
Back for its second season is the vampire spinoff "Legacies" (CW, 9 p.m.).
The rebooted "Temptation Island" (USA, 10 p.m.) finds another four couples who make the questionable decision to come to an island where they'll be separated and swarmed by singles.
Nine Democratic Candidates participate  in a Town Hall (CNN, 7:30 p.m.) on LGBTQ issues, co-sponsored by the Human Rights Campaign. The order is: Cory Booker at 7:30 p.m., Joe Biden, 8 p.m.; Pete Buttigieg, 8:30 p.m.; Elizabeth Warren, 9 p.m.; Kamala Harris, 9:30 p.m.; Beto O'Rourke, 10 p.m.; Amy Klobuchar, 10:30 p.m.; Julian Castro, 11 p.m. and Tom Steyer, 11:30 p.m.
Thursday Night Football has Giants at New England (Fox, 8 p.m.).
A high schooler's friend has an ulterior motive for coming over to the house in the made-for-TV movie "Sinister Seduction" (Lifetime, 8 p.m.), with Kristina Klebe and Tanner Buchanan.
On "Superstore" (NBC, 8 p.m.), Dina's nemesis is hired.
Meredith helps Jo with a procedure from afar on "Grey's Anatomy" (ABC, 8 p.m.).
"Young Sheldon" (CBS, 8 p.m.) needs a ride.
Arthur helps Ginny conquer state fright on "Perfect Harmony" (NBC, 8:30 p.m.).
On "The Unicorn" (CBS, 8:30 p.m.), Wade is encouraged to join a support group.
"Taken at Birth" (TLC, 9 p.m.), about a doctor who sold hundreds of babies on the black market,  is a three night event; tonight is the middle episode.
Wonder how many people have been actually cured so far from "Chasing the Cure" (TNT, TBS, 9 p.m.).
An agent on "Million Dollar Listing New York" (Bravo, 9 p.m.) tries selling a loft with a music video. Not to be confused with "A Million Little Things" (ABC, 9 p.m.).
Tahani tries to help a new resident on "The Good Place" (NBC, 9 p.m.).
On "Mom" (CBS, 9 p.m.), Bonnie has second thoughts about taking Adam's last name.
Interns battle over patients on "Carol's Second Act" (CBS, 9:30 p.m.).
Drazen has gone missing on "Sunnyside" (NBC, 9:30 p.m.).
"Beat Bobby Flay" (Food, 10 p.m.) welcomes Fran Drescher.
Investigators wonder whether a threatening theater producer is "Evil" (CBS, 10 p.m.).
On "Law & Order: Special Victims Unit" (NBC, 10 p.m.) a celebrity helps in a case catching a predator targeting gay bars.
Christmas ends on "Mr Inbetween" (FX, 10 p.m.).
An FBI investigation looms over law students on "How to Get Away with Murder" (ABC, 10 p.m.).
Turner Classic Movies continues its Thursday night horror series with stories of black magic: "The Black Cat" (8 p.m.), "Curse of the Demon" (9:15 p.m.), "The Seventh Victim" (10:45 p.m.), "The Devil's Bride" (12:15 a.m.), "The Blood on Satan's Claw" (2 a.m.), "Dracula A.D. 1972" (3:45 a.m.) and "Eye of the Devil" (5:30 a.m.).
Earlier, TCM has are stories of queens with "Marie Antoinette" (6 a.m.), "Caesar and Cleopatra" (8:45 a.m.), "Land of the Pharaohs" (11 a.m.), "She" (1 p.m.) and its sequel "The Vengeance of She" (3 p.m.), "The Viking Queen" (4:45 p.m.) and "Queen of Outer Space" (6:30 p.m.).
There's one league divisional series left with a deciding game 5: Tampa Bay at Houston (Fox Sports 1, 7 p.m.).
The WNBA finals has a Game 5 as well with Connecticut at Washington (ESPN2, 8 p.m.).
College football has Bethune-Cookman at North Carolina Central (ESPNU, 6 p.m.), Syracuse at N.C. State (ESPN, 8 p.m.) and Louisiana Monroe at Texas State (ESPNU, 9:15 p.m.).
Preseason basketball has Brooklyn vs. Lakers (NBA, 7:30 a.m.) from Shanghai and Minnesota at Golden State (NBA, 10:30 p.m.).
Gymnastics has its FIG world championships (NBC Sports, 10 a.m.).
Daytime Talk
Kelly Ripa and Ryan Seacrest: Nature Naughton, La La Anthony. The View: Paul Shaffer, Nature Naughton, La La Anthony. The Talk: Kristen Bell. Ellen DeGeneres: Michael Douglas. Kelly Clarkson: Adam DeVine, Amy Brenneman. Wendy Williams: Ja Rule. The Real: Sen. Kamala Harris, Gretchen Carlson, Tisha Campbell.
Late Talk
Stephen Colbert: John Oliver, Amy Sedaris, Paul McCartney, Big Thief. Jimmy Kimmel: Regina King, Nat Wolff, Jimmy Eat World, cast of "Zombieland: Double Tap." Jimmy Fallon: Priyanka Chopra Jonas, Questlove & Tariq, Rex Orange County. Seth Meyers: Sam Rockwell, Lucy Boynton, Les Savy Fav, Steve Gorman. James Corden: Aaron Paul, Neil deGrasse Tyson, Brittany Howard. Lilly Singh: Nikki and Brie Bella. Trevor Noah: Sen. Rand Paul. David Spade: Ron Funches, Adam Devine, Alexandra Shipp. Conan O'Brien: Eva Longoria (rerun).