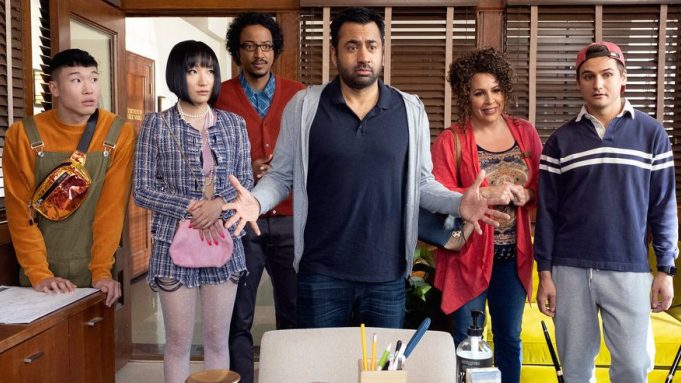 It's only the fourth episode of "Sunnyside" (NBC, ), but it's also the last on the network. The Kal Penn comedy about a group of immigrants in Queens is the fall season's first casualty. It will be replaced next week by the 11th and final season of "Will & Grace," coming a little sooner than expected.
The remaining seven episodes of "Sunnyside" will appear weekly on the NBC app and NBC.com.
Thursday Night Football has Kansas City at Denver (Fox, 8 p.m.).
The local mall closing has an effect on "Superstore" (NBC, 8 p.m.).
Meredith tries to make things right with her hospital colleagues on "Grey's Anatomy" (ABC, 8 p.m.).
On "Supernatural" (CW, 8 p.m.), Rowena is asked to keep the evil souls at bay.
Arthur goes on a deer hunting trip on "Perfect Harmony" (NBC, 8:30 p.m.).
"Young Sheldon" (CBS, 8 p.m.) is obsessed with "The Lord of the Rings."
Wade changes the password to his online dating profile on "The Unicorn" (CBS, 8:30 p.m.).
"Chasing the Cure" (TBS, TNT, 9 p.m.) continues.
It's the first day back at school on "Legacies" (CW, 9 p.m.).
A baptism is not so holy on "Jersey Shore: Family Vacation" (MTV, 8 p.m.).
On "A Million Little Things" (ABC, 9 p.m.), Maggie is shocked at Eric's true identity.
An unexpected visitor arrives on "The Good Place" (NBC, 9 p.m.).
On "Carol's Second Act" (CBS, 9:30 p.m.), Dr. Jacobs needs help after a marathon mishap.
Christy makes some questionable changes at the bar on "Mom" (CBS, 9 p.m.).
An evaluation is made whether a 9-year-old boy is "Evil" (CBS, 10 p.m.).
The couples are separated and meet the singles on "Temptation Island" (USA, 10 p.m.).
On "Law & Order: Special Victims Unit" (NBC, 10 p.m.), Rollins clashes with the parents of a runaway.
The FBI continues to interrogate Conner on "How to Get Away with Murder" (ABC, 10 p.m.).
Thursday horror on Turner Classic Movies continues with the ghost stories "The Uninvited" (8 p.m.), "The Haunting" (10 p.m.), "The Fog" (midnight), "Poltergeist" (1:45 a.m.), "Kuroneko" (3:45 a.m.) and "The Phantom Carriage" (5:30 a.m.). During the day there are films with Jean Arthur, born this day in 1900: "Party Wire" (9:30 a.m.), "If You Could Only Cook" (10:45 a.m.), "You Can't Take it With You" (noon), "Only Angels Have Wings" (2:15 p.m.), "Mr. Deeds Goes to Town" (4:30 p.m.) and "Easy Living" (6:30 p.m.).
The ALCS has Game 4 with Houston at Yankees (Fox Sports 1, 8 p.m.).
Preseason basketball has Atlanta at Chicago (NBA, 8 p.m.) and Dallas at Clippers (NBA, 10:30 p.m.).
College football has Louisiana Lafayette at Arkansas State (ESPNU, 7:30 p.m.) and UCLA at Stanford (ESPN, 9 p.m.).
Daytime Talk
Kelly Ripa and Ryan Seacrest: Hailee Seinfeld, Debby Ryan, Monica Margin. The View: James Spader. The Talk: Jeremy Sisto, Blanco Brown. Ellen DeGeneres: Scarlett Johansson, Joel Kinnaman. Kelly Clarkson: Eva Mendes, Craig Morgan, Blake Shelton. Wendy Williams: Katy Mixen. The Real: Joy-Ann Reid, Tank.
Late Talk
Stephen Colbert: Joe Biden, Pixies (rerun). Jimmy Kimmel: Paul Rudd, Lizzy Caplan, Tyler Childers. Jimmy Fallon: Kim Kardashian West, Winnie Harlow, Iggy Pop (rerun). Seth Meyers: Gwen Stefani, Bradley Whitford, Emily Spivey (rerun). James Corden: Dominic Cooper, Jonathan Groff, Red Hearse (rerun). Lilly Singh: Natalie Portman (rerun). Trevor Noah: Taika Waititi. David Spade: Dusty Slay, Vanessa Bayer, Guy Branum. Conan O'Brien: D'Arcy Carden (rerun).