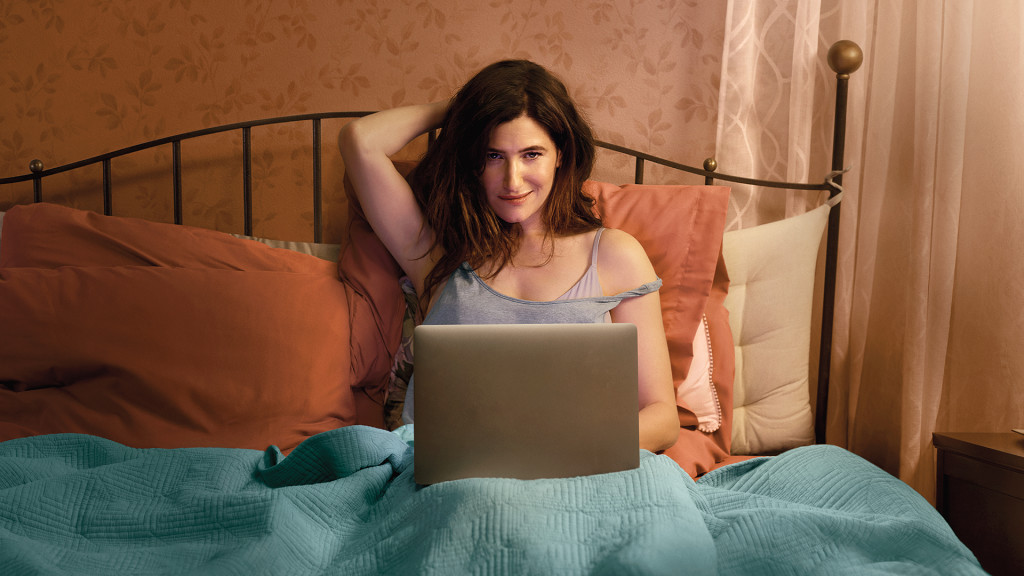 The oft-seen Kathryn Hahn stars in the new series "Mrs. Fletcher" (HBO, 10:30 p.m.), as a woman who begins to rediscover her own sexual life after her son goes off to school on his considerably dopier quest.
Tom Perrotta has adapted his book with more control than he had on, say, "The Leftovers," so there is more humor and observation of the American scene. Hahn is very good as usual, though you can see what's going to happen from the first moments — as in the book.
It premieres after the fifth and final season from "Silicon Valley" (HBO, 10 p.m.), which has remained consistently sharp and funny as it tackles the tech world. It begins with Richard messing up a Congressional Hearing like no one since, say, Zuckerberg did last week.
"The Affair" (Showtime, 9 p.m.) has had an unexpectedly strong final season, reliving past actions through a lens of #MeToo that seems accurate and painful. But it also ends tonight after five seasons with something else even more immediate from the news – threatening California wildfires.
There is more sports than usual on prime time broadcast TV for a Sunday night, with Game 5 of the World Series, Houston at Washington (NBC, 8:15 p.m.) with the series tied up 2-2.
Sunday Night Football has Green Bay at Kansas City (NBC, 8:15 p.m.). Earlier games include Arizona at New Orleans (CBS, 1 p.m.), Philadelphia at Buffalo (Fox, 1 p.m.) and Cleveland at New England (CBS, 4:25 p.m.).
Winter falls on "Mr. Robot" (USA, 10 p.m.).
On "The Durrells in Corfu" (PBS, 8 p.m., check local listings), the king of Greece is due on the island.
Ross returns to London on "Poldark" (PBS, 9 p.m., check local listings).
Lifetime's Christmas movie of the day has Kyla Pratt reuniting with a college boyfriend to save the local theater, "No Time Like Christmas" (Lifetime, 8 p.m.).
And a revival of "A Bad Moms Christmas" (TMC, 8 p.m.) combines the night's themes of premature holidays and Kathryn Hahn, who is also in "Step Brothers" (Comedy Central, 7 p.m.).
"NCIS: Los Angeles" (CBS, 10 p.m.) looks for a stolen painting.
Mental health care for veterans is sought on "Madam Secretary" (CBS, 11 p.m.).
"The Rookie" (ABC, 10 p.m.) has to develop a confidential informant.
The Post is banned from the daily press conference on Downing Street on "Press" (PBS, 10 p.m., check local listings).
Bishop Thompson's daughter needs some help on "God Friended Me" (CBS, 9 p.m.).
"Batwoman" (CW, 8 p.m.) faces a new foe.
Malefic and J'onn J'onzz battle on "Supergirl" (CW, 9 p.m.).
Alexandrians are still paranoid about the Whisperers on "The Walking Dead" (AMC, 9 p.m.). They talk about the episode on "Talking Dead" (AMC, 10:05 p.m.).
There's also a post-episode talk show, "Power Confidential" (Starz, 9 p.m.) following "Power" (Starz, 8 p.m.). But the show that really needs a post-episode talk show is "Watchmen" (HBO, 9 p.m.), in which things get a little more clear on the second episode, with the addition of a backstory, but not entirely so.
There is some backstory on the second episode of the docuseries "Leavenworth" (Starz, 9:26 p.m.).
"The Circus: Inside the Wildest Political Show on Earth" (Showtime, 8 p.m.) looks at allegations of a deep state.
"Halloween Wars" (Food, 9 p.m) has the final teams face off.
Speaking of which, you could watch both "Hotel Transylvania" (Freeform, 7:05 p.m.) and "Hotel Transylvania 2" (FXM, 7:40 and 9:30 p.m.). Other family seasonal fare includes "Goosebumps" (Disney, 7 p.m.), "Hocus Pocus" (Freeform, 9:10 p.m.),
Home renovation costs rise on "Married to Medicine" (Bravo, 9 p.m.).
"60 Minutes" (CBS, 8 p.m.) talks to Joe Biden.
John Cena and Luke Bryan are guests on a post-football "Tonight Show" (NBC, 12"05 a.m.).
Turner Classic Movies has a pair of Marilyn Monroe flicks, "River of No Return" (8 p.m.) and "Niagara" (10 p.m.) before the 1920 silent "Dr. Jekyll and Mr. Hyde" (midnight) and two Japanese horror films from 1968, "The Living Skeleton" (2 a.m.) and "Goke, Body Snatcher from Hell" (3:30 a.m.).
Hockey has Boston at Rangers (NHL, 7 p.m.).
Auto racing has the Mexican Grand Prix (ABC, 2:30 p.m.) and the First Data 500 (NBC Sports, 3 p.m.).
FIFA U-17 world cup soccer includes U.S. vs. Senegal (Fox Sports 1, 4 p.m.), France vs. Chile (Fox Sports 2, 4 p.m.) and Japan vs. Netherlands (Fox Sports 2, 7 p.m.).
It's Chicago at North Carolina (ESPN, 3:30 p.m.) in the National Women's Soccer League championship.
Sunday Talk
ABC: Reps. Adam Schiff and Will Hurd. CBS: Sens. Amy Klobuchar and John Kennedy. NBC: National security adviser Robert O'Brien, Andrew Yang, Rep. Hakeem Jeffries. CNN: Sen. Chris Murphy, Rep. Mac Thornberry. Fox News: White House counselor Kellyanne Conway, Rep. Eric Swalwell.