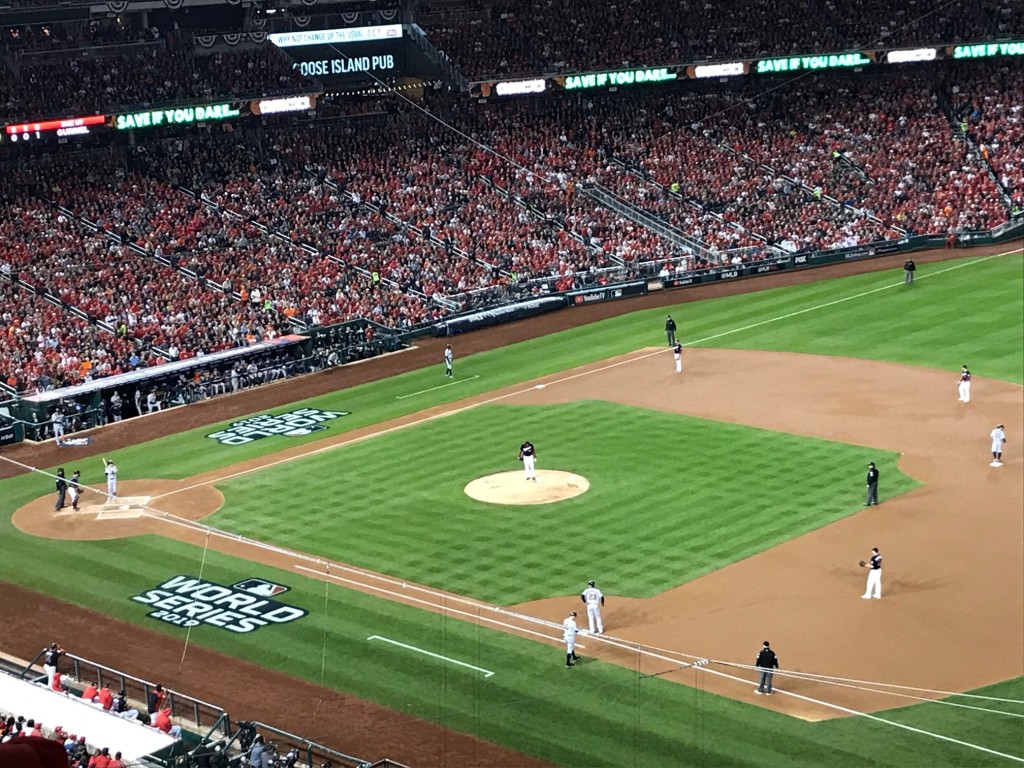 They went to the trouble of making Halloween promos, but "The Masked Singer" won't be seen again until next month after a two week absence, due to the existence of a decisive Game 7 of the World Series, with Washington at Houston (Fox, 8 p.m.). No home team has won a game yet, so place your bets accordingly.
It's the last time they'll celebrate Halloween on "Modern Family" (ABC, 9 p.m.), a great tradition. But they also mark the holiday on shows from "Riverdale" (CW, 8 p.m.)  and "Single Parents" (ABC, 9:30 p.m.)  to "Forged in Fire" (History, 9 p.m.).
But Barry has a "Rocky Horror Picture Show" party on "The Goldbergs" (ABC, 8 p.m.); CB plays "The Blair Witch Project" to students on "Schooled" (ABC, 8:30 p.m.).
The once-maligned borough gets its due in the nostalgic "The Bronx, USA" (HBO, 9 p.m.), a documentary from the show biz manager George Shapiro, that includes appearances from his client Carl Reiner, as well as Alan Alda, Melissa Manchester, rapper Melle Mel and former Secretary of State Colin L. Powell.
"Nova" (PBS, 9 p.m.) looks into that time 66 million years ago, after the dinosaurs died off, when the mammals took over.
Today is a day you could compare Kennedy McMann from the current series "Nancy Drew" (CW, 9 p.m.) to Bonita Granville in the 1938 "Nancy Drew … Detective" (TCM, 8:15 a.m.).
A fourth season of Canada's "Baroness Von Sketch Show" (IFC, midnight) begins with a couple of episodes.
"Full Frontal with Samantha Bee" (TBS, 10:30 p.m.) likely addresses the latest testimony in the House  impeachment inquiry.
The food of China is explored further in the second season of "Flavorful Origins: Yunnan Cuisine" (Netflix, streaming).
Five investigators lock themselves inside a closed asylum in search of paranormal evidence on "World's Biggest Ghost Hunt: Penshurst Asylum" (A&E, 8 p.m.).
Rival alliances clash on "Survivor" (CBS, 8 p.m.), but that always happens.
Survivors help a stranded hitchhiker on "American Horror Story: 1984" (FX, 10 p.m.).
A childhood friend visits Dr. Charles on "Chicago Med" (NBC, 8 p.m.), an elderly woman starts a "Chicago Fire" (NBC, 9 p.m.) and "Chicago P.D." (NBC, 10 p.m.) investigates murders of young boys.
The new siblings keep coming on "Almost Family" (Fox, 9 p.m.).
"SEAL Team" (CBS, 9 p.m.) protect a U.S. ambassador.
A full season has been ordered this week for "Stumptown" (ABC, 10 p.m.).
On "S.W.A.T." (CBS, 10 p.m.), an arsenal of LAPD assault rifles have been stolen
Brandi gets some adoption news on "The Real Housewives of Dallas" (Bravo, 9 p.m.).
On "The Oval" (BET, 9 p.m.), the First Butler's family has a tragedy.
The Brooklyn shop opens on "Black Ink Crew" (VH1, 8 p.m.).
On a black and white noir episode of "It's Always Sunny in Philadelphia" (FXX, 10 p.m.), Charlie becomes a detective, investigating a gastro disaster.
Sarah Silverman, Tiffany Haddish and Kevin Nealon place some calls on "Crank Yankers" (Comedy Central, 10:30 p.m.).
It's the final Wednesday they'll try to squeeze in as many movies as they can that are 75 minutes long or less, with mysteries in the day, and of course horror at night: "Smart Blonde" (6 a.m.), "Nancy Drew … Detective" (7:15 a.m.), "The Saint in New York" (8:30 a.m.), "The Penguin Pool Murder" (9:45 a.m.), "Murder on a Honeymoon" (11 a.m.), "The Kennel Murder Case" (12:15 p.m.), "The Public Defender" (1:30 p.m.), "Trouble for Two" (2:45 p.m.), "The Gay Falcon" (4 p.m.), "The Woman in Green" (5:15 p.m.), "Fog Over Frisco" (6:30 p.m.), "Mad Love" (8 p.m.), "The Most Dangerous Game" (9:15 p.m.), "Cat People" (10:30 p.m.), "I Walked with a Zombie" (11:45 p.m.), "The Walking Dead" (1 a.m.), "Mark of the Vampire" (2:15 a.m.), "Little Shop of Horrors" (3:30 a.m.) and "A Bucket of Blood" (4:45 a.m.).
Basketball tonight includes Milwaukee at Boston (ESPN, 7:30 p.m.) and Clippers at Utah (ESPN, 10 p.m.).
Hockey has Minnesota at St. Louis (NBC Sports, 8 p.m.).
U-17 World Cup soccer has South Korea vs. France (Fox Sports 2, 3:50 p.m.) and U.S. vs. Japan (Fox Sports 2, 6:50 p.m.).
Daytime Talk
Kelly Ripa and Ryan Seacrest: Emilia Clarke, Harry Connick Jr. The View: Sen. Cory Booker, Mary Wilson. The Talk: Olivia Newton-John. Ellen DeGeneres: Kristen Wiig, Maya Rudolph, Dr. Ruth Wertheimer. Kelly Clarkson: Bradley Whitford, Anna Camp, Wiz Khalifa, DeAngelo Williams.
Late Talk
Stephen Colbert: Norman Reedus, Cynthia Erivo, Miranda Lambert. Jimmy Kimmel: Rob Lowe, Mackenzie Davis, Chris Porter. Jimmy Fallon: Emilia Clarke, Bobby Cannavale, Booker T. Jones, FKA Twigs. Seth Meyers: John Krasinski, Joel Kim Booster, Amy McGrath. James Corden: Arnold Schwarzenegger, Linda Hamilton. Lilly Singh: Chelsea Handler (rerun). Trevor Noah: Sen. Amy Klobuchar. David Spade: Louis Anderson, Joey Diaz, Sarah Tiana. Conan O'Brien: Deon Cole.