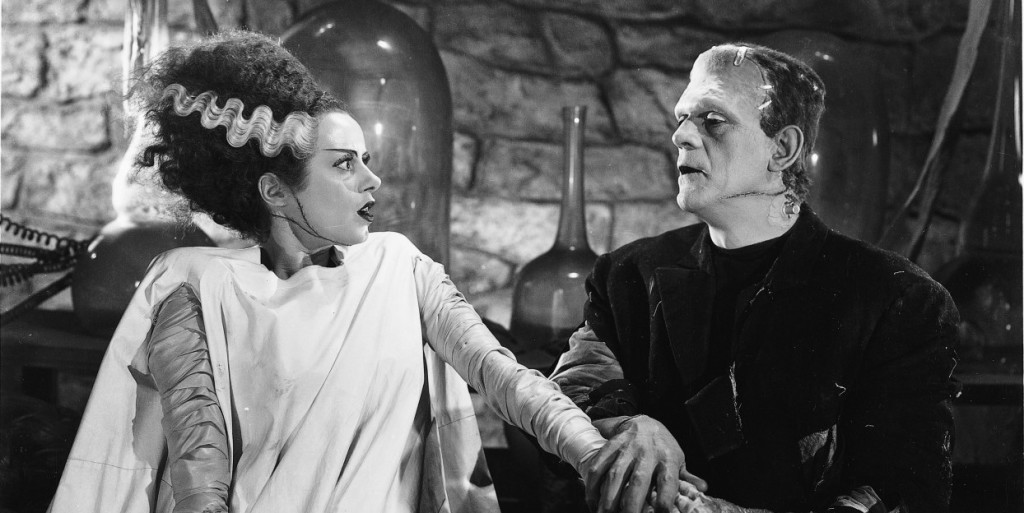 As prime time will be interrupted by trick or treaters all night, Dean Cain counts down "The 13 Scariest Movies of All Time" (CW, 8 p.m.). They're not saying what they are but I'm guessing the list won't overlap the fine roster of classic horror assembled tonight by Turner Classic Movies that starts with "Bride of Frankenstein" (8 p.m.) and continues with "The Devil-Doll" (9:30 p.m.), "House of Usher" (11 p.m.), "Pit and the Pendulum" (12:30 a.m.), "The Haunted Palace" (2 a.m.), "Die, Monster, Die!" (3:45 a.m.) and "The Curse of Frankenstein" (5:15 a.m.).
It starts much earlier on TCM with "Freaks" (6:45 a.m.) and continues with "Dr. Jekyll and Mr. Hyde" (8 a.m.), "The Bat" (9:45 a.m.), "House on Haunted Hill" (11:15 a.m.), "Black Cats and Broomsticks" (12:45 p.m.), "From Beyond the Grave" (1 p.m.), "Black Sabbath" (2:45 p.m.), "Chamber of Horrors" (4:30 p.m.), "House of Wax" (6:15 p.m.).
Other contenders for scariest movies are scattered on several channels all day, including "Bram Stoker's Dracula" (BBC America, 5:30 p.m.), "Beetlejuice" (Paramount, 6:30, 8:30 and 10:30 p.m.), "Return to Halloweentown" (Disney, 6:40 p.m.), "Hocus Pocus" (Freeform, 6:45 and 8:50 p.m.), the 1978 "Halloween" (AMC, 7 p.m.),  "Get Out" (FX, 7:30 p.m.), the 2018 "Halloween" (HBO, 8 p.m.), "Friday the 13th" (IFC, 7 p.m.), "It" (TBS, 8 p.m.), "Teen Wolf" (CMT, 8 p.m.), "Rosemary's Baby" (Epix, 8 p.m.), "Halloweentown" (Disney, 8:20 p.m.), "Boo! A Madea Halloween" (Syfy, 8:30 p.m.), "Halloween H20: 20 Years Later" (AMC, 9 p.m.), "Trick 'r Treat" (IFC, 9:15 p.m.), "Hell Fest" (Showtime, 9:30 p.m.), "Slender Man" (Starz, 9:55 p.m.), "Hostel" (Cinemax, 11 p.m.), "The Dead Zone" (Sundance, 1 a.m.) and "Sinister" (IFC, 1:30 a.m.).
It's telling, though, that the one new movie tonight is for an entirely different holiday (though if you've delayed going to the store to get your Halloween candy until today you'll see it may be more timely than it appears), "A Nostalgic Christmas" (Hallmark Movies & Mysteries, 9 p.m.). Or as another movie puts it, "Christmas Around the Corner" (Lifetime, 8 p.m.).
Perhaps to avoid the usual Friday glut of new online shows  – as well as an entire new streaming service this week in Apple+ — they've moved up without notice the premiere of the second season of "Tom Clancy's Jack Ryan" (Amazon Prime, streaming) to today.  John Krasinski returns as the CIA officer Ryan, involved in tracking Venezuelan arms shipping in a caper that also takes him to the UK and Russia.
In the Chinese import "Nowhere Man" (Netflix, streaming), a death row inmate plans an escape after his son is kidnapped.
A new resident causes division on "The Good Place" (NBC, 9 p.m.).
Grace is not sure who the father of her baby is on "Will & Grace" (NBC, 9:30 p.m.).
An old friend takes the fall on "Mr. Inbetween" (FX, 10 p.m.).
On "How to Get Away with Murder" (ABC, 10 p.m.), Connor learns why he was chosen for the Keating 5.
Delilah does a podcast about suicide on "A Million Little Things" (ABC, 9 p.m.).
On "Perfect Harmony" (NBC, 8:30 p.m.) Dwane opts out of a Halloween tradition.
There is also Halloween activity on shows from "Grey's Anatomy" (ABC, 8 p.m.) to "Superstore" (NBC, 8 p.m.).
But it's just another Wednesday night on "Most Terrifying Places" (Travel, 8 p.m.) and "Ghost Adventures" (Travel, 9 p.m.).
Things heat up on "Temptation Island" (USA, 10 p.m.).
Not sure how "Mysteries Decoded" (CW, 9 p.m.) is still on, but they look for vampires in New Orleans tonight.
On "Law & Order: Special Victims Unit" (NBC, 10 p.m.), a teen is assaulted in the projects.
Savannah joins a football team on "Chrisley Knows Best" (USA, 9:30 p.m.).
Thursday Night Football has San Francisco at Arizona (Fox, 8 p.m.).
NBA action has Miami at Atlanta (TNT, 7 p.m.) and Denver at New Orleans (TNT, 9:30 p.m.).
Hockey has Calgary at Nashville (NHL, 8 p.m.).
In college football, it's West Virginia at Baylor (ESPN, 8 p.m.) and Georgia Southern at Appalachian State (ESPNU, 8 p.m.).
FIFA Under-17 World Cup soccer has Spain vs. Tajikistan (Fox Sports 2, 4 p.m.) and Mexico vs. Italy (Fox Sports 2, 7 p.m.).
Daytime Talk
Kelly Ripa and Ryan Seacrest: Jimmy Fallon, Drew & Jonathan. The View: Jordin Sparks, Dr. Mehmet Oz, cast of "Beetlejuice." The Talk: Kelly Osbourne. Ellen DeGeneres: Jason Momoa, Tiffany Haddish. Kelly Clarkson: Kate Flannery, the Kingdom Choir, Lindsey Stirling. Wendy Williams: Wayne Brady, Circo Hermanos Vazquez. The Real: Asante Blackk.
Late Talk
Stephen Colbert: Rep. Nancy Pelosi, Rob Corddry. Jimmy Kimmel: Antonio Banderas, Natalia Reyes, Big Boi, Sleepy Brown and CeeLo Green. Jimmy Fallon: Kristen Stewart, Gaten Matarazzo, Pete Lee. Seth Meyers: Timothee Chalamet, Cynthia Erivo, Miranda Lambert. James Corden: Jason Mama, Alfre Woodard, Hollywood Vampires. Lilly Singh: David Arquette, Justin Willman. Trevor Noah: Hillary Rodham Clinton, Chelsea Clinton. David Spade: Tony Hale, Fortune Feimster, Josh Wolf. Conan O'Brien: Ewan McGregor.