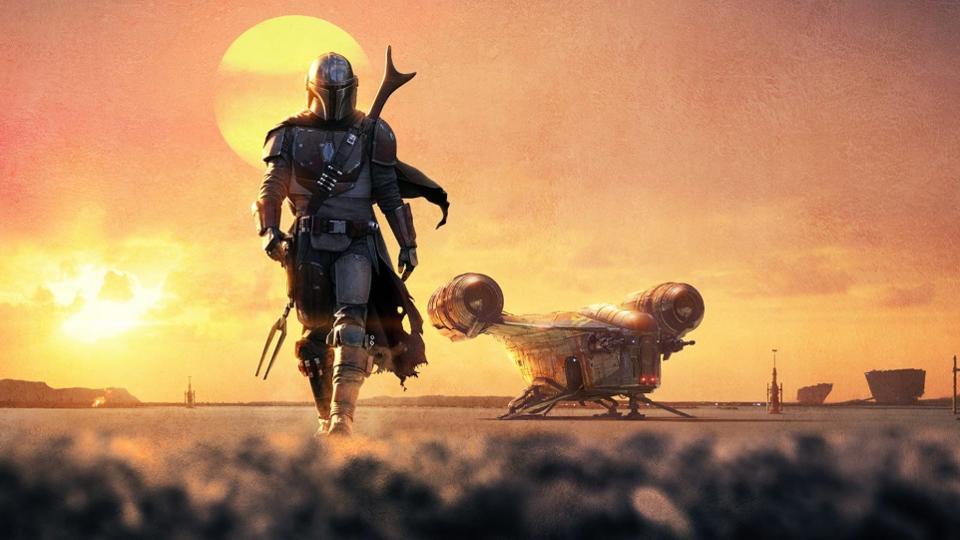 The streaming world cracks open with the debut of a new service, and it's a big one.
Disney+ not only has all the rich holdings of the Disney company, which pulled its famous family fare from other services for just this reason, but the output of its holdings that includes Pixar, Marvel, the "Star Wars" franchise and National Geographic. It amounts to almost 500 movies and 7,500 episodes on opening day.
And in addition to all of that, they will try to lure $7-a-month subscribers with a slate of original shows.
Chief among them is the first live action TV spin-off for the "Star Wars" franchise, "The Mandalorian" (Disney+, streaming), about a bounty hunter in the outer reaches of the galaxy, beyond the reaches of the New Republic, five years after the events of "Return of the Jedi." The series, created by Jon Favreau, features Pedro Pascal, Gina Carano, Giancarlo Esposito, Nick Nolte, Bill Burr, Carl Weathers and Werner Herzog. New episodes will drop each Friday; it's got a huge budget.
Other new things starting today:
A Christmas film that looks like it might actually be good: Anna Kendrick is Santa's daughter in "Noelle" (Disney+, streaming) a comedy that also stars Bill Hader, Billy Eichner, Julie Hagerty and Shirley MacLaine.
"High School Musical: The Musical: The Series" (Disney+, streaming) is the exhausting title of a new scripted series made out of the popular 2006 Disney Channel movie. During the 10-episode about a contemporary class at the same Utah high school decides to put on its own production of said musical.
Speaking of musicals, "Encore!" (Disney+, streaming), has Kristen Bell reconvening the high school casts of their musicals years later and have them do the show again. First up is a stab at "Annie"; a production of "Beauty and the Beast" reunites Friday.
And another past animated classic is remade into one of those creepy live action things involving real animals, in "Lady and the Tramp" (Disney+, streaming), with voices provided by Justin Theroux and Tessa Thompson.
"The World According to Jeff Goldblum" (Disney+, streaming), a series originally created for National Geographic Channel, has the famously quirky actor looking into the making of different things in different locations and mumbling clever things to himself. His first subject is sneakers.
The six-hour documentary series "The Imagineering Story" (Disney+, streaming), by director Leslie Iwerks chronicles 67 years of the studio and innovation lab responsible for the theme parks.
"Marvel's Hero Project" (Disney+, streaming) is a documentary series about young people who are doing selfless things in their own communities. But without capes.
The Pixar contribution to the system is "Pixar IRL" (Disney+, streaming), in which creatures from the various films from "Wall-E" to "The Incredibles" are recreated in real life, and they film the surprised reactions.
Also, a character from "Toy Story 4," voiced by Tony Hale, answering questions. like "What is money?" The 10 episodes of "Forky Asks a Question" (Disney+, streaming) are only three minutes long.
Similarly, "SparksShorts" (Disney+, streaming) presents six new Pixar shorts by a half dozen individual studio artists, four of which are ready for today's start.