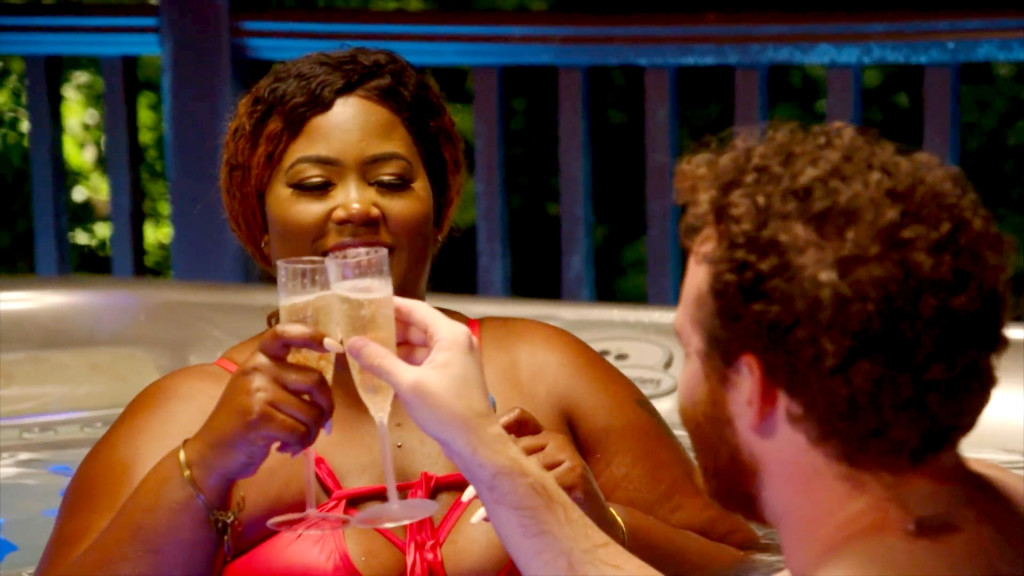 It was 20 years ago when Roger Lodge cocked an eyebrow and started the syndicated show "Blind Date" (Bravo, 11:30 p.m.). The new reboot of it on cable uses some of the same pop-up emojis and comments, but the first person testimonials seem to come from iPhones. The new host, randy comic Nikki Glaser, presides over a dating field that now includes more variations: gay, trans, pansexual, what have you.
The special "Keyshia Cole: My New Life" (BET, 10 p.m.) chronicles the pregnancy of the singer/songwriter and the birth of her second son in August. There's a lot of doctors' visits and pregnancy photo shoots.
Members of the Shinnecock Indian Nation seek to curb the development on their old land on Long Island's Hamptons in the documentary "Conscience Point, making its debut on "Independent Lens" (PBS, 10:30 p.m., check local listings).
It follows an "American Masters" (PBS, 9 p.m., check local listings) about Pulitzer Prize-winning Native American author and poet N. Scott Momaday titled "Words from a Bear."
Finally kicked off last week, at least Sean Spicer didn't make the semi-finals on "Dancing with the Stars" (ABC, 8 p.m.).
The Top 13 perform live on "The Voice" (NBC, 8 p.m.).
Lyra wants to know who to trust on "His Dark Materials" (HBO, 9 p.m.).
Dave joins Calvin's bowling team on "The Neighborhood" (CBS, 8 p.m.).
On "Bob Hearts Abishola" (CBS, 8:30 p.m.), she's only working part time.
An 11-year-old is a key witness on "All Rise" (CbS, 9 p.m.).
On "All American" (CW, 8 p.m.), an exhibition game raises tension.
Jefferson is torn between duties on "Black Lightning" (CW, 9 p.m.).
Miss it last night? Here's the 2019 Soul Train Awards (BET, 7:30 p.m.), back for a repay.
Turner Classic Movies unleashes five swashbuckling movies tonight with "Scaramouche" (8 p.m.), "Adventures of Don Juan" (10:15 p.m.), "The Three Musketeers" (12:15 a.m.), "The Spanish Main" (2:15 a.m.) and "Sword of Sherwood Forest" (4:15 a.m.). During the day are New York stories "The King and the Chorus Girl" (6 a.m.), "Big City Blues" (7:45 a.m.), "Having Wonderful Time" (9 a.m.), "The Wheeler Dealers" (10:15 a.m.), "On the Town" (12:15 p.m.), "No Leave, No Love" (2 p.m.), "East Side, West Side" (4:15 p.m.) and "The Stork Club" (6:15 p.m.).
Monday Night Football has Kansas City vs. Chargers (ESPN, 8:15 p.m.).
There's a Hockey Hall of Fame Induction Ceremony (NHL, 7:30 p.m.).
Pro basketball has Portland at Houston (NBA, 8 p.m.).
Men's college basketball includes Utah Valley at Kentucky (ESPN2, 7 p.m.) and Hawaii at Illinois (ESPNU, 8 p.m.).
Soccer has Uruguay vs. Argentina (beIN Sports, 2:15 p.m.) and Denmark at Ireland (ESPNews, 2:30 p.m.).
Daytime Talk 
Kelly Ripa and Ryan Seacrest: Chrissy Metz, Mat Franco. The View: Helena Bonham Carter. The Talk: Donny Osmond. Ellen DeGeneres: Chadwick Boseman, Cold War Kids. Kelly Clarkson: Bruno Mars, Dr. Phil McGraw, Lacey Chabert. Wendy Williams: Sen. Cory Booker. The Real: Akon.
Late Talk
Stephen Colbert: Adam Driver, Adrienne Warren, the 1975. Jimmy Kimmel: Martin Scorsese, Jharrel Jerome, the Black Keys. Jimmy Fallon: Seth Meyers, Cobie Smulders, Tones and I. Seth Meyers: Matthew Rhys, Jacqueline Woodson, Jon Theodore. James Corden: Helen Hunt, Dave East. Lilly Singh: Constance Wu. Trevor Noah: Tom Steyer.