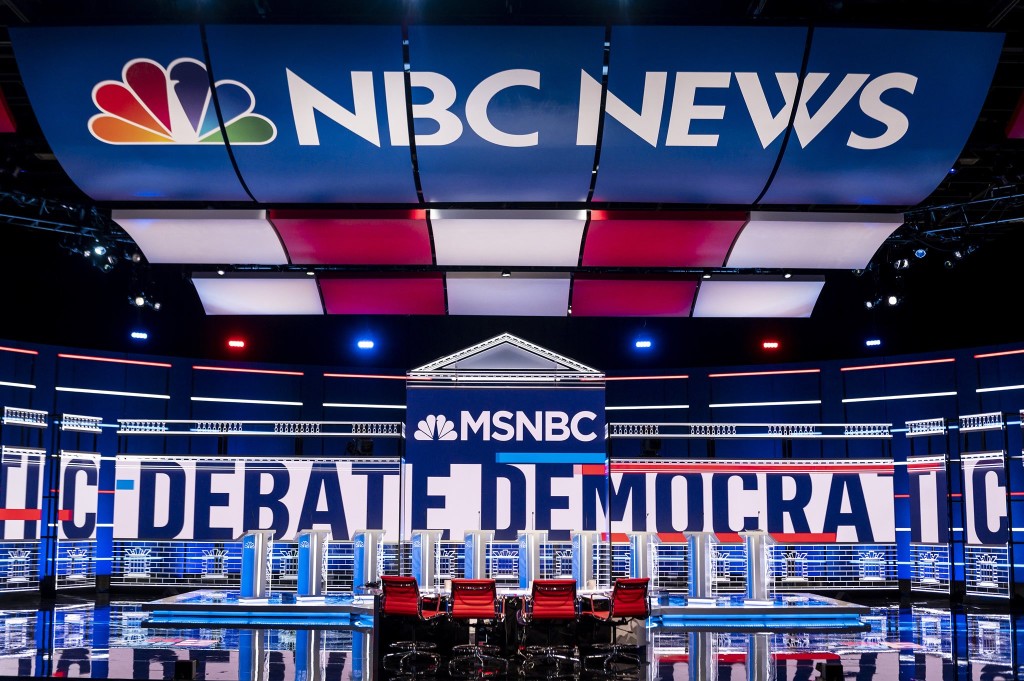 Ten candidates qualified for the fifth Democratic Presidential Debate (MSNBC, 9 p.m.) presented live from Tyler Perry Studios in Atlanta: Joe Biden, Cory Booker, Pete Buttigieg, Tulsi Gabbard, Kamala Harris, Amy Klobuchar, Bernie Sanders, Tom Steyer, Elizabeth Warren and Andrew Yang. Moderators are Andrea Mitchell, Rachel Maddow, Kristen Welker and Ashley Parker of the co-sponsoring Washington Post. Weird that NBC isn't running the debates, since it's moderated by its correspondents.
I guess they could have titled it like the other shows shot at his Atlanta studio, "Tyler Perry's The Oval" (BET, 9 p.m.) and "Tyler Perry's Sistas" (BET, 10 p.m.).
The rest of the day's politics can be found in House Impeachment Inquiry (ABC, CBS, NBC, CNN, MSNBC, CSPAN, Fox News, 9 a.m. and 2:30 p.m.), which begins its fourth day with its biggest figure to date, Gordon Sondland, the U.S. ambassador to the European Union, who takes Trump's calls in a Kiev restaurant. The afternoon has Laura Cooper, deputy assistant secretary of defense, and David Hale, undersecretary of state for political affairs. Will it stretch into prime time, as did Tuesday's session?
Whatever happens will provide fodder for political late night shows like "Full Frontal with Samantha Bee" (TBS, 10:30 p.m.).
"It's Always Sunny in Philadelphia" (FXX, 10 p.m.) ends its 14th season with a pair of episodes involving haircuts and laser tag.
Paul Reiser and Helen Hunt reprise their roles in a brief revival of "Mad About You" (Spectrum, streaming). This time though, they are empty nesters, 20 years later. Only available for subscribers to Spectrum cable or its app.
The new documentary "Bikram: Yogi, Guru, Predator" (Netflix) looks at charges against hot yoga founder Bikram Choudhury.
A new "Nature" (PBS, 8 p.m.) looks at the lives of bears.
The forecast for Thanksgiving in "Riverdale" (CW, 8 p.m.) is an ice storm. But there's a Thanksgiving breakout everywhere, on "The Goldbergs" (ABC, 8 p.m.), "Modern Family" (ABC, 9 p.m.), "Guy's Grocery Games" (Food, 9 p.m.) and "Single Parents" (ABC, 9:30 p.m.)
Friendsgiving is also a TV thing, on shows from "Schooled" (ABC, 8:30 p.m.) and "Martha & Snoop's Potluck Dinner Party" (VH1, 9 p.m.). It's also Friendsgiving on "Stumptown" (ABC, 10 p.m.), on which Dex is hired by a local politician to dig up dirt on his opponent.
"Nova" (PBS, 9 p.m., check local listings) looks at violence and whether it can be eliminated.
Alex Rodriguez, who rehabilitates the images of fallen public figures on his series "Back in the Game" (CNBC, 10 p.m.) comes to the aid of Ryan Seacrest's original "American Idol" co-host Brian Dunkleman.
Dolores tries to move her relationship forward on "The Real Housewives of New Jersey" (Bravo, 8 p.m.).
"S.W.A.T." (CBS, 10 p.m.) gets in hostage negotiations with an evicted family.
Kelly Osbourne was the Ladybug on "The Masked Singer" (Fox, 8 p.m.). Another is unmasked tonight.
"Nancy Drew" (CW, 9 p.m.) is investigating two murders now.
Seems like there has been a blindside every single week on "Survivor" (CBS, 8 p.m.).
"The Real Housewives of Dallas" (Bravo, 9 p.m.) are probably not the best guests in Thailand.
Fall finales are kind of a fake thing – it's just a break for the holidays. But they do it up big for the Windy City ones, "Chicago Med" (NBC, 8 p.m.), "Chicago Fire" (NBC, 9 p.m.) and "Chicago P.D." (NBC, 10 p.m.).
The Wednesday focus on cinematography on Turner Classic Movies brings another wealth of great films, this time from the 1960s and '70s: "Doctor Zhivago" (6:15 a.m.), "Fanny and Alexander" (9:45 a.m.), "Who's Afraid of Virginia Woolf?" (1 p.m.), "Cabaret" (3:15 p.m.), "Cool Hand Luke" (5:30 p.m.), "McCabe & Mrs. Miller" (8 p.m.), "Klute" (10:15 p.m.), "The Last Picture Show" (12:30 a.m.) and "The Wild Bunch" (3 a.m.).
NBA action includes Golden State at Dallas (ESPN, 8 p.m.) and Boston at Clippers (ESPN, 10:30 p.m.).
Hockey has Washington at Rangers (NBC Sports, 8 p.m.).
Men's college hops includes Columbia at St. John's (Fox Sports 1, 7 p.m.), BYU at Boise State (CBS Sports, 10 p.m.) and Saint Mary's at Fresno State (ESPNU, 11 p.m.).
College football has Toledo at Buffalo (ESPN2, 7:30 p.m.) and Akron at Miami-Ohio (ESPNU, 7:30 p.m.).
Daytime Talk
Kelly Ripa and Ryan Seacrest: Gabrielle Union, Craig Ferguson, Johnny Galecki (rerun). The Talk: Garth Brooks. Ellen DeGeneres: Brie Larson, Julie Andrews. Kelly Clarkson: Seth Meyers, Marie Kondo, Beth Behrs. Wendy Williams: Lena Waithe. The Real: Ed Quinn, Tisha Campbell.
Late Talk
Stephen Colbert: John Heilemann, Alex Wagner. Jimmy Kimmel: Garth Brooks, Mike Birbiglia. Jimmy Fallon: Dolly Parton, Kacey Musgraves. Seth Meyers: Adam Driver, Jonathan Groff, Hozier, Jon Theodore. James Corden: Julie Andrews, Kristen Bell. Lilly Singh: Ginnifer Goodwin, Chase Bernstein. Trevor Noah: Alicia Menendez. David Spade: Michael Rapaport, Liza Tretyger, Tony Rock. Conan O'Brien: Dax Shepard.