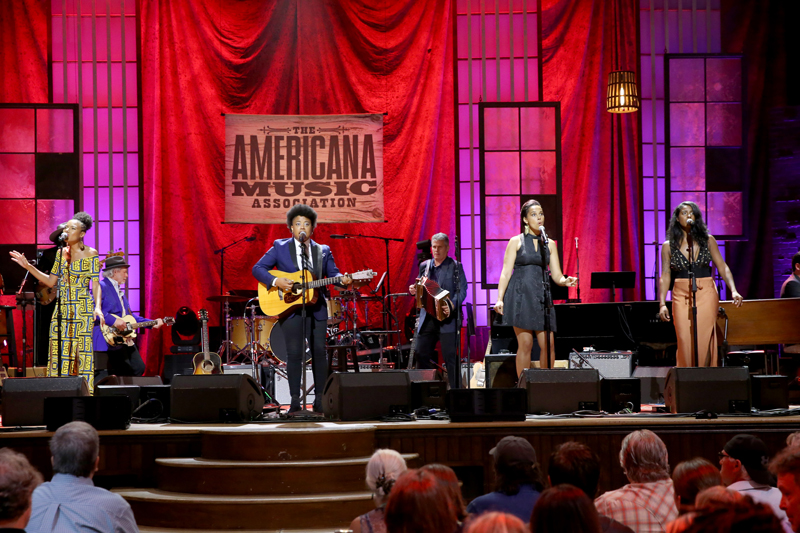 "Austin City Limits Presents: The 18th Annual Americana Awards" (PBS, 11 p.m. check local listings) presents the musical highlights of the event, held in September at Nashville's historic Ryman Auditorium.
Performances come from winners Brandi Carlile, Bonnie Raitt with John Prine, and Elvis Costello, joining Jim Lauderdale on "Red Cotton" and "Blame It On Cane." Other performers include the Milk Carton Kids, I'm With Her, The War and Treaty, Rhiannon Giddens, Joe Henry with Rodney Crowell, Mavis Staples, Mumford & Sons and Our Native Daughters (pictured above).
Prime time broadcast college football has Oregon at Arizona State (ABC, 7:30 p.m.) and TCU at Oklahoma (Fox, 8 p.m.). They follow a whole lot of other games listed below.
Migrations, oceans and reefs are explored on the latest episode of "Planet Earth: Blue Planet II" (BBC America, 9 p.m.).
Elvis never appears in "Christmas at Graceland: Home for the Holidays" (Hallmark, 8 p.m.), but Priscilla does, briefly. Mostly it's a romance between a former Graceland tour guide (Kaitlin Doubleday) who starts working as a nanny for a widower (Adrian Grenier of "Entourage") — two characters who weren't a part of last year's "Christmas at Graceland" and the subsequent "Wedding at Graceland" over the summer.
A wedding planner (Sarah Drew) and a decorator (Ryan McPartlin) find their own holiday romance on "Twinkle All the Way" (Lifetime, 8 p.m.). Also appearing: Lesley Ann Warren.
Also getting into the Christmas romance racket — if only to have a little more color than found in the other networks' white Christmases is "Christmas Belles" (BET, 8 p.m.), in which Raven Goodwin and Dominique Perry play best friends who compete for the handsome new paster Also starring are Janet Hubert, John Amos, Mark Taylor and Omar Gooding.
A refreshingly more timely new holiday romance is the Thanksgiving-themed "Turkey Drop" (Freeform, 9 p.m.) in which Olivia Hart plays a girl convinced her high school boyfriend (Tyler Perez) is about to drop her when they both return from their freshman semester in college. Ben Levin and Cheryl Hines also star.
No holiday at all is involved in the her thriller "My Husband's Secret Twin" (Lifetime Movie Network, 8 p.m.) in which Charlotte Graham plays a woman who thinks her husband (Rick Cosnett) isn't the man she married.
Jordan Peele's horror film "Us" (HBO, 8 p.m.), with Lupita Nyong'o, Elisabeth Moss and Winston Duke, makes its premium cable premiere.
The comedian who was in Peele's other horror film, "Get Out," and briefly had his own sitcom, is featured in a new standup special from Los Angeles, "Lil Rel Howery: Live in Crenshaw" (HBO, 10 p.m.).
A new feature looks at the disappearance of sisters nearly 20 years ago in Augusta, Ga., on "The Disappearance of the Hillbrook Twins" (Oxygen, 7 p.m.).
"Love & Marriage: Huntsville" (OWN, 9 pm.) begins its reunion episodes.
Tommy sends exes on dates with the guys and their new romantic interests on "Ready to Love" (OWN, 10 p.m.).
All the cookies are white on "Christmas Cookie Challenge" (Food, 10 p.m.).
On "Crikey! It's the Irwins" (Animal Planet, 8 p.m.), Robert trains a dragon.
The TV crew gets involved in adoption on "Amanda to the Rescue" (Animal Planet, 10 p.m.).
A pair of triple generation stories are on Turner Classic Movies, "Daughters of the Dust" (8 p.m.) and "Crossing Delancey" (10 p.m.). They are followed by the 12 o'clock noir "Kansas City Confidential" (midnight), and "The Scarlet Pimpernel" (2 a.m.) followed by "The Return of the Scarlet Pimpernel" (4 a.m.).
College football begins at noon with games that include Minnesota at Northwestern (ABC), Penn State at Ohio State (Fox), Western Carolina at Alabama (ESPN), Oklahoma State at West Virginia (ESPN2), Michigan State at Rutgers (Fox Sports 1) and UCF at Tulane (CBS Sports).
After Boston College at Notre Dame (NBC, 2:30 p.m.) comes games at 3:30 p.m. that include UCLA at Southern California (ABC), Texas A&M at Georgia (CBS), Michigan at Indiana (ESPN), Pittsburgh at Virginia Tech (ESPN), Texas at Baylor (Fox Sports 1), SMU at Navy (CBS Sports) and North Texas at Rice (NFL).
Then comes Purdue at Wisconsin (Fox, 4 p.m.), Memphis at South Florida (ESPNU, 4 p.m.), Temple at Cincinnati (ESPN2, 7 p.m.), Arkansas at LSU (ESPN, 7 p.m.), Kansas State at Texas Tech (Fox Sports 1, 7 p.m.), Miami at Florida International (CBS Sports, 7 p.m.), Houston at Tulsa (ESPNU, 7:30 p.m.), Washington at Colorado (ESPN, 10 p.m.), Utah at Arizona (Fox Sports 1, 10 p.m.), Nevada at Fresno State (ESPN2, 10:30 p.m.) and Boise State at Utah (CBS Sports, 10:30 p.m.).
Basketball has New Orleans at Utah (NBA, 9 p.m.).
Hockey includes Rangers at Montreal (NHL, 7 p.m.).
Men's college hoops include Virginia vs. Massachusetts (ESPNews, noon), Florida A&M at Seton Hall (Fox Sports 2, noon), Robert Morris at Marquette (Fox Sports 2, 2 p.m.) and Pennsylvania at Providence (Fox Sports 2, 4 p.m.).
Will Ferrell returns to host a new "Saturday Night Live" (NBC, 11:30 p.m.) with musical guest King Princess.