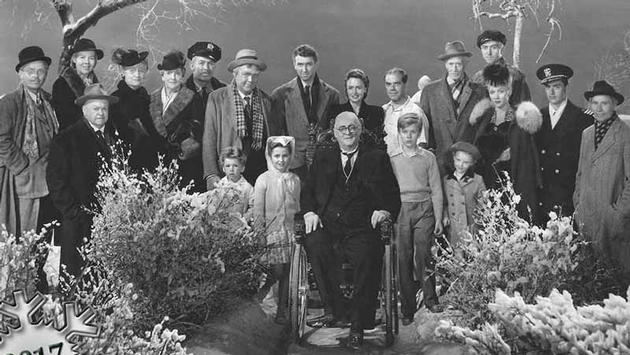 One it seemed that every time an angel got its wings, you'd be seeing "It's a Wonderful Life" (NBC, 8 p.m.) on TV. But with NBC restricting its showings, it makes the first of  only two scheduled seasonal appearances tonight, albeit stretched out over three hours. The next appearance is Christmas Eve. Here is a very odd cast picture, with Potter front and center, and director Frank Capra standing  just to the right of Donna Reed.
"Planet Earth: Blue Planet II" (BBC America, 9 p.m.) ends its season by looking for the humpback whale in Mexico.
College football on prime time has Colorado at Utah (ABC, 7:30 p.m.) and Oklahoma at Oklahoma State (Fox, 8 p.m.). They're part of a big game day enumerated below.
Some Christmas specials out of mothballs include "Robbie the Reindeer: Hooves of Fire" (CBS, 8 p.m.) and "Robbie the Reindeer: The Legend of the Lost Tribe" (CBS, 8:30 p.m.) and "The Story of Santa Claus" (CBS, 9 p.m.).
"Shazam!" (HBO, 8 p.m.), the superhero movie starring Zachary Levi, makes its prime time debut.
Forty-four hungry alligators ar efed at the same time on "Crikey! It's the Irwins" (Animal Planet, 8 p.m.).
"Amanda to the Rescue" (Animal Planet, 10 p.m.) helps a puppy with neurological problems.
In the latest made-for-TV holiday romance, "Christmas in Rome" (Hallmark, 8 p.m.), Lacey Chabert plays a tour guide who falls for a client (Sam Page) in Italy. During Christmas.
In the new "Merry Liddle Christmas" (Lifetime, 8 p.m.). Kelly Rowland stars a tech entrepreneur has her house full for the holidays. Rowland supplied the inspiration for the story, as well as some new songs.
In "Hip Hop Holiday" (BET, 8 p.m.), a hip hop diva rekindles an old friendship over Christmas. Andra Fuller, Ta'Rhonda Jones and Wendy Raquel Robinson star.
Merely stealing the Jane Austen title for another executive vs. party planner romance is "Sense, Sensibility & Snowmen" (Hallmark Movies & Mysteries, 9 p.m.) with Erin Krakow and Luke MacFarlane.
No holiday cheer in the remaining made-for-TV movie, "The Twisted Nanny" (Lifetime Movie Network, 8 p.m.) with a plot as worn out as those in Christmas movies: the wrong hire for domestic worker threatens the entire family.
Elsewhere, "Elf" (AMC, 7 and 9 p.m.) is on more than once, as is "The Best Man Holiday" (FX Movies, 6:50 and 9:10 p.m.).. And so is "Pretty Woman" (Bravo, 7:12 p.m., 9:48 p.m.) and "50 First Dates" (Comedy Central, 7:25 and 9:30 p.m.).
Two political films from Gillo Pontecorvo, "The Battle of Algiers" (8 p.m.) and "Burn!"" (10:15 p.m.) kick off the night on Turner Classic Movies. The 12 o'clock noir is "The Mask of Dimitrios" (midnight), followed by the epic "Spartacus" (2:15 a.m.).
College football starts at noon with games that include Ohio State at Michigan (Fox), Clemson at South Carolina (ESPN), Georgia at Georgia Tech (ABC), Indiana at Purdue (ESPN2), Northwestern at Illinois (Fox Sports 1) and Tulsa at East Carolina (ESPNU).
Games at 3:30 p.m. include Maryland at Michigan State (Fox Sports 1), Alabama at Auburn (CBS), Wisconsin at Minnesota (ABC), Baylor at Kansas (ESPN), Miami at Duke (ESPN2), Connecticut at Temple (CBS Sports) and Southern Mississippi at Florida Atlantic (NFL).
Then comes Notre Dame at Stanford (Fox, 4 p.m.), Tulane at SMU (ESPNU, 4 p.m.), Navy at Houston (ESPN2, 7 p.m.), Texas A&M at LSU (ESPN, 7 p.m.), Iowa State at Kansas State (Fox Sports 1, 7 p.m.), Louisiana Monroe at Louisiana (ESPNU, 7:30 p.m.), BYU at San Diego State (CBS Sports, 9 p.m.), Arizona at Arizona State (ESPN, 10 p.m.), California at UCLA (Fox Sports 1, 10:30 p.m.), Fresno State at San Jose State (ESPN2, 10:30 p.m.) and Army at Hawaii (CBS Sports, midnight).
Basketball has Indiana at Philadelphia (NBA, 7 p.m.).
Hockey includes Rangers at New Jersey (NHL, 1 p.m.).
Men's college basketball includes Wagner at St. John's (Fox Sports 2, noon), North Carolina Greensboro at Georgetown (Fox Sports 2, 2 p.m.) and Boston College at Richmond (NBC Sports, 2:30 p.m.).
Winter Sports begin the Alpine World Cup in women's giant slalom (NBC Sports, 12:30 p.m.), men's downhill (NBC Sports, 9 p.m.) as well as the luge world cup (NBC, 2:30 p.m.) and the women's 10K cross-country world cup (NBC Sports, 10 p.m.).
Women's college volleyball includes Marquette vs. St. John's (Fox Sports 2, 4:30 p.m.).
The Pretenders play a 2017 "Austin City Limits" (PBS, 11 p.m., check local listings).
The David Harbour-hosted episode of "Saturday Night Live" (NBC, 11:30 p.m.) with Camila Cabello from just last month is rerun, just so the political jokes don't get too old, I guess.