J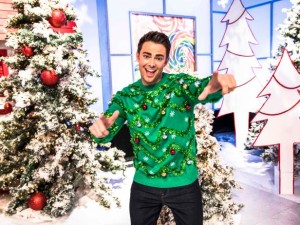 onathan Bennett hosts another new Christmas cooking competition with "Holiday Wars" (Food, 9 p.m.), which pits bakers and candy makers against each other. It precedes a new season start for "Holiday Gingerbread Showdown" (Food, 10 p.m.).
The imported Philippine film "Dead Kids" (Netflix, streaming), , about high schoolers who plot to abduct the school's arrogant rich kid, is from director Mikhail Red.
Angela is pitted against Lady Trieu on the latest episode of "Watchmen" (HBO, 9 p.m.)
"60 Minutes" (CBS, 8 p.m.) follows South African miners to the deepest mines.
Sunday Night Football has New England at Houston (NBC, 8:15 p.m.). Earlier games include Washington at Carolina (CBS, 1 p.m.), San Francisco at Baltimore (Fox, 1 p.m.) and Oakland at Kansas City (CBS, 4:25 p.m.).
Candace Cameron Bure stars as a Bostonian who rediscovers small town life in "Christmas Town" (Hallmark, 8 p.m.), with Tim Rozon and Beth Broderick.
Similarly, it's Kim Fields who goes back to her hometown in "You Light Up My Christmas" (Lifetime, 8 p.m.), joined by some of her castmates from "The Facts of Life," Mindy Cohn, Nancy McKeon and Lisa Welchel.
Not to be confused with the Netflix movie of the same name, "A Christmas Princess" (ION, 7 p.m.) stars Travis Burns as a prince who falls for a chef (Shein Mompremier).
Not associated with the holidays, "All My Husband's Wives" (Lifetime Movie Network, 9 p.m.) is about a woman who finds that after his death, her husband had some secrets. Erin Karpluk, Kelly Rutherford and Kate Corbert star.
A military conflict inches to the brink of nuclear confrontation on "Madam Secretary" (CBS, 10 p.m.).
"Mr. Robot" (USA, 10 p.m.) has some problems as well.
Russfest is the answer to Burning Man on "Silicon Valley" (HBO, 10 p.m.), and Pied Piper is its sponsor.
The focus is on the Flanders family and a moment of doubt on "The Simpsons" (Fox, 8 p.m.).
"Ray Donovan" (Showtime, 8 p.m.) gets closer to Molly Sullivan when he realizes their family ties.
"National Lampoon's Christmas Vacation" (AMC, 6 p.m. and 8:15 p.m.) gets a double play. Plus there's "The Santa Clause 3: The Escape Clause" (Freeform, 6:55 p.m.), "Office Christmas Party" (FX, 7:30 p.m.), "Dr. Seuss' How the Grinch Stole Christmas" (Freeform, 9 p.m.),
Alice and Mouse devise a wicked plan on "Batwoman" (CW, 8 p.m.).
On "Dublin Murders" (Starz, 8 p.m.) Rob gets something out of the Katy investigation.
Just about all the voices in the nearly 50 year old "Santa Claus is Comin' to Town" (ABC, 8 p.m.) are dead: Fred Astaire, Mickey Rooney and Keenan Wynn among them. But Burgermeister Meisterburger lives on.
A little bit newer animated perennial: 2011's "Ice Age: A Mammoth Christmas Special" (Fox, 8:30 p.m.).
A couple of "The Real Housewives of Atlanta" (Bravo, 8 p.m.) a play date for their babies.
Gene tries out for a community theater production on "Bob's Burgers" (Fox, 9 p.m.).
"NCIS: Los Angeles" (CBS, 9 p.m.) marks its 250th episode.
The Cabo trip continues on "Married to Medicine" (Bravo, 9 p.m.).
On "Shameless" (Showtime, 9 p.m.), Frank and Mikey take a day of adventure.
A quicker Christmas tree installation is pitched on "Shark Tank" (ABC, 9 p.m.).
"Supergirl" (CW, 9 p.m.) faces off against Rama Khan.
Trust is tested on "The Rookie" (ABC, 10 p.m.).
"Botched" (E!, 10 p.m.) has a special holiday edition.
Surgery rallies the family together on "Unpolished" (TLC, 10 p.m.).
"Mrs' Fletcher" (HBO, 10:35 p.m.) starts getting some flirtatious texts.
The 1896 Alaskan gold rush gets a new look on "America in Color" (Smithsonian, 8 p.m.); Churchill is covered on "Britain in Color" (Smithsonian, 9 p.m.).
Christmas movies start showing on Turner Classic Movies too with "Holiday Affair" (4:15 p.m.), "The Shop Around the Corner" (6 p.m.), the 1951 "A Christmas Carol" (8 p.m.), and "The Bishop's Wife" (10 p.m.). The silent film at 12 is "The Smart Set" (midnight) followed by two 1990s films from Mike Leigh, "Career Girls" (2 a.m.) and "Life is Sweet" (3:45 p.m.).
Hockey has Montreal at Boston (NHL, 7 p.m.).
Men's college basketball includes Texas A&M vs. Fairfield (ESPNU, 10:30 a.m.), Maryland vs. Marquette (ESPN, 1 p.m.), La Salle at Villanova (Fox Sports 1, 6:30 p.m.) and Wake Forest vs. Arizona (ESPN, 9 p.m.).
Is Beach Soccer a thing? There's some world cup games in it today with Russia vs. Japan (Fox Sports 2, 2:15 p.m.) and Italy vs. Portugal (Fox Sports 2, 4 p.m.) for the championship.
Auto racing has the Abu Dhabi Grand Prix (ESPN2, 8 a.m.) and the NASCAR Awards Show (NBC Sports, 9 p.m.).
Women's college volleyball has its tournament selection show (EPNU, 8:30 p.m.).
Men's college hockey includes Michigan at Wisconsin (ESPNU, 5 p.m.).
And there's the Alpine World Cup (NBC, 12:30 p.m.).
Sunday Talk
ABC: Reps. Val Demings and Tom McClintock. CBS: Cory Booker. NBC: Sen. John Kennedy, Arnold Schwarzenegger, John Kerry, Amy Klobuchar. CNN: Klobuchar and Rep. Zoe Lofgren. Fox News: Reps. Doug Collins and Hakeem Jeffries.