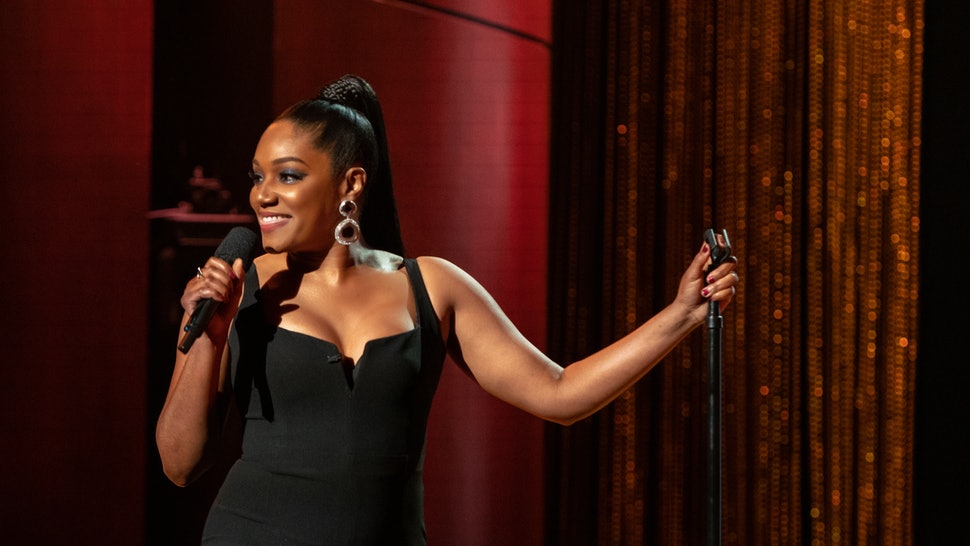 The latest standup special from the busy comic "Tiffany Haddish: Black Mitzvah" (Netflix, streaming) address her Jewish heritage, her career heights and a few stumbles, such as a New Year's Eve show in Miami that went all wrong.
Trisha Yearwood hosts the tenth "CMA Country Special" (ABC, 9 p.m.) concert special with Lady Antebellum, Chris Young, Tori Kelly, Kristen Chenoweth and CeCe Winans, among others. Another country artist has his own holiday variety show as well, "Brad Paisley Thinks He's Special" (ABC, 8 p.m.), filmed in Nashville with special guests include Carrie Underwood, Tim McGraw, Darius Rucker, Kelsea Ballerini and the Jonas Brothers.
Just a coincidence that Yearwood's hosting duties play opposite the concluding half of her hubby's bio film "Garth Brooks: The Road I'm On" (A&E, 9 p.m.).
the new sports documentary "24/7: Kelly Slater" (HBO, 9 p.m.) looks at the preparations by the surfer for the Billabong Pipe Masters in Hawaii.
Doug tries to save a target on the first season finale of "Treadstone" (USA, 10 p.m.).
Somebody will be eliminated on "The Voice" (NBC, 9 p.m.).
"The Flash" (CW, 8 p.m.) is infected by Bloodwork.
A former patient files a malpractice suit on "The Resident" (Fox, 8 p.m.).
"The Real Housewives of Orange County" (Bravo, 9 p.m.) are in Key West.
A second season starts for the series with the smallest cameras, "Body Cam" (Investigation Discovery, 10 p.m.). It follows a third season start of "Homicide City: Charlotte" (Investigation Discovery, 9 p.m.), which is not a travelogue.
There's a holiday special on with "How to Train Your Dragon: Homecoming" (NBC, 8:30 p.m.) but it's the Snoggletog Festival.
Oliver this to avoid the looming crisis on "Arrow" (CW, 9 p.m.).
Tinkering with the film script about the studio, "Empire" (Fox, 9 p.m.) considers the origins of the company.
The big night approaches on "The Purge" (USA, 9 p.m.).
IT's the second episode of "Making It" (NBC, 10 p.m.) in as many nights.
"Teen Mom 2" (MTV, 8 p.m.) begins its reunion episodes.
Chris Kattan, Willie Aames and Brandi Glanville are "Famously Afraid" (Travel, 10 p.m.).
Oscar Levant is star on Turner Classic Movies tonight, in "Humoresque" (8 p.m.), "The Band Wagon" (10:45 p.m.), "The Barkleys of Broadway" (12:45 a.m.), "The I Don't Care Girl" (2:45 a.m.) and "Romance on the High Sea" (4:15 a.m.).
During the day, TCM shows the final films by various actors: Greta Garbo in "Two-Faced Woman" (7:15 a.m.), Jean Harlow in "Saratoga" (9 a.m.), Natalie Wood in "Brainstorm" (10:45 a.m.), Frank Morgan in "Key to the City" (12:45 p.m.), Carol Lombard in "To Be or Not to Be" (2:45 p.m.) and James Dean in "Giant" (4:30 p.m.).
NBA action includes Dallas at New Orleans (TNT, 7:30 p.m.) and Portland at Clippers (TNT, 10 p.m.).
Hockey includes Tampa Bay at Nashville (NBC Sports, 8 p.m.).
Men's college hoops include Saint Peter's at St. John's (Fox Sports 1, 6:30 p.m.), Northwestern at Boston College (ESPNU, 7 p.m.), Iowa at Syracuse (ESPN2, 7 p.m.), Vermont at Cincinnati (CBS Sports, 7 p.m.), Michigan at Louisville (ESPN, 7:30 p.m.), Oral Roberts at Creighton (Fox Sports 1, 8:30 p.m.), Bradley at Memphis (CBS Sports, 9 p.m.), Rutgers at Pittsburgh (ESPNU, 9 p.m.), Florida State at Indiana (ESPN2, 9 p.m.), Duke at Michigan State (ESPN, 9:30 p.m.) and Arizona State at San Francisco (CBS Sports, 11 p.m.).
Daytime Talk
Stephen Colbert: Steve Carell, Toby Keith (rerun). Jimmy Kimmel: Henry Cavill, Chris Shepherd, Beck. Jimmy Fallon: Kevin Delaney, Felicity Jones, Tomi Adeyemi, Burna Boy. Seth Meyers: Ted Danson, Elizabeth Olsen, Diane Von Furstenberg (rerun). James Corden: Arnold Schwarzenegger, Linda Hamilton (rerun). Lilly Singh: Elizabeth McGovern, Allen Leech, Hugh Bonneville (rerun). Trevor Noah: Ta-Nehisi Coates. David Spade: Rob Lowe, Dusty Slay, Annie Lederman.
Late Talk
Kelly Ripa and Ryan Seacrest: Laura Linney, Aaron Taylor-Johnson, Lance Ulanoff. The View: Dennis Quaid, Ronan Farrow. The Talk: Brad Paisley, Brigitte Nielsen. Ellen DeGeneres: Jimmy Kimmel, Jennifer Beals, Kacey Musgraves. Kelly Clarkson: Tom Hanks, Matthew Rhys, Susan Kelechi Watson, Marielle Heller. Tamron Hall: Candace Cameron-Bure. Wendy Williams: Ray J. The Real: Bandy Smith-Harris, Fantasia, Rachel Lindsay.