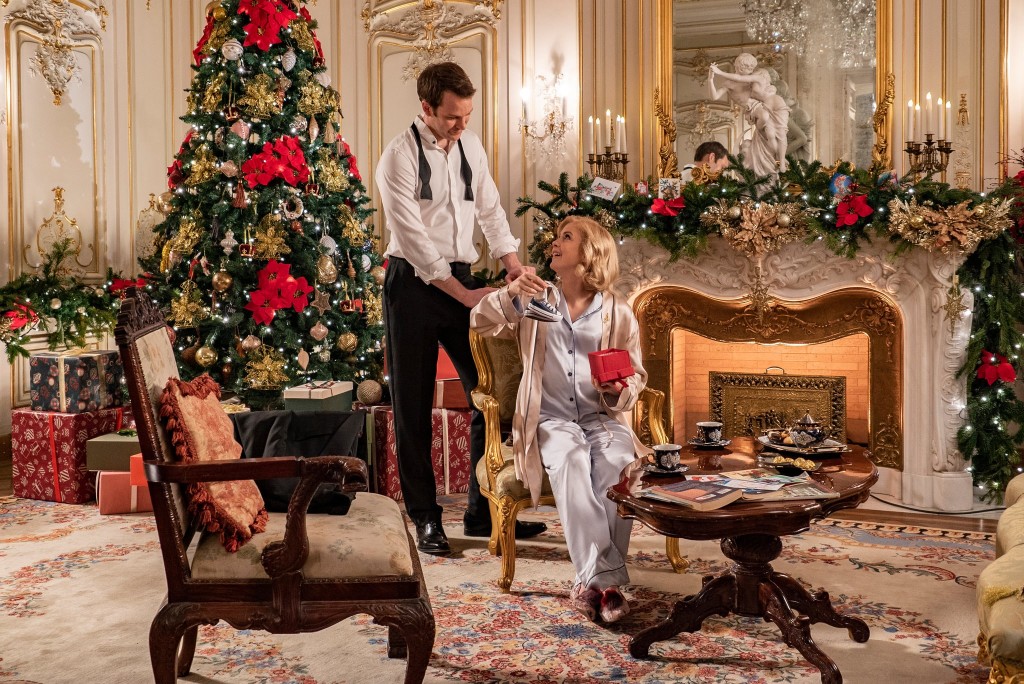 In yet another sequel to its stab as a holiday romance, "The Christmas Prince: The Royal Baby" (Netflix, streaming) follows the impending birth in Aldovia, a fictional country undergoing a crisis when a 600-year-old treaty disappears and war looms. Rose McIver and Ben Lamb reprise their roles as the royal couple.
With three other cable networks turning out Christmas movies by the dozens each season, it's about time broadcast network get back in the business. They try tonight with "Same Time, Next Christmas" (ABC, 9 p.m.) in which Lea Michele of "Glee" fame plays a young woman who reunites with a childhood sweetheart (Charles Michael Davis) during her family's annual Christmas trip to Hawaii. Bryan Greenberg and Nia Vandalos also star. It gets the best possible lead-in: the 54-year-old favorite, "A Charlie Brown Christmas" (ABC, 8 p.m.).
In yet another holiday movie, the Norwegian import "Home for Christmas" (Netflix, streaming), a young woman promises her family she'll bring her boyfriend home for the holidays for all to meet, then she has to find a guy to fill the role.
An 18th season starts for "Project Runway" (Bravo, 9:30 p.m.); its second with Karlie Kloss and Christian Soriano filling in for Heidi Klum and Tim Gunn. It's also the second season for Brandon Maxwell and Elaine Welteroth as judges alongside Nina Garcia.
A new season starts for Kevin Williamson's "Tell Me a Story" (CBS All Access, streaming), the anthology series putting horror spins on classic fairy tales including this time, "Cinderella," "Sleeping Beauty" and "Beauty and the Beast," pretty much rendering them unrecognizable.
Dan Abrams hosts the new "Court Cam" (A&E, 9 and 9:30 p.m.) which collects wild clips from courtrooms across the country.
A winter season starts on "Ex on the Beach" (MTV, 9 p.m.) packed with reality stars, including Adore Delano from "RuPaul's Drag Race," Daniel Maguire from "The Bachelorette," and various ex couples from "Love Island" and ""Temptation Island." It starts with a two hour premiere episode.
Thursday Night Football has Dallas at Chicago (Fox, 8 p.m.).
Wreaths are made on "Making It" (NBC, 10 p.m.).
It follows the first showing of the annual compendium of holiday sketches on "A Saturday Night Live Christmas Special" (NBC, 8 p.m.).
It's even Christmastime on "Legacies" (CW, 9 p.m.).
"Temptation Island" (USA, 10 p.m.) offers overnight dates.
Daniel is sued for inflicting psychological harm after an exorcism on "Evil" (CBS, 10 p.m.).
Among the many competitions for the holiday are "Santa's Baking Blizzard" (Food, 8 and 9 p.m.).
On "Supernatural" (CW, 8 p.m.), Dean splits off on his own for a case.
Wade pretends to be off the market on "The Unicorn" (CBS, 8:30 p.m.).
"Young Sheldon" (CBS, 8 p.m.) gets a party invitation.
Gus gets over his breakup on "Floribama Shore" (MTV, 8 p.m.).
On "Mom" (CBS, 9 p.m.), Tammy has trouble adjusting to early release from parole.
Therapy dogs are unleashed on "Carol's Second Act" (CBS, 9:30 p.m.).
Joan Blondell is star of the month on Turner Classic Movies, starting with her earliest films from the 1930s, "Sinner's Holiday" (8 p.m.), "Millie" (9:15 p.m.), "Blonde Crazy" (11 p.m.), "Make Me a Star" (12:30 a.m.), "Blondie Johnson" (2:15 a.m.), "The Crowd Roars" (3:30 a.m.) and "Three on a Match" (4:45 a.m.).
During the day are gangster tales of revenge: "The Widow from Chicago" (6 a.m.), "The Finger Points" (7:15 a.m.), "Gambling on the High Seas" (8:45 a.m.), "Black Hand" (9:45 a.m.), "White Heat" (11:30 a.m.), "Race Street" (1:30 p.m.), "Little Caesar" (3 p.m.), "Pay or Die!" (4:30 p.m.) and "The Purple Gang" (6:30 p.m.).
Basketball includes Houston at Toronto (NBA, 7:30 p.m.).
Women's college basketball includes Connecticut at Seton Hall (Fox Sports 1, 6:30 p.m.), Maryland at North Carolina State (ESPN, 7 p.m.) and Syracuse at Michigan (ESPN, 9 p.m.).
College football has Lackawanna vs. Mississippi Gulf Coast (CBS Sports, 6 p.m.) for the NJCAA championship.
Daytime Talk
Kelly Ripa and Ryan Seacrest: Jimmy Smits, Lea Michele, Monica Mangin. The View: Josh Groban, Bari Weiss. The Talk: Jimmy Kimmel. Ellen DeGeneres: Eddie Murphy, Sean Hayes. Kelly Clarkson: Chrissy Metz, Iain Armitage, Diane Warren. Tamron Hall: Elaine Welteroth. Wendy Williams: Christian Siriano. The Real: Tahiry, T-Pain & Tory Lanez, Rachel Lindsay.
Late Talk
Stephen Colbert: Scarlett Johansson, the Weeknd. Jimmy Kimmel: Sam Rockwell, Francesca Hayward, Sheryl Crow, Stevie Nicks. Jimmy Fallon: Jennifer Lopez, Camila Cabello. Seth Meyers: Mariska Hargitay, Lizzy Caplan, Sam Fender (rerun). James Corden: Rebel Wilson, Kacey Musgraves. Lilly Singh: Anna Faris (rerun). Trevor Noah: John Lithgow. David Spade: Casey Wilson, Nico Santos, Chris Hardwick. Conan O'Brien: Jameela Jamil.