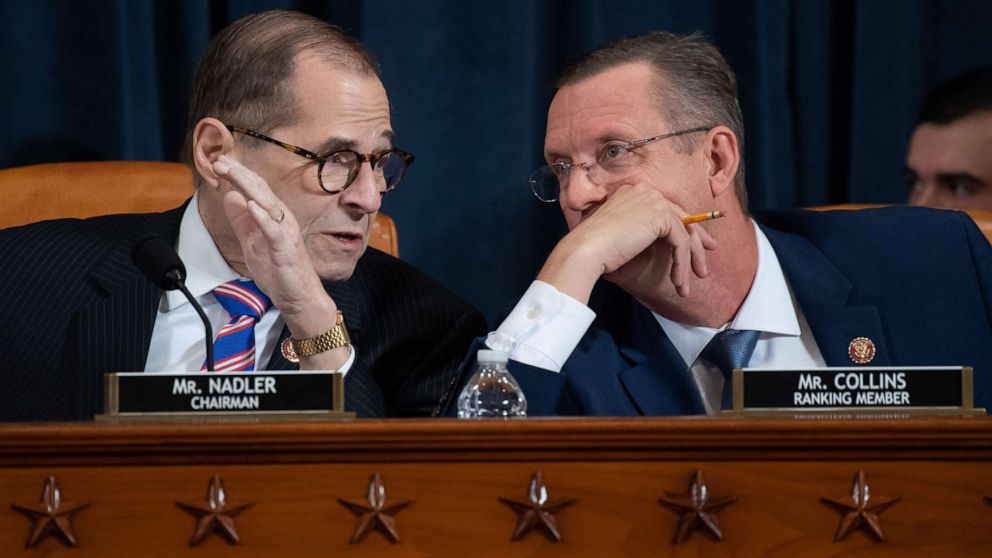 If you can bear a little history with your holiday fare, the House Judiciary Committee convenes a Hearing considering Presidential Impeachment (ABC, CBS, NBC, CNN, MSNBC, CSPAN, Fox News, 9 a.m.) for the third time in the nation's history. Expect rancor.
Lyra finds the truth behind the Gobbler's activities in the north on "His Dark Materials" (HBO, 9 p.m.).
The big crossover event they're calling "Crisis on Infinite Earths" that began Sunday on "Supergirl" continues tonight on "Batwoman" (CW, 8 p.m.) and then "Black Lightning" (CW, 9 p.m.).
Not referring to the superhero of the same name, "Beat Shazam" (Fox, 8 p.m.) is actually the musical game show beginning its fourth season.
Are we keeping up with "The Moodys" (Fox, 9 p.m.)? The holiday comedy that began last week with a pair of episodes continues tonight with two more. Then it all ends Tuesday.
A second season starts for "Twin Turbos" (Discovery, 10:13 p.m.), as the Debertis try to build a transformer truck.
Also using imagination in their creations are the contestants on "Making It" (NBC, 10 p.m.).
More people seem to be baking it, though, with the "Holiday Baking Championship" (Food, 9 p.m.) and the "Christmas Cookie Challenge" (Food, 10 p.m.).
Other holiday competition can be found on "Wrap Battle" (Freeform, 9 and 10 p.m.).
Looking for electricity bill receipts on "The Great Christmas Light Fight" (ABC, 8 p.m.).
The Kitty Genovese case is revisited in a replay of the 2017 documentary "The Witness" on "Independent Lens" (PBS, 10 p.m., check local listings).
The Australian medical comedy-drama "The Heart Guy" (Acorn TV, streaming) returns for a fourth season as does "The Art Detectives" (Acorn TV, streaming), in which art historians Bendor Grosvenor and Emma Dabiri look at lesser-known works among Britain's collections.
On "The Neighborhood" (CBS, 8 p.m.), Calvin lets Marty make a website for his car shop.
The Top 8 perform on "The Voice" (NBC, 8 p.m.), where they'll sing duets of the 1980s.
Bob has to fight for his love on "Bob (Hearts Abishola" (CBS, 8:30 p.m.).
On "All Rise" (CBS, 9 p.m.), Lola fires a lawyer for a bad defense.
"Love & Hip Hop Hollywood" (VH1, 8 p.m.) begins its reunion episodes.
The day full of movies and their remakes is so packed on Turner Classic Movies it starts very early of with the 1932 "Smilin' Through" (4 a.m.) followed by the 1941 "Smilin' Through" (6 a.m.). Then it's mostly films turned into musicals with "Ah, Wilderness" (8 a.m.) remade into "Summer Holiday" (10 a.m.), The 1948 "Gigi" (11:45 a.m.) and the 1958 "Gigi" (1:15 a.m.), the 1939 "Goodbye Mr. Chips" (3:15 p.m.) followed by the 1969 "Goodbye, Mr. Chips" (5:15 p.m.), "The Philadelphia Story" (8 p.m.) remade into the musical "High Society" (10 p.m.), "The Women" (midnight) remade as the musical "The Opposite Sex" (2:15 a.m.) and "Libeled Lady" (4:15 a.m), into the musical "Easy to Wed" (6 a.m. Tuesday).
Monday Night Football has Giants at Philadelphia (ESPN, 8:15 p.m.).
Basketball has Orlando at Milwaukee (NBA, 8 p.m.).
Daytime Talk
Kelly Ripa and Ryan Seacrest: Tony Goldwyn, Brandon Routh. The View: Samantha Rodriguez. The Talk: Kennedy McMann, Scott Wolf, Vanessa Williams. Ellen DeGeneres: Clint Eastwood, Sean Hayes. Kelly Clarkson: Jane Lynch, Jo Koy. Tamron Hall: Mitch Albom, Karamo Brown, Jason "Rachel" Brown, Tina Lifford. Wendy Williams: Melissa Garcia, the Radio City Rockets. The Real: Romeo Miller.
Late Talk
Stephen Colbert: Saoirse Ronan, Tom Brokaw. Jimmy Kimmel: Jack Black, Michelle Wolf, Allen Stone. Jimmy Fallon: Timothee Chalet, Ashley Graham, Bong Joon Ho, Summer Walker. Seth Meyers: Quentin Tarantino, Aisling Bea, Michael Lewis, Coady Willis. James Corden: Billie Ellis, Ali Wong, Alicia Keys. Tony Shalhoub, Ne-Yo. David Spade: Rick Ingraham, Brendan Schaub, Megan Gailey. Conan O'Brien: Laurence Fishburne.