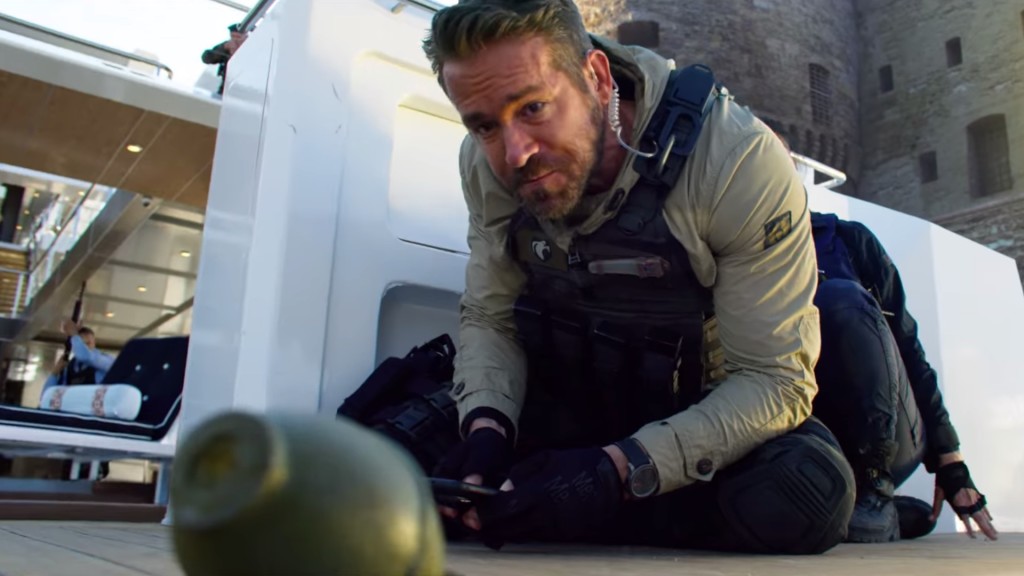 Ryan Reynolds stars in Michael Bay's new action series "6 Underground" (Netflix, streaming) about the new kind of hero: ones who have faked their own deaths and have nothing to lose. Ben Hardy, Adria Arjona and Melanie Laurent also star.
The multitalented comedian, director, writer and composer is interviewed over the years on "Mel Brooks Unwrapped" (HBO, 9 p.m.).
After three seasons on Syfy, "The Expanse" (Netflix, streaming) was picked up by the streaming service. Expect even better visuals to due to the bigger budget.
A third season also starts for "Marvel's Runaways" (Hulu, streaming) with Elizabeth Hurley joining the cast as a villain
Mario Lopez is grand marshal of the 88th Annual Hollywood Christmas Parade (CW, 8 p.m). But can it possibly compete with the "Disney Channel Holiday Party at Walt Disney World" (Disney, 8 p.m.)? Matthew Morrison, Emma Bunton and Jesse Palmer host, from Florida and California.
Gavin DeGraw and Chris Young trade songs on "CMT Crossroads" (CMT, 10 p.m.).
The new movie "Christmas Stars" (Lifetime, 8 p.m.) Erica Durance stars as an aspiring R&B star who meets a rising songwriter (J.T. Hodges).
Katie looks forward to sharing her favorite childhood Christmas on "American Housewife" (ABC, 8 p.m.).
"Hawaii Five-0" (CBS, 8 p.m.) investigates a tourist helicopter shot down by a missile.
Red and the Task Force pay a visit to someone who used to be on "The Blacklist" (NBC, 8 p.m.).
Louis makes problems trying to help Jessica's perfect Christmas on "Fresh off the Boat" (ABC, 8:30 p.m.).
"Magnum P.I." (CBS, 9 p.m.) is called up from the reserves for a top secret mission.
Sisters prepare to open the portal to the Dark One on "Van Helsing" (SyFy, 10 p.m.).
Agnes decides to get her first job in the UK on "In the Long Run" (Starz, 10 p.m.).
"Long Island Medium" (TLC, 8 p.m.) reads Taylor Dane, one Durham, Kate Flannery, Michael Fishman and Reginald Vel Johnson.
The 80th anniversary of "Gone with the Wind" (TCM, 8 p.m.) means a commercial-free four hour prime time showing, followed by the documentary "The Making of a Legend: Gone With the Wind" (midnight). Later are two reggae classics: "The Harder They Come" (2:15 a.m.) and "Countryman" (4:15 a.m.). Daytime movies on Turner Classic Movies feature conmen, in "Beg, Borrow or Steal" (7:30 a.m.), 'The Wold Man of Borneo" (8:45 a.m.), "The Cuckoos" (10:15 a.m.), "Yolanda and the Thief" (noon), "When in Rome" (2 p.m.), "Sylvia Scarlett" (2:20 p.m.) and "The Music Man" (5:15 p.m.).
NBA action includes Lakers at Miami (ESPN, 7 p.m.) and Clippers at Minnesota (ESPN, 9:30 p.m.).
Men's college hoops include Colorado at Colorado State (CBS Sports, 8 p.m.) and Texas Rio Grande Valley at Creighton (Fox Sports 1, 8 p.m.).
College football has its champion subdivision quarterfinals with Northern Iowa at James Madison (ESPN2, 7 p.m.) and Montana at Weber State (ESPN2, 10 p.m.).
Men's college soccer NCAA semifinals have Georgetown vs. Stanford (ESPNU, 6 p.m.) and Virginia vs. Wake Forest (ESPNU, 8:30 p.m.).
The women's college volleyball NCAA tournament has Baylor vs. Purdue (ESPNU, noon), Texas A&M vs. Wisconsin (ESPNU, 2 p.m.), Louisville vs. Texas (ESPNU, 4 p.m.) and Stanford vs. Utah (ESPNU, 11 p.m.).
In men's college hockey, it's Penn State at Notre Dame (NHL, 7 p.m.).
Daytime Talk
Kelly Ripa and Ryan Seacrest: Jon Hamm, Gone West, Brit Morin. The View: Annette Bening. The Talk: Danny DeVito, Vanessa Williams. Ellen DeGeneres: Blake Shelton, Ayesha Curry. Kelly Clarkson: Kevin Hart, Ian Cauble. Tamron Hall: Lamont Thomas. Wendy Williams: Mona Scott-Young. The Real: The Clark Sisters.
Late Talk
Stephen Colbert: Mark Harmon, Caitlin Weierhauser. Jimmy Kimmel: Tom Holland, Ana Gasteyer, Adam Levine, Angel Olsen (rerun). Jimmy Fallon: John Legend, M. Night Shyamalan (rerun). Seth Meyers: Dolly Parton, Tobias Menzies, Rep. Ro Khanna, Jon Theodore (rerun). Lilly Singh: John Cena, Bini Irwin.