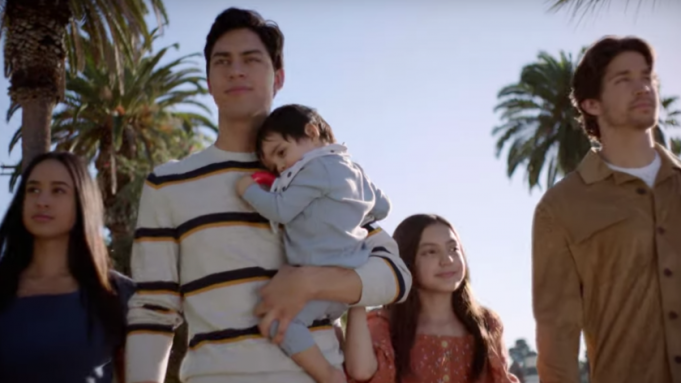 It's corny to bring back old shows simply for nostalgia's sake, but the name "Party of Five" (Freeform, 9 p.m.) is energized by a bold concept that reframes the five siblings from the 1994 saga as survivors in a contemporary milieu. After ICE had deported their parents back to Mexico, the kids try to stay together and make it on their own. Brandon Larracuente plays the eldest, an aspiring musician who puts aside career aspirations to lead his brothers and sisters.
A 15th season begins for "Criminal Minds" (CBS, 9 and 10 p.m.) and there are two episodes back to back.
The docs-series "Cheer" (Netflix, streaming) follows the competitive cheerleaders of Navarro College.
Who's a good dog? Well, there's a competition now with the premiere of "America's Top Dog" (A&E, 9 p.m.) where a police dog goes up against a trick dog.
The game continues on "Jeopardy! The Greatest of All Time" (ABC, 8 p.m.). So far, Ken Jennings is ahead.
Three of the five couples this season get "Married at First Sight" (Lifetime, 8 p.m.).
On "The Real Housewives of New Jersey" (Bravo, 8 p.m.), Teresa and her husband try to fight their legal battles. Meanwhile, the reunion sessions for "The Real Housewives of Dallas" (Bravo, 9 p.m.) continues.
A ninth season begins for "Undercover Boss" (CBS, 8 p.m.), the series that proves that bosses are the best.
On "Modern Family" (ABC, 9 p.m.), Alex's company puts her up in a luxury apartment and her family takes advantage.
Even MTV gets into the true crime field with its rather plainly titled "True Life Crime" (MTV, VH1, 9 p.m.).
On "Stumptown" (ABC, 10 p.m.), Dee is hired by a TV judge to find his wayward brother.
Elections have consequences even on "Vikings" (History, 10 p.m.).
A former patient resurfaces on "Chicago Med" (NBC, 8 p.m.); the boundaries are redrawn on "Chicago Fire" (NBC, 9 p.m.), and "Chicago P.D." (NBC, 10 p.m.) awaits news of Halstead's fate.
Are we in the mood for the kind of fake White House drama offered by "Tyler Perry's The Oval" (BET, 9 p.m.)? I'm thinking I'd prefer "Man vs. Bear" (Discovery, 9 p.m.) if we can pick the man.
The thing about "1,000 lb Sisters" (TLC, 10 p.m.) – they can wear each other's clothes!
Will and Angie pretend to be a couple on "Single Parents" (ABC, 9:30 p.m.).
"Catfish: The TV Show" (MTV, 8 p.m.) returns for an eighth season by revisiting Jalissa.
Turner Classic Movies continues to celebrate the Roaring '20s, mostly through gangsters, with "Some Like It Hot" (8 p.m.), "The St. St. Valentine's Day Massacre" (10:15 p.m.), "Scarface" (12:15 a.m.) and "Al Capone" (2 a.m.).
Earlier in the day are various hauntings with "The Woman in White" (6:15 a.m.), "Two on a Guillotine" (8:15 a.m.), "The Terror" (10:15 a.m.), "The Haunting" (11:45 a.m.), "Before Dawn" (1:45 p.m.), "House on Haunted Hill" (3 p.m.), "Tormented" (4:30 p.m.) and "Poltergeist" (6 p.m.).
Basketball includes Denver at Dallas (ESPN, 7:30 p.m.) and Milwaukee at Golden State (ESPN, 10 p.m.).
Hockey has Washington at Philadelphia (NBC Sports, 7:30 p.m.) and Dallas at Los Angeles (NBC Sports, 10 p.m.).
Men's college hoops includes St. John's at Georgetown (Fox Sports 1, 6:30 p.m.), Davidson at Rhode Island (CBS Sports, 7 p.m.), Tulsa at Cincinnati (ESPNU, 7 p.m.), Notre Dame at N.C. State (ESPN2, 7 p.m.), Seton Hall at Xavier (Fox Sports 1, 8:30 p.m.), Tulane at Connecticut (CBS Sports, 9 p.m.), Arkansas at LSU (ESPNU, 9 p.m.) and Oklahoma at Texas (ESPN2, 9 p.m.).
Daytime Talk
Kelly Ripa and Ryan Seacrest: Penn Badly, Jennifer Coolidge, Dr. William Li. The View: Andrew Yang, Evelyn Yang, Jamie Oliver. The Talk: Paget Drewster, AJ Cook, Matthew Gray Gubler, Joe Mantegna, Adam Rodriguez, Aisha Tyler, Kristen Vangsness. Ellen DeGeneres: Michael B. Jordan, Bryan Stevenson, Charlize Theron, Rex Orange County. Kelly Clarkson: Jenna Fischer, Angela Kinsey, Eric Winter, Scott Conant. Tamron Hall: Marco Borges, Jorge Cruise. Wendy Williams: Suzanne Somers. The Real: Mike Colter.
Late Talk
Stephen Colbert: Larry David. Jimmy Kimmel: John Cena, RuPaul, Dermot Kennedy. Jimmy Fallon: Quentin Tarantino, Jodie Whittaker, Nathaniel Rateliff. Seth Meyers: Tiffany Haddish, M. Night Shymalan, Shaed. James Corden: Hailee Steinfeld, Gugu Mbatha-Raw, Mallrat (rerun). Lilly Singh: Rhett & Link. Trevor Noah: Mo Rocca. David Spade: Justin Martindale, Erik Griffin, Morgan Stewart. Conan O'Brien: Matt Damon (rerun).