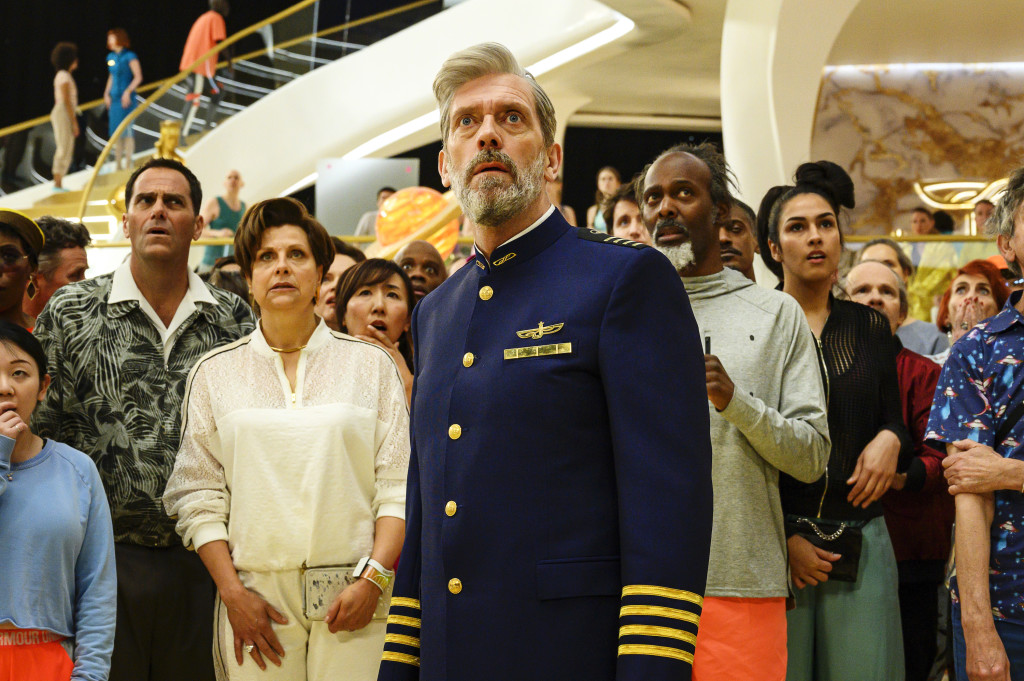 The new comedy "Avenue 5" (HBO, 10 p.m.) is set on a space cruise ship in the future where a pleasure trip around Saturn goes seriously off course and there's no help to be held from a staff that includes a captain played by Hugh Laurie and a rich twit owner played by Josh Gad and a scattered customer relations head played by Zach Woods.
But creator Armando Iannucci, whose previous gems include "Veep," "The Thick of It" and "The Death of Stalin," says there is a political metaphor tucked into it as well. "I want it to kind of feed off that generally slightly indefinable sense of unease that people have at the moment," he told reporters at the TV Critics Association winter press tour earlier this month.
Complaints about modern life and its customs has been at the heart of "Curb Your Enthusiasm" (HBO, 10:30 p.m.), which begins its 10th season tonight with Larry getting into a feud with Mocha Joe.
Rob Lowe plays a firefighter who survived 9/11 called to Austin to run a paramedic squad in Austin in the new "9-1-1 Lone Star" (Fox, 10 p.m.), a spinoff of the network's hit procedural. Liv Tyler is also part of the cast.
The 26th Annual Screen Actors Guild Awards (TBS and TNT, 8 p.m.) distinguishes itself by honoring whole ensembles of films and movies. It is presented live from the Shrine Auditorium in Los Angeles.
Super Bowl teams will be determined in the AFC championship game of Tennessee at Kansas City (CBS, 3 p.m.) and NFC championship game, Green Bay at San Francisco (Fox, 6:30 p.m.).
In the new six-part British import "Vienna Blood" (PBS, 10 p.m., check local listings), Matthew Beard plays a Freud student who aids a detective (Juergen Maurer) solve a set of murders in Austria's capital in the early 1900s.
"Doctor Who" (BBC America, 8 p.m.) also travels to that era, but to Niagara Falls, where she tries to find who's trying to sabotage the generator plant of Nikola Tesla.
The mystery deepens on "The Outsider" (HBO, 9 p.m.) as Cynthia Erivo's unorthodox private detective gets involved.
Mrs. Wilcox has a final request regarding "Howard's End" (PBS, 8 p.m., check local listings) in the series' second episode.
A painting puts Abby into a trance on "Works in Progress" (Showtime, 10:53 p.m.).
"The Weekly" (FX, 10 p.m.) looks into the presidential endorsement process at the New York Times.
On the first season finale of the rebooted "Kids Say the Darnedest Things" (ABC, 8 p.m.), a young fan of the FBI goes to Quantico.
Tanya responds to cheating rumors on "The Real Housewives of Atlanta" (Bravo, 8 p.m.).
"Ray Donovan" (Showtime, 8 p.m.) learned the truth about his sister's death.
Frank finds a nice place to settle on "Shameless" (Showtime, 9 p.m.).
"Supergirl" (CW, 9 p.m.) deals with the complications of the Crisis on Infinite Earths crossover event that began on her show last month.
A second seasons has been announced for "The L Word: Generation Q" (Showtime, 10 p.m.).
Luke is determined to protect the secret of "Batwoman" (CW, 8 p.m.).
On "Power" (Starz, 8 p.m.), Ghost seeks vengeance. Then they talk about it on "Power Confidential" (Starz, 9 p.m.).
They're not ready for Chinese New Year on "Worst Cooks in America" (Food, 9 p.m.).
On "Dare Me" (USA, 10 p.m.), Beth invites the squad to a wild adult party at a motel.
It's Christmas Eve for the "Sister Wives" (TLC, 10 p.m.).
A pair of films about replaced women are on Turner Classic Movies: "All About Eve" (8 p.m.) and "The Two Mrs. Carrolls" (10:30 p.m.). They are followed by a half dozen comedy shorts from Harold Lloyd: "Next Aisle Over" (12:30 a.m.), "Young Mr. Jazz" (12:40 a.m.), "A Sammy in Siberia" (12:55 a.m.), "Bumping into Broadway" (1:05 a.m.), "Lonesome Luke, Messenger" (1:35 a.m.) and "I Do" (1:50 a.m.). Then comes a pair from Louis Malle, "Au Revoir les Enfants" (2:15 a.m.) and "Lacombe, Lucien" (4:15 a.m.).
Hockey includes Boston at Pittsburgh (NBC, 12:30 p.m.).
Men's college hoops include Davidson at Fordham (CBS Sports, noon), Loyola Chicago at Illinois State (ESPNU, 4 p.m.), East Carolina at Cincinnati (ESPNU, 6 p.m.) and California at UCLA (ESPNU, 8 p.m.).
Women's games include Duke at Clemson (ESPNU, noon), Louisville at North Carolina (ESPN2, 1 p.m.), Saint Louis at Dayton (CBS Sports, 2 p.m.), Auburn at Georgia (ESPNU, 2 p.m.), South Florida at Central Florida (ESPN2, 3 p.m.), St. Bonaventure at La Salle (NBC Sports, 3 p.m.), Forman at George Mason (CBS Sports, 4 p.m.),
Tennis has first round play in the Australian Open (ESPN2, 7 p.m.).
In golf, final rounds are played in the Latin America Amateur Championship (ESPNews, noon) and the Tournament of Champions (Golf, 2 p.m.; NBC, 3 p.m.).
College wrestling has Rutgers at Penn State (ESPN2, 5 p.m.).
Bowling has its Hall of Fame Classic (Fox Sports 1, 1 p.m.).
Sunday Talk
ABC: Rep. Adam Schiff, Sens. Richard Shelby and Cory Booker, Alan Dershowitz. CBS: Rep. Jerrold Nadler, Sen. John Cornyn. NBC: Sens. David Purdue and Dick Durbin. CNN: Dershowitz, Reps. Jason Crow and Michael Waltz, Sen. Sherrod Brown. Fox News: Sen. Lindsey Graham, Rep. Hakeem Jeffries.