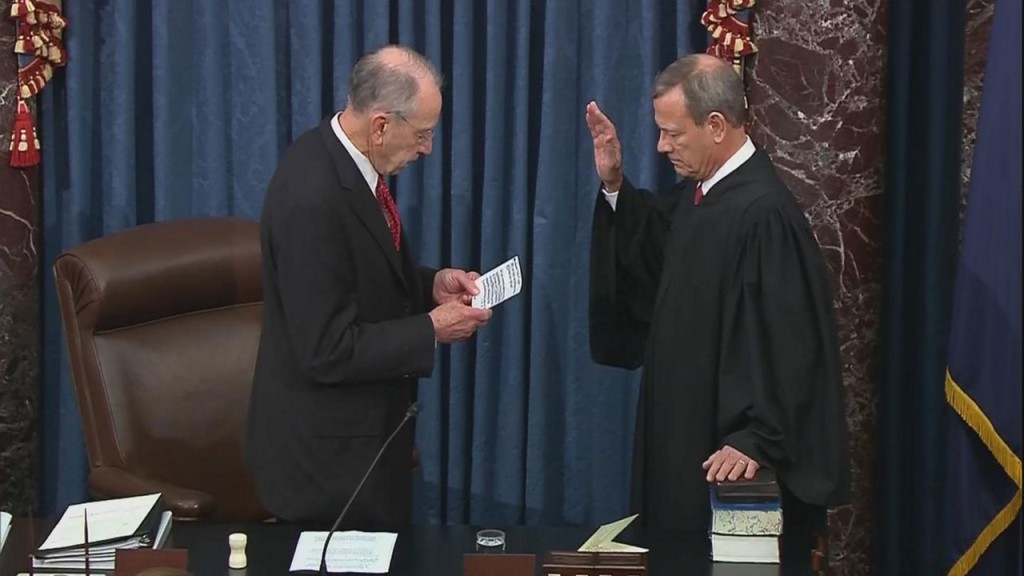 Clear your afternoons. The Impeachment Trial (ABC, CBS, NBC, PBS, CSPAN, CNN, MSNBC, Fox News, 1 p.m.) begin in the U.S. Senate, and will continue afternoons through the week. Chief Justice John Roberts presides. Majority Leader Mitch McConnell is looking to end the thing as soon as possible and not call any witnesses. But the majority also control the cameras, so they'll have say about what viewers see and hear.
"Frontline" (PBS, 10 p.m., check local listings) is on the ground in Afghanistan with exclusive access to ISIS and the top negotiator of the Taliban.
"DC's Legends of Tomorrow" (CW, 9 p.m.) begins its fifth season and the legends are all famous.
"Project Blue Book" (History, 10 p.m.) returns for its second season, this time in Roswell, N.M.
There's a new standup comedy special, "Fortune Feimster: Sweet & Salty" (Netflix, streaming).
Terry Gross, Jeff Goldblum and Marc Maron are "Finding Your Roots" with Henry Louis Gates Jr." (PBS, 8 p.m., check local listings).
Discussions of the bombing of Auschwitz are on "Secrets of the Dead" (PBS, 9 p.m., check local listings).
Brenda Blethyn returns for the 10th season of "Vera" (Britbox, streaming) the detective series with a case that touches on corporate corruption.
Becky brings home a Cheesehead to watch the Packers-Bears game amid the Chicago fans on "The Connors" (ABC, 8 p.m.).
"Mixed-ish" (ABC, 9 p.m.) recalls the first year Martin Luther King Jr. Day was nationally recognized.
A high profile soccer player has mysterious symptoms on "The Resident" (Fox, 8 p.m.).
"NCIS" (CBS, 8 p.m.) finds a body at a vehicle testing site.
Whitney moves to Charlotte on "My Big Fat Fabulous Life" (TLC, 8 p.m.).
On "Siesta Key" (MTV, 8 p.m.), Chloe threatens legal action.
It's not exactly "Jeopardy!" but there's another "Ellen's Game of Games" (NBC, 8 p.m.).
Time to look for spring seeds on "Bless This Mess" (ABC, 8:30 p.m.).
Mia Queen's world takes a turn on "Arrow" (CW, 8 p.m.).
The son of a well known agent is kidnapped on "FBI" (CBS, 9 p.m.).
"Gordon Ramsay's 24 Hours to Hell & Back" (Fox, 9 p.m.) goes to a Cuban restaurant in Tom's River, where some "Sopranos" co-stars show up.
Randall is wracked with anxiety on the first of a two part "This is Us" (NBC, 9 p.m.).
Lisa expands her empire on "Vanderpump Rules" (Bravo, 9 p.m.).
"Black-Ish" (ABC, 9:30 p.m.) goes to a a beach vacation.
Helen looks to replicate Piper's powers on "Emergence" (ABC, 10 p.m.).
"FBI: Most Wanted" (CBS, 10 p.m.) brings in a mass killing suspect.
Max struggles with being a single father on "New Amsterdam" (NBC, 10 p.m.).
On "Hot & Heavy" (TLC, 10 p.m.), wedding plans may be in trouble.
Basketball has Clippers at Dallas (NBA, 8:30 p.m.).
In hockey, it's Pittsburgh at Philadelphia (NBC Sports, 7:30 p.m.).
Baseball announces its choices for Hall of Fame (MLB, 3 p.m.).
Men's college hoops includes Maryland at Northwestern (Fox Sports 1, 7 p.m.), Kansas State at Kansas (ESPN2, 7 p.m.), Butler at Villanova (CBS Sports, 7 p.m.), Georgia at Kentucky (ESPN, 7 p.m.), Illinois at Purdue (ESPNU, 7 p.m.), Wichita State at South Florida (ESPNews, 7 p.m.), Miami at Duke (ESPN, 9 p.m.), Texas A&M at Missouri (ESPNU, 9 p.m.), St. John's at Marquette (Fox Sports 1, 9 p.m.), VCU at Saint Joseph's (CBS Sports, 9 p.m.), Wyoming at San Diego State (CBS Sports, 11 p.m.) and Air Force at Utah State (ESPNU, 11 p.m.).
Tennis has second round play in the Australian Open (Tennis, 7 p.m.; ESPN2, 9 p.m.).
The month-long Tuesday night salute to Patricia Neal continues with "A Face int he Crowd" (8 p.m.), "Hud" (10:15 p.m.), "Raton Pass" (12:15 a.m.) and "Operation Pacific" (2 a.m.). Daytime films feature one guy with "Andy Hardy Meets Debutante" (6 a.m.), "Andy Hardy's Private Secretary" (7:45 a.m.), "Life Begins from Andy Hardy" (9:45 a.m.), "The Courtship of Andy Hardy" (11:30 a.m.), "Andy Hardy's Double Life" (1:15 p.m.), "Andy Hardy's Blonde Trouble" (3 p.m.) and "Love Laughs at Andy Hardy" (5 p.m.).
Daytime Talk
Kelly Ripa and Ryan Seacrest: Tony Goldwyn, Brandon Routh. The View: Ken Jeong. The Talk: Paul Reiser. Ellen DeGeneres: Dax Shepard, Nicole Avant. Kelly Clarkson: Sara Gilbert, Cyndi Lauper. Tamron Hall: Debra Newell (rerun). Wendy Williams: Jerry Connell. The Real: Kron Moore.
Late Talk
Stephen Colbert: Patrick Stewart, Dick Cavett. Jimmy Kimmel: Liv Tyler, Michael Irvin, Awkwafina, Marcus King. Jimmy Fallon: Martin Short, David Dobrik, Yola. Seth Meyers: Aidy Bryant, Lewis Black, Rep. Eric Swalwell, Adam Marcello. James Corden: Jane Fonda, Lily Tomlin. Lilly Singh: RuPaul. Trevor Noah: BD Wong. David Spade: Doug Benson, Mary Lynn Rajskub, Steve Ranazzizi. Conan O'Brien: Jeff Goldblum.