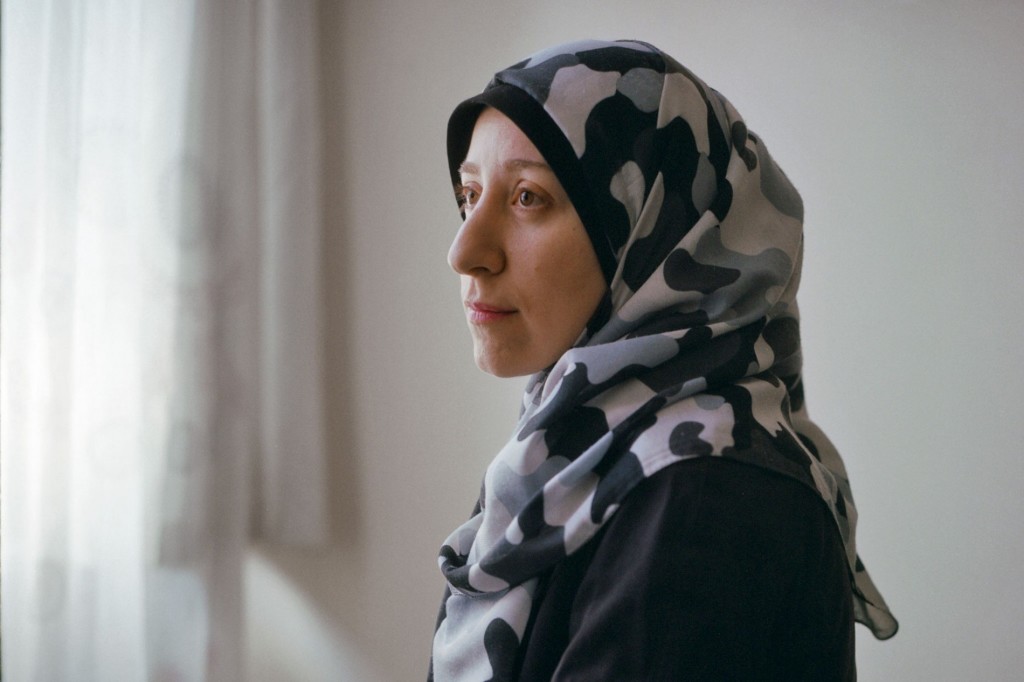 The Oscar-nominated "The Cave" (National Geographic, 9 p.m.), presented commercial-free, follows the work of a courageous female doctor who literally works underground in Syria to treat casualties of the ongoing war.
Those who still miss "Twin Peaks" must click on the weird new 17-minute film from David Lynch, "What Did Jack Do?" (Netflix, streaming), in which the eccentric director portrays a detective grilling a monkey named Jack Cruz over coffee in a train station. They trade non sequiturs (the monkey has a surrealistic human mouth) and there is a torch song sung (by the monkey) in glorious black and white.
The NHL All-Star Game (NBC, 8 p.m.) gets a rare Saturday night broadcast showcase from St. Louis. Other prime time sports include, from the NBA the Lakers at Philadelphia (ABC, 8:30 p.m.).
The latest far-flung veterinarians followed for a new series are Drs. Ben and Erin Schroeder, working out of Hartington, Neb., on the series "Heartland Docs, DVM" (Nat Geo Wild, 10 p.m.).
The new natural history series "Seven Worlds, One Planet" (BBC America, AMC, IFC, Sundance, 9 p.m.) takes a look at North America from the Yukon to Florida.
From what they've shown so far, the White House defense team might not have much to present when it's their turn today at the Impeachment Trial of Donald Trump (CSPAN, CNN, MSNBC, 10 a.m.), which starts earlier than usual and is expected to only last a couple of house. But the defense  continues even more hysterically on such propaganda outlets as "Justice with Judge Jeanine" (Fox News, 9 p.m.).
Two hours of "Flirty Dancing" (Fox, 8 p.m.) might be a little much.
"Pit Bulls and Parolees" (Animal Planet, 9 p.m.) heads to South Carolina to save a dog.
In "Hearts of Winter" (Hallmark, 9 p.m.) an interior designer who decorates for a widower and single father.
Sean Watts and Ashley Williams star in "Chris Watts: Confession of a Killer" (Lifetime, 8 p.m.), recounting the grisly case from Colorado which ends with his admission that he murdered  his wife and daughters. It's followed by a documentary on the case in "Beyond the Headlines" (Lifetime, 10 p.m.), and, showing at the same time on another network, "Chris Watts, Colorado Killer Dad: The Friends Speak" (Reelz, 10 p.m.).
The horror film "The Curse of La Llorona" (HBO, 8 p.m.) with Linda Cardellini and Raymond Cruz makes its premium cable debut.
Randy travels to a new state to find a bride on "Say Yes to the Dress America" (TLC, 8 p.m.).
"Jeffrey Epstein & Prince Andrew: The True Story" (Reelz, 9 p.m.) recounts the sordid tale.
A divorced father of two tries to get his mother on board with his impending new bride, even after eight years, on "Family or Fiancé" (OWN, 9 p.m.).
"John Wick" (Paramount, 6:30 p.m.) is teamed with "John Wick: Chapter 2" (Paramount, 9 p.m.).
A chicken is attacked by a coyote on "The Vet Life" (Animal Planet, 10 p.m.).
Turner Classic Movies has a Sidney Poiter double feature with "A Warm December" (8 p.m.) and "Buck and the Preacher" (10 p.m.). The 12 o'clock noir is "Try and Get Me!" (midnight), followed by a couple more crime tales, "The Underworld Story" (2 a.m.) and "Hell Drivers" (4 a.m.).
Men's college hoops includes Missouri at West Virginia (ESPN, noon), Illinois at Michigan (Fox Sports 1, noon), Virginia Commonwealth at La Salle (NBC Sports, noon), Iowa State at Auburn (ESPNU, noon), Miami at North Carolina (ESPN2, noon), Villanova at Providence (CBS, 1 p.m.), Army at Navy (CBS Sports, 1:30 p.m.), LSU at Texas (ESPN, 2 p.m.), Mississippi State at Oklahoma (ESPN2, 2 p.m.), Virginia Tech at Boston College (ESPNU, 2 p.m.), St. John's at DePaul (Fox Sports 1, 2 p.m.), Tennessee at Kansas (ESPN, 4 p.m.), SMU at Memphis (CBS Sports, 4 p.m.), Oklahoma State at Texas A&M (ESPNU, 4 p.m.), TCU at Arkansas (ESPN2, 4 p.m.), North Carolina State at Georgia Tech (NBC Sports, 4 p.m.), George Mason at Davidson (CBS Sports, 6 p.m.), Kentucky at Texas Tech (ESPN, 6 p.m.), Kansas State at Alabama (ESPN2, 6 p.m.), Tulane at East Carolina (ESPNU, 6 p.m.), Baylor at Florida (ESPN, 8 p.m.), New Mexico at Nevada (CBS Sports, 8 p.m.), Central Florida at Wichita State (ESPNU, 8 p.m.), Washington at Colorado (Fox Sports 1, 9 p.m.) and Colorado State at Utah State (ESPNU, 10 p.m.).
Women's games include Army at Navy (CBS Sports, 11 a.m.).
In Tennis, the Australian Open (Tennis, 7 p.m.; ESPN2, 9 p.m.) reaches the round of 16.
In golf, there is third round play in the Farmers Insurance Open (Golf, 1 p.m.; CBS, 3 p.m.).
The U.S. Figure Skating Championships (NBC, 2:30 p.m.; NBC Sports, 8 p.m.) continue.
Track and field has the New Balance Indoor Grand Prix (NBC Sports, 6 p.m.).
Auto racing runs its Rolex 24 at Daytona (NBC, 1:30 p.m.; NBC Sports, 2 and 11 p.m.).
Cage the Elephant and the Bangas play a new "Austin City Limits" (PBS, 11 p.m., check local listings).
Adam Driver returns to host "Saturday Night Live" (NBC, 11:30 p.m.) for the third time as the show finally comes back from its holiday hiatus. Halsey performs.