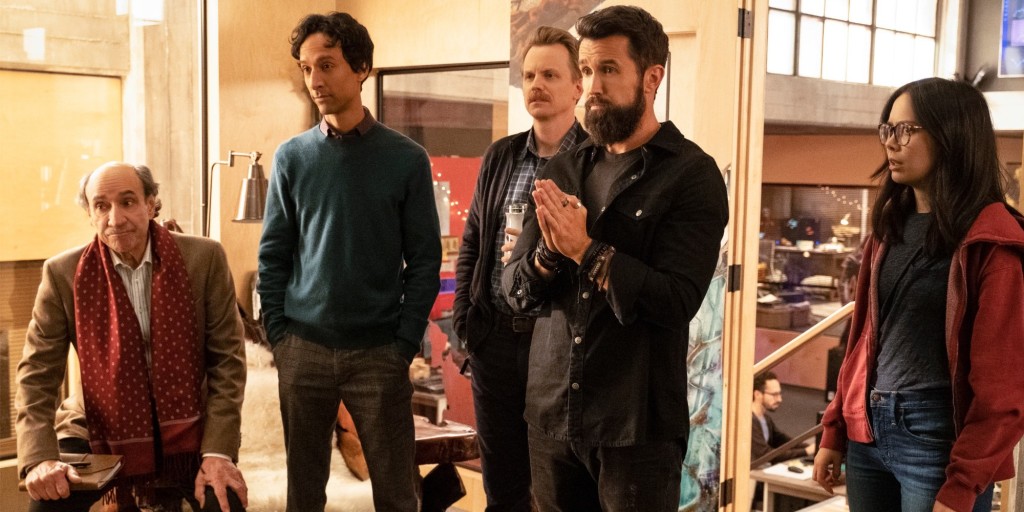 A nice little workplace comedy takes a peek inside the world of game development "Mythic Quest: Raven's Banquet" (Apple TV +, streaming) comes from Rob McElhenney and his pals from "It's Always Sunny in Philadelphia" and includes a likable cast that includes Danny Pudi, F. Murray Abraham, Charlotte Nicado and Jessie Ennis, as well as McElhenney, who plays the egotistical game creator. It's already been renewed for a second season.
The latest quirky family film from Disney comes on their streaming service. "Timmy Failure: Mistakes Were Made" (Disney +, streaming), based on the children's books by Stephan Pastis, stars Winslow Fegley as a boy detective in Portland, whose sidekick is a polar bear. It's the first film from Tom McCarthy since "Spotlight."
Already a streaming star in "Glow," Alison Brie stars in the movie "Horse Girl" (Netflix, streaming) playing a craft store employee who is into supernatural crime and horses. Dreams lead her to a surreal existence.
In the new series "Locke & Key" (Netflix, streaming) about three siblings who find keys to magical powers after their father dies. Carleton Cuse of "Lost" is behind it.
One of TV's most underrated and well-made portraits of life in New York City, "High Maintenance" (HBO, 11 p.m.) returns for its fourth season.
The first of three Democratic Debates (ABC, 8 p.m.) this month occurs tonight in New Hampshire with a familiar cast: Bernie Sanders, Pete Buttigieg, Elizabeth Warren, Joe Biden, Andrew Yang and Tom Steyer.
In the South Korean import, "My Holo Love" (Netflix, streaming) a woman who is unable to recognize faces starts using an artificial intelligence program.
A fourth season begins for the rebooted "MacGyver" (CBS, 8 p.m.) amid a search for a bioweapon.
It's Valentine's Day on "Dynasty" (CW, 9 p.m.).
Megan Rapinoe, Whoopi Goldberg, Sue Bird, Stacey Abrams, Malcolm Jenkins and Hasan Minhaj drop in on "The Shop: Uninterrupted" (HBO, 9:30 p.m.).
Comedians Prince T-Dub, Just Nesh, Tone-X, Correy Bell and Donnell Rawlings play on "Mo'Niques & Friends: Live from Atlanta" (Showtime, 10 p.m.).
Ron Taylor, Steph Tolev and Mark Ellis do some standup comedy sets on "Bill Burr Presents: The Ringers" (Comedy Central, 11 p.m.).
Harry gets an SOS call on "Charmed" (CW, 8 p.m.).
"Lincoln Rhyme: Hunt for the Bone Collector" (NBC, 8 p.m.) looks into a murder at a university research site.
Grover's niece goes missing from the police academy on "Hawaii Five-0" (CBS, 9 p.m.).
Steve Bannon, Ezra Klein, Fareed Zakaria, Andrew Gillum and Sarah Isgur are guests on "Real Time with Bill Maher" (HBO, 10 p.m.), but the boorish host will likely monopolize most of the time.
The first Friday night for Turner Classic Movies' 31 Days of Oscar has "Blossoms in the Dust" (7 a.m.), "Madame Curie" (8:45 a.m.), "Sunrise at Campbell" (11 a.m.), "Singing in the Rain" (1:30 p.m.). "The Unsinkable Molly Brown" (2:30 p.m.), "Sweet Bird of Youth" (5:45 p.m.), "Interiors" (8 p.m.), "Annie Hall" (10 p.m.), "The Front" (11:45 p.m.), "A Funny Thing Happened on the Way to the Forum" (1:30 a.m.), "Mister Buddwing" (3:30 a.m.) and "The Red Danube" (5:15 a.m.).
NBA action includes Toronto at Indiana (ESPN, 8 p.m.) and Portland at Utah (ESPN, 10:30 p.m.).
Hockey has Minnesota at Dallas (NHL, 8:30 p.m.).
Men's college hoops include Harvard at Yale (ESPNU, 5 p.m.), Kent State at Northern Illinois (CBS Sports, 7 p.m.), Davidson at Virginia Commonwealth (ESPN2, 7 p.m.), Niagara at Manhattan (ESPNU, 7 p.m.), Maryland at Illinois (Fox Sports 1, 8 p.m.), South Alabama at Troy (ESPN2, 9 p.m.) and Central Michigan at Buffalo (ESPNU, 9 p.m.).
Women's games include Marquette at Seton Hall (Fox Sports 2, 7 p.m.).
Skiing has the FIS Freestyle World Cup (NBC Sports, 9:30 p.m.).
Women's soccer includes U.S. vs. Mexico (Fox Sports 1, 10 p.m.) in a Concacaf Olympic qualifying semifinal.
Daytime Talk
Kelly Ripa and Ryan Seacrest: Dean Chapman. The View: Shania Twain. The Talk: Eric Braeden. Ellen DeGeneres: Martha Stewart, Ice Cube, Snooki, JWoww, The Situation, Deena Cortese, Green Day. Kelly Clarkson: Alison Brie, Ella Jay Basco. Tamron Hall: André Leon Talley, Star Jones. Wendy Williams: Erika Jayne. The Real: Tika Sumpter, Robin Thicke.
Late Talk
Stephen Colbert: Joe Mantegna, Coyote Peterson. Jimmy Kimmel: Jessica Simpson, Lakeith Stansfield, Orville Peck (rerun). Jimmy Fallon: Jennifer Lopez, Lil Rel Howery, Andre D. Thompson. Seth Meyers: Kristen Bell, Desus & Mero, Little Big Town, Chris Coleman (rerun). James Corden: Steve Buscemi, Tim Roth, Shaed (rerun). Lilly Singh: RuPaul (rerun).