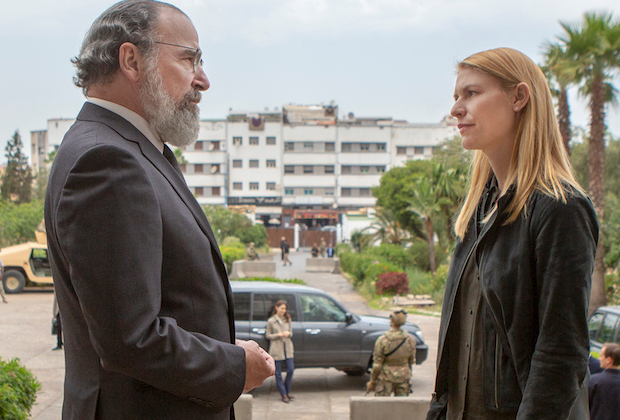 "Homeland" (Showtime, 9 p.m.) begins its eigth and final season, with Claire Daines' Carrie Mathison aching to bet back in the action after incarceration and possible Soviet torture. Once more the action is prescient: Fighting in Afghanistan amid an attempt for a Taliban peace talk. Mandy Patinkin's moral force as head of national security also returns. And it seems like there will be a lot of action involving Max.
Yes, yes, it's also The 92nd Academy Awards (ABC, 8 p.m.), and its greatest achievement will likely be the end of awards season. There's no host, but that doesn't mean things will zip along. "Joker" leads all films with 11 nominations. Performers include Billie Eilish, Elton John, Idina Menzel and Janelle Monáe. There's a Red Carpet Pre-Show (ABC, 6:30 p.m.) which is beaten to the punch by E! Live from the Red Carpet (E!, 5 p.m.).
A second season starts for Jim Carrey's series "Kidding" (Showtime, 10 and 10:30 p.m.), about a children's TV host undergoing a psychological crisis. It starts with a pair of episodes.
A series finale comes for the popular "Power" (Starz, 8 p.m.), with some answers forthcoming after six seasons, but also a number of planned spinoffs. They are likely discussed on "Power Confidential" (Starz, 9:26 p.m.).
Holly is justifiably worried about presenting her findings on "The Outsider" (HBO, 9 p.m.).
Public theater continues its Sunday night anglophilia with "A Very British Romance with Lucy Worsley" (PBS, 8 p.m., check local listings), which looks at courting traditions back to the Georgian age.
The new series "Wrong Man" (Starz 9:50 p.m.) looks into three lifers claiming innocence.
There may be more shows about the 50th state than there are people living there. The latest is "The Alaska Triangle" (Travel, 9 p.m.), which is less about travel than it is paranormal stuff.
Coincidentally it's not the only three sided geometric geographic area show debuting tonight. "Curse of the Bermuda Triangle" (Science, 10 p.m.) has a new team looking into the famous area.
On "Vienna Blood" (PBS, 10 p.m.), Max and Oskar look into anti-immigrant nationalist groups.
A search is on for Miss Lambe on "Sanditon" (PBS, 9 p.m., check local listings).
"Doctor Who" (BBC America, 8 p.m.) travels from ancient Syria to present day Sheffield.
Back for a second season is the series "The Aquarium" (Animal Planet, 8 p.m.), looking inside the Georgia Aquarium and its aquatic life.
The actual engineers are found on "Avenue 5" (HBO, 10 p.m.).
On "Curb Your Enthusiasm" (HBO, 10:30 p.m.), Larry brings a date to a destination wedding.
A new season starts for "These Woods are Haunted" (Travel, 9 p.m.) about sites that almost certainly aren't.
"The Circus: Inside the Craziest Political Campaign on Earth" (Showtime, 8 p.m.) of course travels to New Hampshire and tries to figure out what went wrong in Iowa.
Similarly, "Our Cartoon President" (Showtime, 8:30 p.m.) looks into his own election security.
Porsha goes to couples counseling on "The Real Housewives of Atlanta" (Bravo, 8 p.m.).
An eighth season starts for the "Shahs of Sunset" (Bravo, 9 p.m.).
Regionals loom on "Dare Me" (USA, 10 p.m.).
"Sister Wives" (TLC, 10 p.m.) have a terrible Valentine's Day.
Oscars themselves notwithstanding, Turner Classic Movies continues its 31 Days of Oscar with "Mystery Street" (6:45 a.m.) "Battleground" (8:45 a.m.), "The Harvey Girls" (11 a.m.), "Friendly Persuasion" (1 p.m.), "Gentleman's Agreement" (3:30 p.m.), "National Velvet" (5:45 p.m.), "Strike Up the Band" (8 p.m.), "A Star is Born" (10:15 p.m.), "Julius Caesar" (1:30 a.m.), "On the Waterfront" (3:45 a.m.) and "The Sandpiper" (5:45 a.m.).
The inaugural XFL weekend continues with Tampa Bay at New York (Fox, 2 .m.) and St. Louis at Dallas (ESPN, 5 p.m.).
Motorsports has its Daytona 500 Qualifier (Fox, noon) and the Clash at Daytona (Fox Sports 1, 3 p.m.) as well as the Lucas Oil Internationals (Fox Sports 1, 5 p.m.).
Basketball includes Boston at Oklahoma City (NBA, 3:30 p.m.) and Utah at Houston (NBA, 7 p.m.).
Hockey has Boston at Detroit (NBC, 12:30 p.m.) and Colorado at Minnesota (NBC Sports, 7:30 p.m.).
Men's college basketball includes Butler at Marquette (Fox Sports 1, noon), Cincinnati at Connecticut (CBS Sports, noon), Ohio State at Wisconsin (CBS, 1 p.m.), Evansville at Bradley (CBS Sports, 2 p.m.), George Mason at Massachusetts (NBC Sports, 2:30 p.m.), Wichita State at Houston (ESPN, 3 p.m.), Valparaiso at Loyola College (ESPNU, 4 p.m.) and Washington at Washington State (ESPNU, 6 p.m.).
Women's games include Temple at South Florida (ESPNU, noon), Texas A&M at Mississippi State (ESPN, 1 p.m.), Louisville at Syracuse (ESPN2, 2 p.m), Texas at Texas Tech (ESPNU, 2 p.m.), Villanova at Buter (Fox Sports 2, 3 p.m.) and Kentucky at Arkansas (ESPN2, 4 p.m.).
Final rounds are played in golf's Pebble Beach Pro-Am (Golf, 1 p.m.; CBS, 3 p.m.).
The Olympic qualifying final in women's soccer has U.S. vs. Canada (Fox Sports 2, 6 p.m.).
Major league rugby has Seattle at San Diego (CBS Sports, 5 p.m.) and Toronto at Austin (Fox Sports 2, 8 p.m.).
Bowling has its PBA Tournament of Champions (Fox, 5 p.m.).
Sunday Talk
ABC: Joe Biden, Elizabeth Warren, Pete Buttigieg. CBS: Buttigieg, Bernie Sanders, Sen. Lindsey Graham, China's ambassador to the U.S., Cui Tiankai. NBC: Buttigieg, Sanders. CNN: Buttigieg, Sanders, Democratic National Committee Chair Tom Perez. Fox News: Buttigieg.