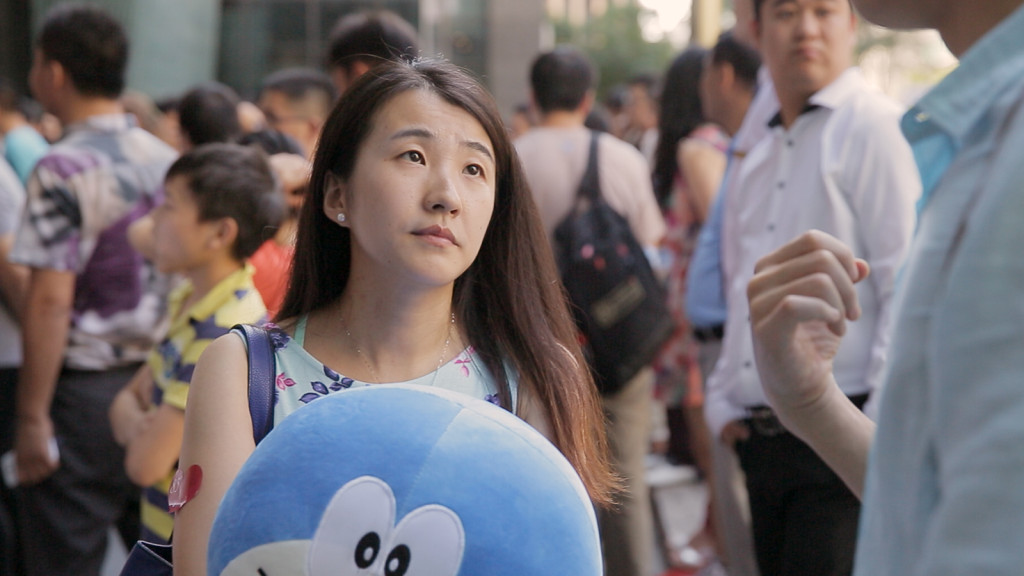 It's not the biggest current problem in China, undergoing a pandemic. But its one child rule, which created demographic havoc (and 30 million more men than women) has put extra pressure on professional unmarried women. They are called  "sheng nu," or "Leftover Women," which is the title of a documentary on "Independent Lens" (PBS, 10 p.m., check local listings) that chronicles three such women, a lawyer, a radio host and a film professor. The documentary by Shosh Shlam and Hilla Medalia won prizes at the Tribeca Film Festival.
A third season begins for "Agatha Raisin" (Acorn TV, streaming) about the colorful detective played by Ashley Jensen.
"The New Pope" (HBO, 9 p.m.) reacts to an act of terrorism in France.
Turns out there are two Jerrys to investigate on "McMillion$" (HBO, 10 p.m.).
Peter may be the worst decision maker since "The Apprentice," but he travels with the final six women to Lima on a two hour episode of "The Bachelor" (ABC, 8 p.m.).
"America's Got Talent: The Champions" (NBC, 8 p.m.) reaches the finals.
There's a brawl at a male strip club in "9-1-1: Lone Star" (Fox, 8 p.m.).
On "All American" (CW, 8 p.m.), Spencer may be pushing himself too hard.
Dave helps Calvin figure out why his employees are quitting on "The Neighborhood" (CBS, 8 p.m.).
"Bob (Hearts) Abishola" (CBS, 8:30 p.m.) celebrates Valentine's Day.
Bennett prepares to run for Attorney General on "All Rise" (CBS, 9 p.m.).
Two drunk guests want to get married on "Below Deck Sailing Yacht" (Bravo, 9 p.m.), while "Below Deck" (Bravo, 8 p.m.) begins its reunion episodes.
S'mores are the inspiration on "Girl Scout Cookie Championship" (Food, 8 p.m.).
"Black Lightning" (CW, 9 p.m.) goes to Markova to rescue Lynn.
Olive drifts further from her family on "Manifest" (NBC, 10 p.m.).
Marcus Samuelson eats Chinese food in Las Vegas on the latest episode of "No Passport Required" (PBS, 9 p.m., check local listings)
Jim has a secret about Chrissy on "Love & Hip Hop" (VH1, 8 p.m.).
The seven bakers left on "Kids Baking Championship" (Food, 9 p.m.) create ice cream cupcakes.
Jessica meets the Carousel Killer on "Prodigal Son" (Fox, 9 p.m.).
"Bull" (CBS, 10 p.m.) gets involved in the college admission scandal.
The Oscars are over, but Turner Classic Movies' 31 Days of Oscar rolls on with entirely English-language films: "Raintree County" (7:45 a.m.), "Magnificent Obsession" (10:45 a.m.), "The Front Page" (12:45 p.m.), "A Star is Born" (2:30 p.m.), "One Foot in Heaven" (4:30 p.m.), "Our Town" (6:30 p.m.), "Stagecoach" (8 p.m.), "True Grit" (9:45 p.m.), "Network" (midnight), "Executive Suite" (2:15 a.m.) and "The Strange Love of Martha Ivers" (4:15 a.m.).
Hockey has Islanders at Washington (NBC Sports, 7 p.m.).
In basketball, it's Sacramento at Milwaukee (NBA, 8 p.m.) and Phoenix at Lakers (NBA, 10:30 p.m.).
Men's college hoops has Colgate at Boston University (CBS Sports, 7 p.m.), Florida State at Duke (ESPN, 7 p.m.), Baylor at Texas (ESPN, 9 p.m.), Southern at Jackson State (ESPNU, 9 p.m.) and TCU at Texas Tech (ESPN2, 9 p.m.).
Women's games include Connecticut at South Carolina (ESPN2, 7 p.m.).
College hockey has Northeastern vs. Boston University (NHL, 7:30 p.m.) in the Beanpole Championship.
Daytime Talk
Kelly Ripa and Ryan Seacrest: Kesha, Jonathan Van Ness, Maria Menounos. The View: Gov. Gavin Newsom, Tyra Banks. Ellen DeGeneres: John Krasinski, Curtis Stone, Cat Cora, Susan Feniger. Kelly Clarkson: Peter Gallagher, Lily Aldridge. Wendy Williams: Melissa Garcia. The Real: Cheslie Kryst.
Late Talk
Stephen Colbert: John Oliver, Alex Ebert. Jimmy Kimmel: Harrison Ford, Science Bob Pflugfelder, Wiz Khalifa, Ty Dolla $ign, Lil Yachty & Sueco the Child. Jimmy Fallon: Janet Jackson, Jane Levy, Jo Firestone. Seth Meyers: Claire Danes, Zach Woods, Gov. Gavin Newsom. James Corden: Dr. Phil McGraw, Lana Condor, Green Day. Lilly Singh: Joseph Gordon-Levitt. Trevor Noah: Sochi Onyebuchi. David Spade: Sam Moril, Fortune Feimster, Sarah Tiana. Conan O'Brien: Elijah Wood.