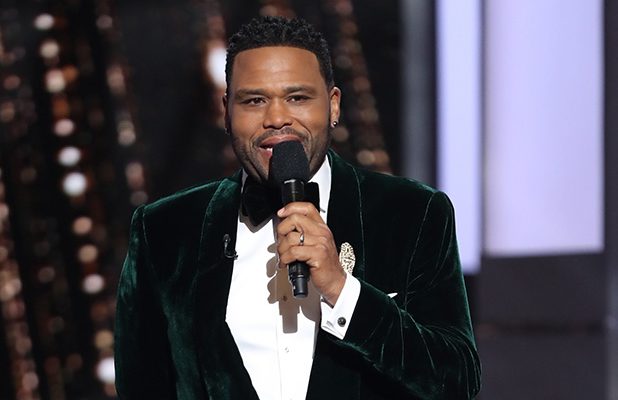 Anthony Anderson hosts the 51st NAACP Image Awards (BET, 8 p.m.) live from Pasadena Performers include Jill Scott and H.E.R.; presenters include Alicia Keys, Jamie Foxx, Janelle Monae, Tiffany Haddish, Sterling K. Brown, Morgan Freeman and Lena Waithe. Rihanna and Rep. John Lewis will receive special awards. Plenty of Netflix projects, from "Dear White People" to "When They See Us" are nominated. Lizzo has six nominations; Beyoncé eight. The show will be simulcast on sister networks Comedy Central, CMT, MTV, Pop, Smithsonian and TV Land.
Politics invade your Saturday, with the results of the biggest primary contest yet, the Nevada Caucuses (CNN, MSNBC, 3 p.m.), with actual results available possibly today.
It's probably not a good sign that the first season drama "Almost Family" (Fox, 8 p.m.) has its two-hour finale on a Saturday night.
Conditions were roughest when filming the Antarctica episode of "Seven Worlds, One Planet" (BBC America, 9 p.m.).
Michelle Yeoh narrates the two hour travelogue "The Hidden Kingdoms of China" (National Geographic, 9 p.m.).
The new romance "Love in Store" (Hallmark, 9 p.m.) is set in a shopping network with sparks between cohosts played by Alexandra Breckenridge and Robert Buckley.
The comedy special "Whitmer Thomas: The Golden One" (HBO, 10 p.m.) was taped at the Flori-Bama Lounge.
A woman worries about the price tag on "Say Yes to the Dress" (TLC, 8 p.m.).
The haunted doll horror film "Annabelle Comes Home" (HBO, 8:10 p.m.), with Mckenna Grace, Vera Farmiga and Patrick Wilson, makes its premium cable debut.
Gregory Peck is featured in a couple of films in prime time on Turner Classic Movies' 31 Classic Movies, "How the West Was Won" (8 pm.) and "The Gunfighter" (11 p.m.). Also on TCM today: "Seven Brides for Seven Brothers" (6:15 a.m.), "Witness for the Prosecution" (8 a.m.), "The Green Years" (10 a.m.), "The Southerner" (12:15 p.m.), "Three Little Words" (2 p.m.), "Kisses for My President" (4 p.m.), "Baby Doll" (6 p.m.), "A Streetcar Named Desire" (12:45 a.m.), "Planet of the Apes" (3 a.m.) and "Kind Lady" (5 a.m.).
Baseball's first spring training games begin today, including Toronto at Yankees (MLB, 1 p.m.).
NBA's Philadelphia at Milwaukee (ABC, 8:30 p.m.) gets a prime time broadcast showcase.
Hockey has Washington at New Jersey (NHL, 1 p.m.) and San Jose at Rangers (NHL, 7 p.m.).
Men's college basketball includes Kansas at Baylor (ESPN, noon), Tennessee at Auburn (CBS, noon), Marquette at Providence (Fox, noon), Virginia at Pittsburgh (ESPN2, noon), Tulane at Central Florida (ESPNU, noon), Navy at Army (CBS Sports, 1:30 p.m.), West Virginia at TCU (ESPNU, 2 p.m.), Houston at Memphis (ESPN2, 2 p.m.), Michigan at Purdue (ESPN, 2 p.m.), Texas at Kansas State (CBS, 2 p.m.), Villanova at Xavier (Fox, 2:30 p.m.), Southern Methodist at Tulsa (ESPNews, 3 p.m.), Loyola Chicago at Missouri State (CBS Sports, 3:30 p.m.), North Carolina at Louisville (ESPN, 4 p.m.), UCLA at Colorado (CBS, 4 p.m.), Oklahoma at Oklahoma State (ESPN2, 4 p.m.), Saint Joseph's at George Mason (NBC Sports, 5:30 p.m.), Florida at Kentucky (ESPN, 6 p.m.), Texas Tech at Iowa State (ESPNU, 6 p.m.), LSU at South Carolina (ESPN2, 6 p.m.), Richmond at St. Bonaventure (NBC Sports, 6:30 p.m.), UNLV at San Diego State (CBS Sports, 7:30 p.m.), Virginia Tech at Duke (ESPN2, 8 p.m.), Oregon State at Arizona State (ESPNU, 8 p.m.), Oregon at Arizona (ESPN, 9 p.m.), Georgetown at DePaul (Fox Sports 1, 9 p.m.), Gonzaga at BYU (ESPN2, 10 p.m.) and Fresno State at Nevada (ESPNU, 10 p.m.).
Women's games include Navy at Army (CBS Sports, 11 a.m.).
XFL action today has Houston at Tampa Bay (ABC, 2 p.m.) and Dallas at Seattle (Fox, 5 p.m.).
Golf has third round play in the WGC-Mexico Championship (Golf, noon; NBC, 2:30 p.m.).
St. Vincent plays a 2018 "Austin City Limits" (PBS, 11 p.m., check local listings).
Another rerun on "Saturday Night Live" (NBC, 11:30 p.m.) has last month's episode hosted by Adam Driver with Halsey.