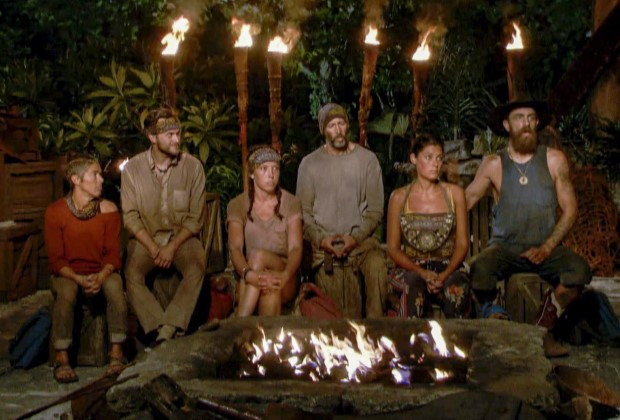 The winner of the 40th season of "Survivor" (CBS, 8 p.m.) is crowned tonight, getting $2 million, double the usual prize. The final five will be joined by the one who gets to come back from the Edge of Extinction. The winner will be declared in a third hour reunion show minus the usual audience, with Jeff Probst checking in with players remotely on one unwieldily Zoom call.
The class of 2020 was not only robbed of graduation ceremonies, but also of proms, celebrated instead on the comedies "The Goldbergs" (ABC, 8 p.m.), "Schooled" (ABC, 8:30 p.m.) and "American Housewife" (ABC, 9 p.m.) — all of which are also having their season finales.
It's also the season finale of "Single Parents" (ABC, 9:30 p.m.).
"Nova" (PBS, 8 p.m., check local listings) delves into the makeup of the coronavirus.
Laszlo flees the home and goes into hiding on "What We Do in the Shadows" (FX, 10 p.m.).
"Full Frontal with Samantha Bee" (TBS, 10:30 p.m.) reports from the woods.
Koala can't get away from the paparazzi as the Spy in the Wild series on "Nature" (PBS, 8 p.m., check local listings).
David Spade stars in a new romantic comedy "The Wrong Missy" (Netflix, streaming) with Sarah Chalke, Lauren Lapkus and Nick Swardson.
Jay Pharoah joins the panel on a two hour "The Masked Singer" (Fox, 8 .m.) as the semifinals go on. Last week, Jackie Evancho of "America's Got Talent" was revealed to be the Kitty.
On "The Real Housewives of Beverly Hills" (Bravo 8 p.m.), Lisa's daughters launch their own clothing line.
"Expedition with Steve Backshall" (PBS, 10 p.m., check local listings) goes to Greenland.
Taye Diggs tells some "Celebrity Ghost Stories" (A&E, 10 p.m.) on that show's season finale.
"Summer House" (Bravo, 9 p.m.) has some leftover footage from the season.
Abigail eulogizes a fallen soldier on "Mother: Fort Salem" (Freeform, 9 p.m.).
"Shark Tank" (ABC, 10 p.m.) hears from some Virginia firefighters.
DJ Khaled, Tim Heidecker and Eric Wareheim are "Crank Yankers" (Comedy Central, 10:30 p.m.).
Barry make a shocking discovery on "Tyler Perry's The Oval" (BET, 9 p.m.) before a woman gets involved in a sex cult on "Tyler Perry's Ruthless" (BET, 10 p.m.).
The month-long Wednesday night spotlight on Asian Americans in film continues with "The Crimson Kimono" (8 p.m.), "House of Bamboo" (9:30 p.m.), "Love is a Many Splendored Thing" (11:30 p.m.), "Song of India" (1:30 a.m.) and "The Steel Helmet" (3 a.m.).
TCM movies this morning have literary women with "Devotion" (7 a.m.), "The Barretts of Wimpole Street" (9 a.m.) and "The Diary of Anne Frank" (11 p.m.), before three adaptations of work by Edna Ferber, "Dinner at Eight" (2:15 p.m.), "Saratoga Trunk" (4:15 p.m.) and "The Expert" (6:45 p.m.).
Daytime Talk
Kelly Ripa and Ryan Seacrest: James Marsden, Farnoosh Torabi. The View: Gov. Gretchen Whitmer. The Walk: Boris Kodjoe, Tom Lennon. Ellen DeGeneres: Sarah Paulson, Tim McGraw. Kelly Clarkson: Shania Twain, Billy Ray Cyrus (rerun). Tamron Hall: Phil Donahue, Marlo Thomas. Wendy Williams: Loretta Devine. The Real: Carson Kressley.
Late Talk
Stephen Colbert: Hugh Laurie, Benjamin Gibbard. Jimmy Kimmel: Bill Murray. Jimmy Fallon: David Spade, Kathryn Hahn, Horatio Sanz, the Killers. Seth Meyers: Gov. Andrew Cuomo, Glenn Close. James Corden: Daisy Edgar-Jones, Paul Mescal, Leslie Odom Jr. Lilly Singh: Phoebe Robinson (rerun). Conan O'Brien: Luke Wilson.