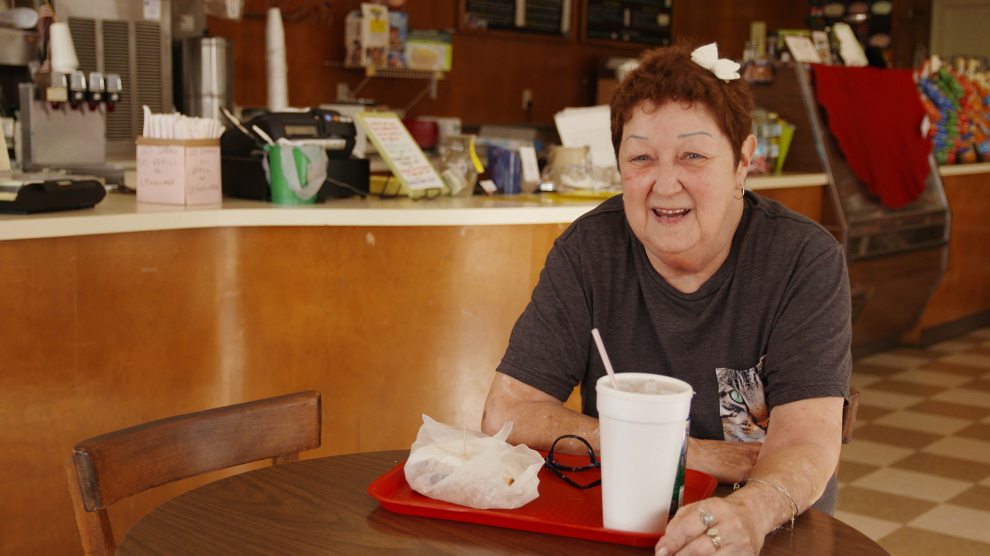 The first documentary from FX is a consequential one: "AKA Jane Roe" (FX, 9 p.m.) is British filmmaker Nick Sweeney recording the final months of Norma McCorvey, who agreed to be the plaintiff in "Roe vs. Wade" though she never had an abortion, who campaigned for the choice for a time before she became born again Christian and fought against it. In her final days, the feisty woman with a hard life admits that she only made the turnabout for the money. Just as surprising is the clergyman who admits now that they went too far in trying to exploit her.
A second season of "Homecoming" (Amazon, streaming) doesn't star Julia Roberts (except as executive producer) but instead focuses on a soldier played by Janelle Monae, who seems to have drug-induced amnesia as the mysterious season begins. Again, Sam Esmail creates a sleekness to the half-hour episodes about a shadowy corporate experiment.
The best response of the current pandemic in a single episode may be the special "Mythic Quest: Raven's Banquet — Quarantine" (Apple TV+, streaming) that takes the characters of Rob McElhenny's workplace comedy into the current time, when their connection is necessarily virtual. Issa Rae and Kumail Nanjiani star in a romance that's part mystery in the film "The Lovebirds" (Netflix, streaming).
In the British film "Military Wives" (Hulu, streaming) a group of women whose husbands are fighting in Afghanistan decide to become a singing group. Kristin Scott Thomas and Sharon Horgan star in the film from Peter Cattaneo ("The Full Monty").
Barack Obama was the keynote speaker at televised mass graduation celebration last weekend; tonight Michelle Obama chaperones MTV's Prom-a-Thon (MTV You Tube, 9 p.m.) with performances from Chloe x Halle, DJ Pauly D, and Kyle and appearances from Bebe Rexha, Becky G, Fat Joe, Janelle Monáe, and Tory Lanez. And it's on MTV's You Tube channel because of more  "Ridiculousness" (MTV, 9 p.m.).
"Trailer Park Boys: The Animated Series" (Netflix, streaming) starts a second season. There are also second seasons starting for "Marvel's Future Avengers" (Disney +, streaming), and "Selling Sunset" (Netflix, streaming), the real estate reality show.
A kids' version of "To Tell the Truth," the new "The Big Fib" (Disney +, streaming) has young participants trying to figure out who is lying.
Queens from Season 12 of "RuPaul's Drag Race" (VH1, 8 p.m.) reunite virtually ahead of next week's finale.
The new "History 101" (Netflix, streaming) offers short overviews of topics from fast food to China.
Thomas Friedman, Michael Moore and Dr. Cate Shanahan are guests on a new "Real Time with Bill Maher" (HBO, 10 p.m.).
The new fishing reality series "All on the Line" (Discovery, 9 p.m.) follows two crews out of Gloucester, Mass.
Summer begins on "Bering Sea Gold" (Discovery, 8 p.m.).
More magic ensues on "Masters of Illusion" (CW, 8 p.m.).
The made for TV thriller "Black Hearted Killer" (Lifetime Movie Network, 8 p.m.) concerns a strange organ recipient who tries to get too close to the donor family. Julie McNiven and Jon Abrahams star.
Three late '60s animated films of Rankin and Bass (who would go on to make their name in stop motion TV Christmas specials) are on Turner Classic Movies tonight with "Mad Monster Party" (8 p.m.), "The Daydreamer" (10 p.m.) and "The Wacky World of Mother Goose" (midnight), followed by a pair of classic movies from the 70s: "The Harder They Come" (2 a.m.) and "Eraserhead" (4 a.m.).
During the day — after two Edward G. Robinson films left over from Wednesday night, "Blackmail" (7 a.m.) and "Soylent Green" (8:30 a.m.) — TCM has stories about actresses: "Morning Glory" (10:15 a.m.), "The Actress" (11:45 a.m.), "The Star" (1:30 p.m.), "Inside Daisy Clover" (3:15 p.m.) and "The Legend of Lylah Clare" (5:30 p.m.).
Daytime Talk
The View: Zach Braff, Donald Faison. The Talk: Bill Pullman, Nicole Byer. Ellen DeGeneres: Rob Gronkowski, Hozier. Kelly Clarkson: Kristin Chenoweth, Bindi & Robert Irwin (rerun). Tamron Hall: Anthony Anderson, Art Smith, Tamar Braxton, Johnny Wright. The Real: Derek Hough.
Late Talk
Stephen Colbert: Nathan Lane, José Andrés (rerun). Jimmy Fallon: Jennifer Lopez, Henry Winkler, Twenty One Pilots. Seth Meyers: Colin Farrell, Matt Bomer, Maria Bartiromo (rerun). James Corden: Yuval Noah Harari, Lewis Capaldi (rerun). Lilly Singh: Adam Conover, Deon Cole (rerun).