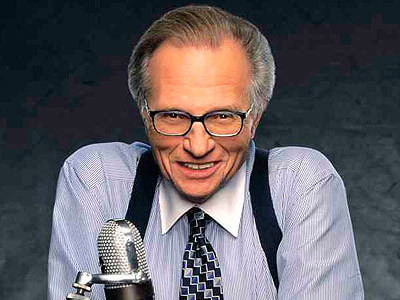 It's hard to imagine a broadcast world without Larry King, who died Saturday at 87. He made his name as a radio and TV interviewer with bottomless curiosity that was also real — he prided himself on avoiding preparation. His gruff, staccato style made him both a throwback and an original,playing himself in dozens of movies. Even after a quarter century doing "Larry King Live" at CNN, he took on a number of other gigs.
It was when he was embarking on a Hulu show, "Larry King Now" in 2018 that I last interviewed him.
By then he'd been off CNN for a few years and was missing it only when there'd be a big news event — the 2011 killing of Osama bin Laden, he mentioned specifically.
"I envisioned if I had been working that day, we'da gone nuts." he told me. "We would have covered it for a week. I missed it. I didn't miss tabloid stories that you have to do but I never loved much. But I missed it. I missed the action."
The Brooklyn-born King began his broadcasting career in 1957 at a small radio station in Miami Beach, where he was doing odd jobs., taking over as disc jockey only when an announcer unexpectedly quit.
In 1978, his profile turned national when Mutual Radio began running the overnight "Larry King Show" and "Open Phone America," which he continued to host through 1994.