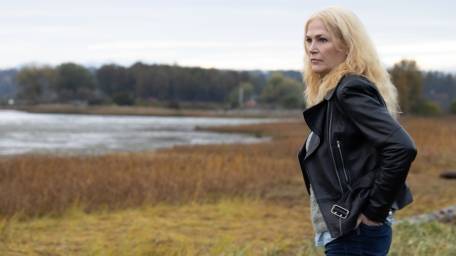 Kim Delaney stars as a mother whose search for her daughter leads to finding 19 bodies in the made-for-TV movie "The Long Island Serial Killer: A Mother's Hunt for Justice" (Lifetime, 8 p.m.), produced by Deborah Norville, who once covered the case for "Inside Edition."
"A Wild Year on Earth" (BBC America, 8 p.m.) looks at wildlife reaction during the fall.
Anderson Cooper sits down the the third richest man Earth on "AC360: The Bill Gates Interview" (CNN, 9 p.m.).
The made for TV romance "Mix Up in the Mediterranean" (Hallmark, 9 p.m.) involves a twin who takes his brother's place in a cooking contest and falls fr the woman running it. Jeremy Jordan and Jessica Lowndes star.
Turner Classic Movies has a double feature of Sidney Poitier, on the occasion of his 94th birthday, with "Lillies of the Field" (8 p.m.) and "Guess Who's Coming to Dinner" (10 p.m.). Then comes the Argentine adaptation of Richard Wright's "Native Son" (midnight), in which the author also stars, followed by Barry Levinson's "Diner" (2 a.m.) and its prequel "Avalon" (4 a.m.).
Basketball gets a prime time broadcast showcase with Miami at Lakers (ABC, 8:30 p.m.).
Hockey goes outdoors for its annual open air game with Vegas vs. Colorado (NBC, 3 p.m.). Other hockey includes Rangers at Washington (NHL, 12:30 p.m.), Chicago at Carolina (NHL, 7 p.m.) and Calgary at Edmonton (NHL, 10 p.m.).