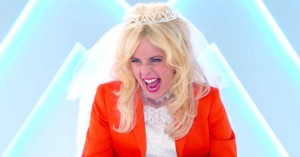 Maria Bamford's bold and experimental "Lady Dynamite" (Netflix, streaming) returns for its second season, with her character living with a new boyfriend and having a new job at a streaming service, perhaps like the one she's on.
Something different for Friday night public TV arts programming — the Foo Fighters performing a big rock show at the Acropolis in Athens in an "Landmarks Live in Concert" on "Great Performances" (PBS, 9 p.m., check local listings). Red Hot Chili Peppers drummer Chad Smith hosts.
College basketball tips off for the season with a slew of games. Among them: Texas A&M vs. West Virginia (ESPN, 6 p.m.), Memphis vs. Alabama (CBS Sports, 6:30 p.m.), Fairleigh Dickinson at Seton Hall (Fox Sports 2, 6:30 p.m.), Northern Iowa at North Carolina (ESPNU, 7 p.m.), Columbia at Villanova (Fox Sports 2, 8:30 p.m.), Pittsburgh at Navy (CBS Sports, 9 p.m.), Tennessee State at Kansas (ESPNU, 9 p.m.) and Georgia Tech at UCLA (ESPN, 11:30 p.m.).
Rebecca makes a visit home to Westchester on "Crazy Ex-Girlfriend" (The CW, 8 p.m.).
Donna Brazile, Sarah Silverman, Chris Matthews and Michael Moore are on a new "Real Time with Bill Maher" (HBO, 10 p.m.).