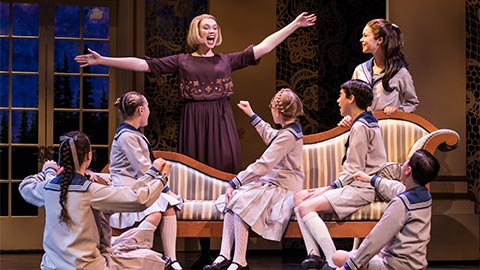 It's amusing to me that on the 100th anniversary of the birth of the namesake of the John F. Kennedy Center for the Performing Arts, there are two popular, quite different musicals on either end of the Grand Foyer.
What if ticket holders to the traveling national tour of "The Sound of Music" made it by mistake to "Hedwig and the Angry Inch" or vice versa?
But are they so different? Both are musicals representing a chunk of the 20th century, both are Tony winners with celebrated revivals, are vaguely about family relations fractured and reformed elsewhere, and in both, the legacy of German looms.
In "Sound of Music," it's Hitler's Austrian takeover that hangs like a cloud over the family musical — the Von Trapp Family singing beneath huge swastikas near the end is still a visual shocker. And the titular character in "Hedwig" was born in a divided Berlin before transplanting to a Kansas trailer park and starting a career in the end of glam rock that used Nazi symbolism as a shock (though there seemed none in the production).