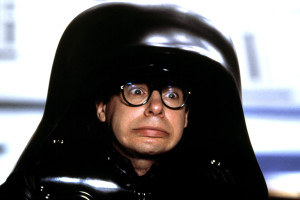 Following a self-imposed retirement to raise a family, comedy's Rick Moranis hasn't starred in a movie since the second  "Honey, I Shrunk the Kids" sequel, which went straight to DVD in 1997.
Though he's been heard from only sporadically since (as voice of a mouse on "Brother Bear" and a couple of comedy albums) he returns to network TV tonight, in voice only, on an episode of "The Goldbergs" (ABC, 8 p.m.).
Moranis reprises his voice as Dark Helmet that first appeared in Mel Brooks' 1987 spoof "Spaceballs" in a dream sequence of young Adam Goldberg, who wants to make a sequel.
Among other guest stars, Nathan Fillion appears as himself on the second season finale of "American Housewife" (ABC, 9:30 p.m.) ends its second season with Katie and crew tracking down Nathan Fillion at a "Firefly" convention to ask if he can come to their school's spring gala.
On the fifth season end of "Chicago P.D." (NBC, 10 p.m.), Woods looks to take down Voight.
A baby shower changes Offred's relationship with Serena Joy on "The Handmaid's Tale" (Hulu, streaming).
Philip and Elizabeth join for an unusual operation on "The Americans" (FX, 10 p.m.).