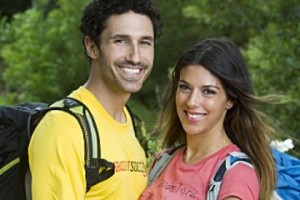 Fresh from its latest Emmy win just a week ago, "The Amazing Race" (CBS, 8 p.m.) returns for season 19, with a start in Southern California. First stop: Taipei, Taiwan.
Among the contestants is former NFL tight end Marcus Pollard and his wife, a pair of Olympic snowboarders, a teen who set a record for being the youngest to sail around the world solo, and in the recent CBS tradition of recycling reality stars, a pair of winners of "Survivor" – Ethan Zohn and Jenna Morasca, pictured left.
The 23rd (!) season of "The Simpsons" (Fox, 8 p.m.) returns strong as ever, set to answer the question nobody's been wondering – are Ned and Edna together? – in the middle of an episode that brings back Kiefer Sutherland as a security guard with a past. So it's not only good to have Homer back, it's good to have the guy from "24."
As for the network's other returning cartoons, one Seth MacFarlane show is less funny than the next. And none produce a single laugh: "The Cleveland Show" (Fox, 8:30 p.m.), "Family Guy" (Fox, 9 p.m.) and "American Dad" (Fox, 9:30 p.m.).
The biggest move on Sunday is by the successful drama, "The Good Wife" (CBS, 9 p.m.) for its third season. That means it will go head to head against "Desperate Housewives" (ABC, 9 p.m.), starting its eighth and final season.
Also back tonight, for its 9th season, is the most campy show in the series, "CSI: Miami" (CBS, 10 p.m.) with David Caruso's Horatio Caine.
The FIirst Lady stops by on the two hour season premiere of "Extreme Makeover: Home Edition" (ABC, 7 p.m.) to help rebuild a shelter for female veterans in Fayetteville, N.C.
The 44th season premiere for "60 Minutes" (CBS, 7 p.m.) covers the success of Broadway's "The Book of Mormon" and looks at the New York Police Department counterterrorism unit.
Soledad O'Brien continues her report "In Her Corner: Latino in America 2" (CNN, 8 p.m.).
The death of a student in an experimental drug trial is the case for Inspector Lewis on "Masterpiece Mystery" (PBS, 9 p.m.).
There's been no lack of extreme weather for "Storm Chasers" (Discovery, 10 p.m.) to pursue as a new season starts.
Sunday Night Football (NBC, 8 p.m.) has Pittsburgh at Indianapolis. Earlier, it's New York Giants at Philadelphia (Fox, 1 p.m.), Baltimore at St. Louis (CBS, 4 p.m.) and Green Bay at Chicago (Fox, 4:14 p.m.).
Judging from what went down last week, there will likely be a lot of fallout to deal with on "Breaking Bad" (AMC, 10 p.m.).
A new reality show that purports to look behind the scenes at soap operas, "Dirty Soap" (E!, 10 p.m.) can't be worse than, say, the series finale of "All My Children."
"Drop Dead Diva" (Lifetime, 9 p.m.) has been picked up for a new season.
Attention Utah law enforcement personnel: "Sister Wives" (TLC, 9 p.m.) returns for a new season.
The 1941 "Back Street" (TCM, 8 p.m.) is followed by the 1961 version of "Back Street" (TCM, 9:45 p.m.). In between, there may be time for Bruce Springsteen & the E Street Band to sing..oh, never mind.
Then it's time for some Charlie Chaplin, with "The Circus" (TCM, midnight) and "Pay Day" (TCM, 1:30 a.m.).
Sunday Talk
ABC: White House senior adviser David Plouffe, British Prime Minister David Cameron, PLO executive committee member Hanan Ashrawl. CBS: Party chairs Debbie Wasserman Schultz and Reince Priebus. NBC: New York Mayor Michael Bloomberg, Israeli Prime Minister Benjamin Netanyahu. CNN: Plouffe, Sens. Mark Warner and Lamar Alexander, Gov. Mitch Daniels. Fox News: Plouffe, Sen. Lindsey Graham.