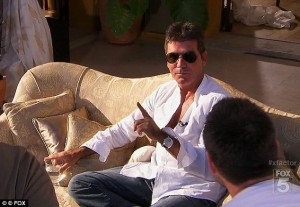 It took an excruciating two hours, but the four judges on "The X-Factor" chose their four-act teams Tuesday, informing half the singers who had come to their "homes" they were through.
Simon Cowell, producer and creator of the show, got to pick five acts, because he's Simon (and because he wasted a vote on a hottie who shouldn't have made it to the Top 32 and had forgotten words in her boot camp performance).
Those who made it were easily predictable and had been the very acts that had been given a lot of airtime since their first audition. Still, with each judge acting alone, it was clear to see the lapses and biases of each.
There was no way Cowell couldn't have put in Tiah Tolliver, whom he had fought from the first audition. Putting her through vindicated his earlier faith in her. He also had to put in Rachel Crow, the 12 year old belter who was the first seen to audition on the series.
Drew Ryniewicz, 14, held her own since the start. And with that he seemed to have four. But he felt bad about not choosing Melanie Amaro, so he flew out to Florida from the South of France where the auditions were held, and told her she'd been added.
For the guys, L.A. Reid chose the 15 year old kid from Brooklyn, Brian "Astro" Bradley, the dude just out of rehab, Chris Rene, and the mama's boy soul singer Marcus Canty. Reid's mistake was choosing the one-note novelty of Phillip Lomax, a Sintra-imitating crooner, instead of country singes Tim Cifers, and Skyelor Anderson, or big hair guys Nick Voss or Brennin Hunt.
Paula Abdul was more at bay, choosing the Beiber-lite brothers  The Brewer Boys, the newly chosen group from dismissed girls, Lakoda Rayne; teenage aggregation InTENsity; and Temptation impersonators Stereo Hogzz.
But she could have easily put in the ones she dismissed, 2squar'd, Illusion/Confusion, 4Shore and The Anser.
Nicole Scherzinger had some obvious choices among the over 30s – Mascara-stained Stacy Francis; older Marvin Gaye lookalike Leroy Bell; burrito slinger Josh Krajcik. But her choice of James Brown impersonator Dexter Haygood was just based on sympathy for his being down on his luck. It meant cutting out a guy who would have been better (and has a better name), Tiger Budbill.
The whole singing at the judges home segment of the season was annoying. The producers picked the song selections and they were pretty bad – maudlin ballads by and large, larded up by bad production that often played larger than the vocals.They made the auditions seem fake, pre-recorded or lip-synched. Having celebrity guests with three of the judges helped only when Rhianna said one guy's vocals had been "pretty corny." A whole lot of the show had been pretty corny.
The results show Tuesday, which didn't feature any but a few snippets of songs, was worse, with each emotional turn of acceptance or rejection amplified by intrusive pop songs (as if they wouldn't have been emotional without them). And there was overuse as well of those blackout-between-scenes editing effects
Here's who will sing live in the competition Tuesday and who was cut, by team:
L.A. Reid, mentoring boys under 30:
PICKED: Brian Bradley, 15, of Brooklyn; Marcus Canty, 20, Bowie, Md.; Phillip Lomax, 22, Seattle; Chris Rene, 28, Santa Cruz, Calif.
NOT PICKED: Skyelor Anderson, 16, of Memphis; Tim Cifers, 30, of Willow Spring, N.C.; Brennin Hunt, 26, Nashville; Nick Voss, 22, Hialeah, Fla.
Simon Cowell / girls under 30:
PICKED: Melanie Amaro, 19, Coral Springs, Fla.; Simone Battle, 22, Los Angeles; Rachel Crow, 13, Burbank, Calif.; Drew Ryniewicz, 14, Chino Valley, Ariz.; Tiah Tolliver, 20, Bremerton, Wash.
NOT PICKED: Caitlin Koch, 21, Orchard Park, N.Y.; Jazzlyn Little, 16, Cape Coral, Fla.; Tora Woloshin, 22, Tuscon, Ariz.
Nicole Scherzinger /those over 30:
PICKED: LeRoy Bell, 60, Edmonds, Wash.; Stacy Francis, 42, Brooklyn; Dexter Haygood, 49, Chicago; Josh Krajcik, 30, Columbus, Ohio.
NOT PICKED: Tiger Budbill, 42, Bothell, Wash.; James Kenney, 34, Portland, Ore.; Elaine Gibbs, 53, Los Angeles;  Christa Collins, 32, Burlington, Iowa.
PICKED:  Brewer Boys, Temecula, Calif.: Justin Brewer, 17; Nathan Brewer, 14; InTENsity, Brockport, N.Y.: Nick Dean, Ellona Santiago, Austin Percario, Emily Wilson, all 15; Emily Michalak, 13; John Lindahl, 14; Arin Ray, 16; Lauren Ashley Redmond, 17; Ma'at Bingham Shango, 12. Lakota Rayne: Cari Fletcher, Wall Township, N.J.; Hayley Orrantia, Highland Village, Texas, both 17; Dani Knights, 22, Santa Clarita, Calif; Paige Ogle, 18, Baltimore. Stereo Hogzz, Houston Texas.: Kregg Gibson, Jonathan Glenn, George Jenkins III, Justin Williams, all 25; Leeland Stephenson, 24.
NOT PICKED: 2squar'd, Miami: Liza Forero, 27; Deveraux Lavinia, 27; Abighail Mary, 28; Aimee Santos, 25. 4Shore, Virginia Beach: Allynn Walker Bey, 23; and Jessie Nunn III, Daijreous Poole and Brandon Showell, all 21. The Anser, Orem, Utah: Gray Aydelott, 22; Jarrett Burns, 27; P J Schwartz, 21.  Illusion/Confusion, Hialeah, Fla.: Lazaro Chavez, Ahmed Jaime, Richard Mason, all 26.