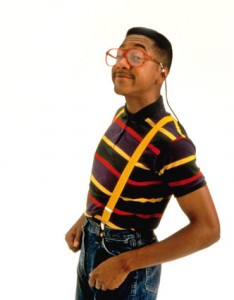 In astronomical terms, there are millions of stars whose name we do not know. This may also be the guiding principal of casting agents on "Dancing with the Stars" this season.
Aside from Gladys Knight, Martina Navratilova and Urkel, there's a bunch of "hmm" and a whole lot of "who?" in the roster of competitors announced this morning for the new season. The ABC dance show has long since gone past the mark where the professional dancers are better known to their audiences than the "stars."
Of course you might not recognize Jaleel White all grown up at 35 and without the nerd specs and suspenders he wore as Urkel on "Family Matters." This opens up a lot of opportunities for him to say "Did I do that?" when he messes up on the dance floor with Kym Johnson.
The Pipless Knight is the oldest of the bunch at 67; she'll be dancing with Tristan McManus.
Tennis star Navratilova, now 55, will dance with Tony Dovolani.
She's not the only athlete involved, though she has the most widely-known name. Also enlisted this season is former Green Bay Packers receiver Donald Driver, dancing with Peta Murgatroyd.
Familiar to ABC audiences will be Sherri Shepherd of "The View," dancing with Val Cherkovskiy. Also from the corporate family is requisite Disney star of the season, Roshon Fegan of "Shake It Up," who will be overshadowed by his partner, returning to the show after a couple of seasons off, Chelsie Hightower.
Like White, the bulk of Melissa Gilbert's fame came young, when she starred in "Little House in the Prairie." More recently she led the Screen Actors Guild. She'll dance with Maksim Chmerkovskiy.
There are three recording artists this time around: Jack Wagner ("All I Need") who has more recently been a soap star; Gavin DeGraw ("I Don't Want to Be"), putting a once-promising career on hold, and Katherine Jenkins from the world of opera.
Their partners will be Anna Trebunskaya, Karina Smirnoff and Mark Ballas respectively.
Rounding out the cast is telenovela actor William Levy, dancing with Cheryl Burke; and "Extra" host Maria Menounos, who'll partner with Derek Hough.
The new season starts March 19.