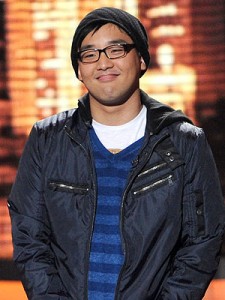 Viewer voters got the last laugh Thursday as Heejun Han, whose deadpan humor flummoxed judges and took a bit of the starch out of the show's deadly serious starmaking process, was eliminated.
It came during the week when he pledged to be more serious about his role among the finalists, taking on "A Song for You," the Leon Russell song he identified as being from Donnie Hathaway, and playing it straight.
Han has a rich voice, but had been obscuring it through his antics, not taking interviews with Ryan Seacrest or Tommy Hilfiger seriously, stopping and starting a song anew with a costume change in last week's Billy Joel Week.
He'd rubbed show mentor and designated grouch Jimmy Iovine wrong from the start – if the process can be parodied, it undermined his whole career choice. But even hard rock clown and front man Steven Tyler, who greeted the singer by singing "Hey Jude" every time he was introduced early in the season, had scolded Heejun for not taking things seriously enough last week.
Because the music business is so deadly serious.
It wasn't like he was being a one man parody machine, like that one Top 12 qualifier from Connecticut a few years back. He was just a strong singer who refused the usual bland script intended for all finalists ("This is a dream come true," blah blah blah).
It's true the competition had tightened this week – everybody did such a good job on songs Wednesday judges wouldn't even venture guessing a name on who might have been in trouble (though honestly, judges had checked out of the process more or less weeks ago).
Han wasn't a guy cut out to be winner of the show, but he left before some less talented guys who should have been ousted – pretty boy DeAndre Brackensick and yes, Colton Dixon, the Christian singer with the 90s hair that the show is promoting as some sort of phenom.
Then again, another guy I thought was a one-note novelty last season ended up winning – Scotty McCreery, who returned to do his single before the elimination alongside other guest Nicki Minaj, who if she had been a contestant wouldn't have passed Hollywood week for not taking the process seriously enough.
After briefly having the chance to sing songs from this century, the remaining eight will be saddled again with songs from 30 years back as they take on the Eighties next week. They might as well make them do songs from the 20s.