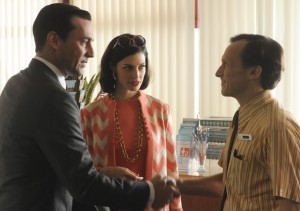 Those wondering how the early 60s men in flannel were going to fit into the crazier, psychedelic mid to late 60s as time marches relentlessly on in "Mad Men" got their answer Sunday.
In a storytelling style akin to "Pulp Fiction," with different stories and times intersecting, a wacky work day found Peggy tokin' and more in a movie theater as "Born Free" played; Roger Sterling dropping LSD as part of a psychiatric dinner party, and Don Draper somehow attracted to Howard Johnson.
Peggy was left all alone to do her Heinz presentation, and scolded the client when he was cool to her latest stab. Peggy chewed him out the way Don might have, but coming from a woman didn't go down so well. So she split, had a spliff and met a guy in a theater for some surprising TV activity – a Yank I believe.
Roger was trying to get out of going to a dinner party with his wife, so much so that he suggested he and Don go upstate to visit a Howard Johnson's for research. Don had a better idea – take his wife and make a weekend out of it. HoJo's was no more romantic then, with its garish orange and aqua tones, plates of clams and 28 flavors.
Megan is trying to figure out how to work the wife/employee thing and felt bad about leaving before the Heinz presentation. Don told her he didn't have to work, but he sure was, sizing up the HoJos and playing up the orange sorbet, which she didn't like. They got into a hug fight, Don drove off and when he cooled off and returned she had disappeared. Then Draper got all panicky; when he finally got home the next day and she was there, he chased her; she wanted nothing to do with him and he clung to her finally like he didn't want to lose her.
Roger, meanwhile, was happy as a lark, and divesting himself of his own secretary turned wife. Their LSD session had, in addition to some humorous visual humor, led to some heightened honesty between them – his understanding was that they were not working as a couple and they should split. He did just that the next day, while she couldn't quite remember what had happened at all.
Should Sterling continue to drop acid, the ad firm could be reaching a new level of chemically-induced enlightenment. Maybe he can help Peggy get the beans right.