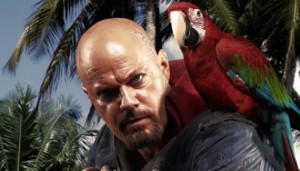 Eddie Izzard shaves his head (but keeps the mascara) to play Long John Silver in a new production of Robert Louis Stevenson's "Treasure Island" (Syfy, 7 p.m.) with a cast that includes Elijah Wood and Donald Sutherland as Flint.
The story of treasure hunting and mutiny on the Hispanola is getting a new twist, the network says. Meant as a four hour, two day miniseries, it plays in one big Saturday night gulp.
Elsewhere, Hallmark Movie Channel has yet another one of those TV movies about the city girl who has to return home for her father's funeral and come to terms with its down home ways and the fact that the local grocery doesn't stock sugar free Red Bull (or know what it is).
"Lake Effects" (Hallmark Movie Channel, 8 p.m.) stars Scottie Thompson as the initially stuck up L.A. lawyer, Jane Seymour plays her mother, Madeline Zima her sister. Among the townspeople: Brian-Doyle Murray. It's actually shot in the Smith Mountain Lake area of southwest Virginia.
A big event falling on Cinco de Mayo this year is the Kentucky Derby (NBC, 4 p.m.). The race itself happens closer to 6:24 p.m.
So much fighting tonight. "UFC: Diaz vs. Miller" (Fox, 8 p.m.) is the rare network showcase for mixed martial arts, with two hours of the Ultimate Fighting Championship from East Rutherford, N.J. and the big Floyd Mayweather Jr. vs. Miguel Cotto junior welterweight championship Boxing (Pay Per View, 10 p.m.). A preshow is a bit cheaper , "Fight Day Now! Mayweather / Cotto" (HBO, 8 p.m.).
Jason Bateman and Ryan Reynolds star in last year's "The Change-Up" (Cinemax, 10 p.m.). Jake Gyllenhaal and Vera Farmiga star in "Source Code" (Showtime, 9 p.m.). Also new tonight on premium cable is "Cars II" (Starz, 9 p.m.), which makes its debut, quite naturally, after "Cars" (Starz, 7 p.m.).
A finale comes for "Escape Routes" (NBC, 8 p.m.) the reality competition almost nobody saw, that is more like an infomercial.
The 2008 Will Smith movie "Hancock" (ABC, 9 p.m.) has a network replay.
Circle of life: "The Lion King" (ABC Family, 7 and 9 p.m.) plays twice.
A full roster of NBA playoff games, with Pacers at Magic (ESPN, 2 p.m.), Grizzlies at Clippers (ESPN, 4:30 p.m.), Thunder at Mavericks (TNT, 7:30 p.m.) and Spurs at Jazz (TNT, 10 p.m.).
Stanley Cup playoffs have Rangers at Capitals (NBC, 12:30 p.m.).
Baseball games include Diamondbacks at Mets (Fox, 4 p.m.) and Braves at Rockies (MLB, 5 p.m.).
Miranda Lambert plays a replay of "Austin City Limits" (PBS, 9 p.m., check local listings).
Eli Manning hosts a new "Saturday Night Live" (NBC, 11:30 p.m.) with Rihanna as musical guest.