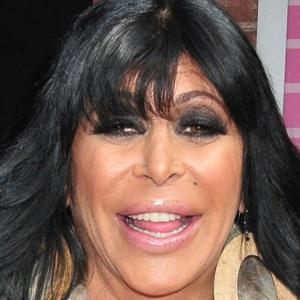 "Mob Wives" is starting to have some payoff on VH1, which announced a programming schedule offering a couple of spinoffs.
A spinoff of the New York series will move to the land of Al Capone in "Mob Wives Chicago," premiering June 10.
Then there's "Big Ang," which is not an abbreviated version of "The Big Bang Theory," but a showcase for Angela Raiola, pictured right, better known as Big Ang on "Mob Wives." She's the niece of Salvatore "Sally Dogs" Lombardi, a dead former captain of the Genovese crime family. But under all that plastic surgery, she rather resembles a Milton Berle creation. The show that bears her name, premiering July 8, follows her as she hangs out with family and friends, at home and at her Staten Island bar, the Drunken Monkey.
Other new VH1 shows this summer include "Love & Hip-Hop: Atlanta" June 18, "Hollywood Exes" June 27, and  "Mama Drama," about mothers and daughters, starting Jul 18.
Also back this summer: "Pop Up Video" Aug. 6.