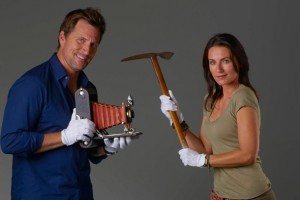 The latest reality show from Thom Beers, of "Deadliest Catch" fame is "America's Lost Treasures" (National Geographic Channel, 9 p.m.), a variation on "Antiques Roadshow" that involves a friendly competition between hosts Curt Doucette and Kinga Phillips, left, as they try to individually determine which object coming to them in regions with open calls, might be the most valuable.
While they're very pleasant hosts, their history credentials may be a little wanting. Which might explain why one terrific specimen in tonight's premiere, said to be "priceless" is left behind for something a little more common.
The one named winner gets $10,000 and the object will be shown in the National Geographic Museum in Washington D.C. next year.
I've already written about the local hubbub over this series. And the video of various writers talking with Beers about reality TV in general has finally surfaced.
Just five minutes of it though. To be fair it's the portion where Beers talks the most, about his poignant "Deadliest Sweeps" episode and the idea behind "America's Lost Treasures." While moderator Damien Holbrook of TV Guide takes charge of the discussion and Andy Dehnart of the "Reality Blurred" website adds insight, I'm only heard chortling or adding quick asides. "Sleep deprivation," I believe, is what I say.
But that's better than what happened to Kate O'Hare of Tribune Media Services, who flew in from L.A. for the taping. While she's heard in the segment, she is never seen.
Maybe not a lost treasure, but certainly a lost critic.