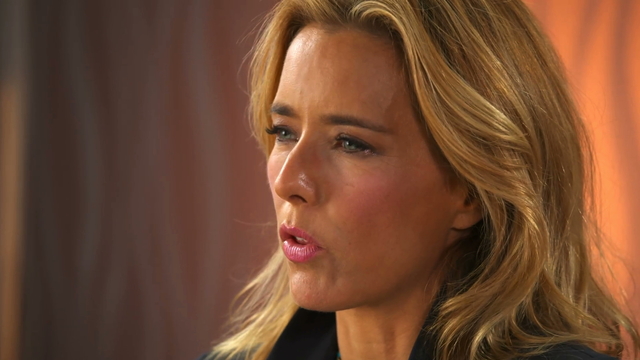 "Scandal" has given a bad name to the woman in political power saga, turning it into another exaggerated soap opera, so it is up to "Madam Secretary" (CBS, 8:30 p.m.), one of two such new network series this fall to resurrect the genre. And it has a lot going for it, including the smart and striking Tea Leoni as a college professor suddenly tapped to become U.S. secretary of state by a president (Keith Carradine) last scene running a diner on "Fargo," and the writing of Barbara Hall, who has brought some smarts to TV on series from "Joan of Arcadia" to "Homeland."
The network has the money to pack the cast with familiar names, including Tim Daly, Bebe Neuwirth and the omnipresent Zeljko Ivanek. But the series hangs (and may well hang itself) on international situations that are solved in 44 minutes by a single woman. With the world situation in its current corner, it seems impossible to replicate the real drama with any credibility; that the pilot has hostages in Syria seems to only diminish the actual tragedy; making some turns seem trifling as a result. But it has the goods to right itself and a strong role model in the accompanying  "The Good Wife" (CBS, 9:30 p.m.).
That series, featuring broadcast TV's only dramatic Emmy winner in Julianna Margulies, is at its own nifty crossroads, with her character having left her old firm for a rival, even as she considers her own run for political rival. It's all building up, maybe, for a crossover episode with the secretary of state.
DVRs beware: A firm start time for these series is put in question, as they will be all season, by the unreliable end times of late afternoon football, including tonights Denver at Seattle (CBS, 4:25 p.m.).  Prime time Sunday Night Football has Pittsburgh at Carolina (NBC, 8:30 p.m.). Earlier NFL action includes Washington at Philadelphia (Fox, 1 p.m.), Baltimore at Cleveland (CBS, 1 p.m.) and San Francisco at Arizona (Fox, 4 p.m.).