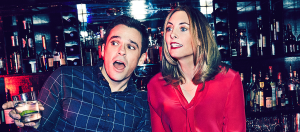 On the new "Throwing Shade" (TV Land, 10:30 p.m.) Erin Gibson and Bryan Safi move from College Humor website to cable, talking about the days issues and throwing in some filmed sketches they made.
"It's based on our podcast that we started in 2011 where we talk about feminist issues and issues affecting LGBT, politics, pop culture, the latest updates on the 'Splash' remake," Safi told reporters at the TV Critics Association winter press tour last week.
"Is he going to wear a wig? Is he going to wear a coconut bra? Nobody knows," Gibson pipes in.
It's the first late night comedy from TV Land, which is in the throes of changing its image from nostalgic sitcoms to more modern fare, such as the comedy "Teachers" (TV Land, 10 p.m.), returning for a second season.
One hardly needs to turn on "Frontline" (PBS, 9 p.m., check local listings) to realize that the country is divided. The two part "Divided States of America" begins by looking at how things started falling part early in the Obama presidency, leading to Republican vows of gridlock. Part two is Wednesday.