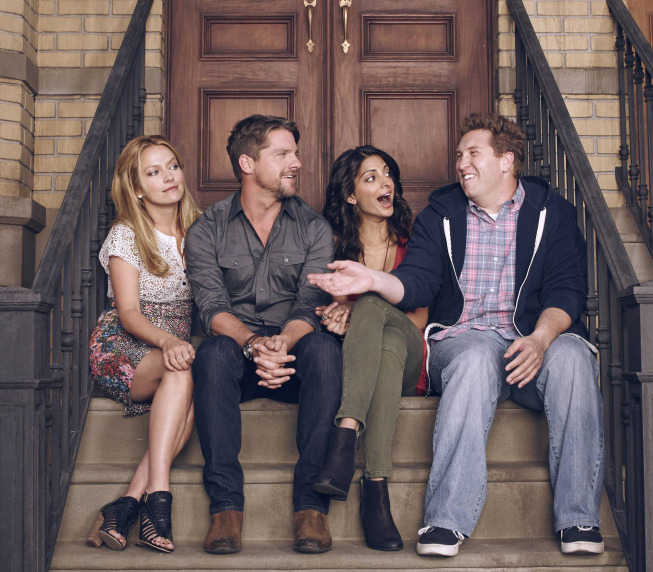 A lot of the family comedies on TV are those involving single people who hang around together as allies. The latest is "Weird Loners" (Fox, 9:30 p.m.) in which four people with definite problems try to support one another one way or another in a pair of townhouses in Queens. The comedy is relatively low-key when it arrives. The cast includes Becki Newton, best known from "Ugly Betty," the irrepressible Nate Torrence from "Hello Ladies," Zachary Knighton of "Happy Endings" and newcomer Meera Rohit. Here's a story I wrote about Becki Newton for the Hartford Courant this week.
In a second new sitcom tonight, Sutton Foster stars as a middle aged woman who tries to pass as woman in her 20s in the workforce on the new "Younger" (TV Land, 10 p.m.). The comedy from Darren Star, the co-creator of "Sex and the City," benefits from the presence of Foster, the Broadway star who was also in ABC Family's "Buns." The romantic comedy has a strong supporting cast with Hilary Duff, Debi Mazar and Miriam Shor.
A slight variation on the Biblical miniseries proliferating this week, "The Dovekeepers" (CBS, 9 p.m.) — one of two coming rom Mark Burnett and Roma Downey, adapts Alice Hoffman's novel on the siege of Masada. Its big news is that it marks the comeback to the network of Cote de Pablo, who left "NCIS" abruptly in 2013. She stars as Shirah, but it's just as notable for Rachel Brosahan, from "House of Cards" and "Manhattan" as Yael. Sam Neil rounds out the cast. It concludes Wednesday.