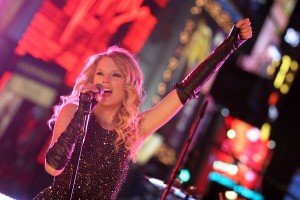 Dick Clark is among those who died this year, but he's very much alive on the last day of the year in two of the biggest shows celebrating the changing of the calendar.
First is "New Year's Rockin' Eve Celebrates Dick Clark" (ABC, 8 p.m.), bringing the celebrating to an earlier hour than ever before to honor the TV host, and then the actual countdown show that still bears his name, "Dick Clark's New Year's Rockin' Even with Ryan Seacrest 2013" (ABC, 10 p.m.) that features the "American Idol" host in full takeover mode with a roster of stars including Taylor Swift (pictured), Carly Rae Jepsen, Psy, Justin Bieber and Neon Trees at Times Square. Later, Fergie of the Black Eyed Peas hosts the West Coast segment with performances by Brandy, Karmin, Flo Rida, Pitbull and OneRepublic.
As always, there is competition for your clock-watching viewership. "NBC's New Year's Eve with Carson Daly" (NBC, 10 p.m.) features another popular host of a singing competition presiding from a different perch in Times Square with performances by Train and Cassadee Pope, the winner earlier this month of "The Voice."
"New Year's Eve Live" (Fox, 11 p.m.) is hosted by Marlon Wayans from Las Vegas (except for the ball drop). Its own recent singing show winner, Tate Stevens of "The X Factor" performs, as will Lifehouse, Carmen Electra and "American Idol" winner Phillip Phillips.
Snooki and JWoww of "Jersey Shore" host "MTV's Club NYE 2013" (MTV, 11 p.m.) along with comedian Jeff Dye, Ke$ha, Ne-Yo, Sean Kingston, Rita Ora and Conor Maynard. On the other music network, "New Year's Eve Dance Party" (Fuse, 9 p.m.) keys into hits and dance tracks of the year.
Even the news channels get into the act, with the comedian trying to crack up the newsman on "New Year's Eve Live with Anderson Cooper and Kathy Griffin" (CNN, 10 p.m.), while Megyn Kelly and Bill Hemmer trade tasteless jokes about Hillary Clinton's hospitalization on "All American New Year" (Fox News, 11 p.m.). Its performers include Pat Benatar, Sarah Brightman and the cast from "Million Dollar Quartet." What no Ted Nugent?
Bow Wow, Paigion, Shorty Da Prince and Miss Mykie all help host "106 & Party" (BET, 11 p.m.). At midnight, they all reveal their given names.
The year's videos are the key to that countdown as they are on "TeenNick Top 10 Best of 2012" (TeenNick, 8 p.m.).
The life and work of Marvin Hamlisch, who died in August, is celebrated "Live from Lincoln Center" (PBS, 8 p.m., check local listings) with guests Joshua Bell, Kelli O'Hara, Frederica von Stade, Megan Hilty, Josh Groban, Michael Feinstein, Raul Esparaza, Maria Freidman and host Audra McDonald.
Highlights from The iHeart Music Festival (The CW, 8 p.m.) featuring Taylor Swift, usher, Aerosmith, Bon Jovi, Pink, Green Day and Rihanna, gets a replay.
Leave it to Oliver Stone to be alone among just about all shows in not having a repeat or preemption. Instead, "Oliver Stone's Untold History of the United States" (Showtime, 8 p.m.) continues right into the Reagan era.
It's "New Year's Eve, Hoboken Style" on "Cake Boss: The Next Great Baker" (TLC, 9 p.m.).
A marathon of "The Walking Dead" (AMC, 9 p.m.) sounds like a bad way to ring in the new year.
There's a timely, though a tad late, replay of the movie "Austin & Jessie & Ally All Star New Year" (Disney, 11 p.m.) which is about a performance in Times Square on Dec. 31.
Turner Classic Movies celebrates New Year's Eve with movies that had their own New Year's Eve scenes: "After the Thin Man" (8 p.m.), "The Apartment" (10 p.m.), "Ocean's Eleven" (12:15 a.m.), "Made for Each Other" (2:30 a.m.) and "Til We Meet Again" (4:15 a.m.).
College football bowl games today are:  North Carolina State vs. Vanderbilt (ESPN, noon) in the Music City Bowl, USC vs. Georgia Tech (CBS, 2 p.m.) in the Sun Bowl, Iowa State vs. Tulsa (ESPN, 3:30 p.m.) in the Liberty Bowl and LSU vs. Clemson (ESPN, 7:30 p.m.) in the Chick-fil-A Bowl.
Men's hoops includes  Cincinnati at Pittsburgh (ESPN2, noon), Michigan State at Minnesota (ESPN2, 2 p.m.), Dartmouth at Boston College (ESPN3, 2 p.m.), Central Connecticut at Syracuse (ESPNU, 3 p.m.), Indiana at Iowa (ESPN2, 4 p.m.), Gonzaga at Oklahoma State (ESPN2, 6 p.m.), UNC Greensboro at North Carolina State (ESPNU, 5 p.m.), New Mexico at Saint Louis (CBS Sports, 7:30 p.m.), North Texas at Middle Tennessee (ESPNU, 8 p.m.) and Harvard at Saint Mary's (ESPN2, 8 p.m.).
Daytime Talk
The View: Paul Rudd, Ed Asner, Mario Cantone, Vanilla Ice, Tim Hasselbeck (rerun). Ellen DeGeneres: Alyson Hannigan (rerun).
Late Talk
David Letterman: Dustin Hoffman, One Direction (rerun). Jay Leno: Leslie Mann, Jim Rome, Garbage (rerun). Jimmy Fallon: Am Poehler, Alicia Keys (rerun). Craig Ferguson: Mila Kunis, Michael Clarke Duncan, Rashida Jones, David Sedaris, Ariel Tweto, the Imagineers (rerun). Carson Daly: Guilty Simpson, Sacha Gervasi, the Heavy (rerun). Tavis Smiley: Keanu Reeves (rerun). Conan O'Brien: Steven Ho, James Van Der Beek, the Walkmen (rerun). Chelsea Handler: Drew Barrymore, Dov Davidoff, April Richardson, Gary Valentine.