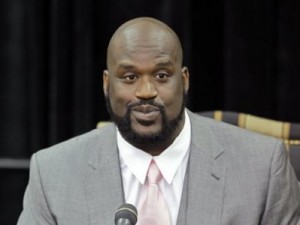 Television is having a tough time keeping up with YouTube when it comes to quick, fastmoving entertainment. So it's tried to co-op it any way it can, thorugh shows like "Tosh 2.0" (Comedy Central, 9:30 p.m.), "Ridiculousness" (MTV, 9 p.m.) and now "Upload with Shaquille O'Neal" (truTV, 10:30 p.m.).
The hulking giant, retired from the NBA will be looking for funny clips and present them with Godfrey and Gary Owen. How this fits in with truTV's former True Crime mission is not entirely clear. But it does come after three consecutive episodes of "Impractical Jokers" (truTV, 8, 8:30 and 9 p.m.).
Following Monday's "Inside Combat Rescue," here's another inside look at war in Afghanistan, this one concerning dogs, in a two-hour special "Glory Hounds" (Animal Planet, 8 p.m.).
Tonight's unplanned event is a one-hour "Parks and Recreation" (NBC, 8:30 p.m.) that likely includes the hastily-organized ed wedding of Leslie and Ben.
The live elimination of half the 10 guys performing tonight ought to provide some tension and retribution on "American Idol" (Fox, 8 p.m.).
"Community" (NBC, 8 p.m.) throws its big "Doctor Who" send up as the gang visits the annual Inspector Spacetime convention, InspecTiCon.
"Suits" (USA, 10 p.m.) reaches its second season finale.
"Zero Hour" (ABC, 8 p.m.) travels from the Arctic to India in tonight's episode.
Tuesday's "Frontline" (PBS, 9 p.m., check local listings) on the motivations of Adam Lanza and the gun control debate in Newtown, is rerun as is its companion piece, "After Newtown: Guns in America" (PBS, 10 p.m., check local listings).
The first of a two part "Shahs of Sunset" (Bravo, 9 p.m.) reunion show helps cap season two.
Contestants have to design a red carpet look for Miranda Lambert, who is also guest judge on "Project Runway" (Lifetime, 9 p.m.).
Sarah Shahi guest stars on "Person of Interest" (CBS, 9 p.m.).
The taxidermy competition on "Immortalized" (AMC, 10 p.m.) is no exactly what the TV wold needs right now.
Aubrey Plaza, Steven Weber and Kate Walsh join "Kathy" (Bravo, 10 p.m.), the Kathy Griffin talk show.
"Archer" (FX, 10 p.m.) is bitten by a snake.
"Big Rig Bounty Hunters" (History, 10 p.m.) rescue a disabled tractor.
Turner Classic Movies winds up the look at Paramount Pictures' contributions to the Oscars with "Double Indemnity" (8 p.m.), "A Place in the Sun" (10 p.m.), "Alfie" (12:15 a.m.), "Seven Days in May" (2:15 a.m.) and "The Perils of Pauline" (4:30 a.m.).
NBA action includes Heat at Bulls (TNT, 8 p.m.) and Spurs at Clippers (TNT, 10:30 p.m.).
Men's hoops includes Cincinnati at Connecticut (ESPN, 7 p.m.), Georgia at Arkansas (ESPN2, 7 p.m.), Drexel at Delaware (NBC Sports, 7 p.m.), LaSalle at Temple (CBS Sports, 7 p.m.), Duke at Virginia Tech (ESPN, 9 p.m.), California at Oregon (ESPN2 9 p.m.), Brigham Young at Saint Mary's (ESPN2, 11 p.m.) and Stanford at Oregon State (ESPNU, 11 p.m.).
Women's games include Gonzaga at Santa Clara (NBC Sports, 9 p.m.).
Daytime Talk
Kelly & Michael: Zach Braff, Ne-Yo. The View: Robin Roberts, Octavia Spencer, Mario Cantone. The Talk: Jenna Elfman, Drew Carey, Kristan Cunningham. Ellen DeGeneres: Russell Brand, Wolfgang Puck.
Late Talk
David Letterman: Imagine Dragons. Jay Leno: Arsenio Hall, Tristan Prettyman. Jimmy Kimmel: Kelly Ripa, Elon Musk, the Mowgli's. Jimmy Fallon: Stephen Colbert, Anthony Anderson, James Adomian. Craig Ferguson: Molly Shannon, Kunal Nayyar. Carson Daly: Mark Webber, ASAD, White Arrows. Tavis Smiley: Ben Harper with Charlie Musselwhite. Jon Stewart: Steven Brill. Stephen Colbert: Lil Buck. Conan O'Brien: Mila Kunis, Chris Hardwick, Family of the Year. Chelsea Handler: John Caparulo, Loni Love, Gary Valentine.