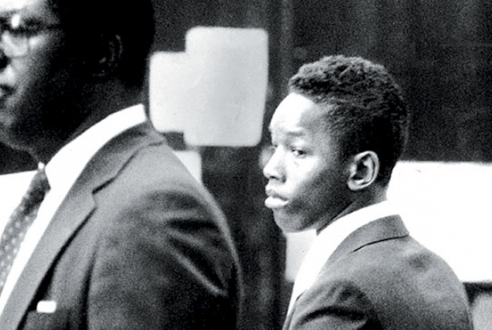 Twenty four years ago this Friday, a woman was raped, brutally beaten and left for dead in New York's Central Park. Five young men, mostly from the neighborhood were hauled in, interrogated for hours on end and became the face of the Central Park Five — a notorious gang whose actions were described in animalistic terms from "wolf pack" to "wilding," which police coined for the occasion.
In actually, the guys hardly knew each other. They weren't at the park. And after serving more than a dozen years in prison were exonerated after another person in jail admitted it and his DNA matched.
Sarah Burns, daughter of the famous filmmaker Ken Burns, was barely in first grade when it occurred.
"So I was totally unaware of this case at the time," she said, when I asked her about it at the TV Critics winter press tour earlier this year. "I had no sense of it at all. And I first learned about it in 2003. I was a college student and I was thinking about becoming a lawyer.
"I spent a summer working for a civil rights lawyer who was just getting involved in the case," Burns says. And a lot was suddenly happening. "The convictions had been vacated and they were working on getting ready to file the civil suit that is still ongoing. I was moved by the story but interested in it in sort of how it fit into this bigger picture."
She wrote about the case for her undergraduate thesis at Yale about this case, she says. "But I couldn't really let it go.
"There was so much more to the story than just this narrow part of it that I had studied. And so a couple years later, I decided rather than applying to law school that I would try to write this book and sort of figure out how to be a journalist and how to write a book and learn as much as I could about this story."
The subsequent volume, named the "Central Park Five," turned into a film on the case, completed with her father, creating a buzz at film festivals and art houses and making its TV debut tonight on PBS.
Tonally, it's quite different than the normal historical Ken Burns films. With its closeups on ticking clocks and the shocking facts of the case, it's more in the realm of an Erroll Morris "Thin Blue Line" school of contemporary documentary.
Plus its underlying sense of outrage flares up, for good reason.
"The outrage here is on many levels," Ken Burns said. "One is that there is a lot of black on black crime and rapes and assaults that took place that week that got almost no coverage. The fact that the police and prosecutors ignored such important exculpatory evidence about these guys, could not entertain another narrative. Once they decided that the five had done it, they plowed toward that. There was no DNA evidence. This is an incredibly bloody crime scene. There is nothing of the crime scene on the boys and nothing of the boys on the crime scene at the time. The DNA did not match and yet they had these confessions coerced, obviously by seasoned professionals, after hours and hours of wearing these guys down. And you can hear they just wanted to go home. That's the real outrage."
Most of the Five are also interviewed for the film. I asked one of the group, Raymond Santana, how the film changed his life.
"Since the film has come out, I've been to numerous film festivals and numerous screenings and the response has been tremendous," Santana said. "After each one of these screenings, you know, there are people upset and people crying and they want to come up and they just want to talk to us and they want to apologize. And overall the response has been very healing. It's been very therapeutic for the five of us."
"The Central Park Five," also co-produced by David McMahon, plays on PBS tonight at 9 p.m. (check local listings).