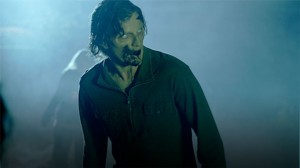 The last Saturday before Halloween brings the expected harvest of horror films.
Among them are a couple of originals. "Zombie Night" (Syfy, 9 p.m.), despite a cast that includes Shirley Jones, Anthony Michael Hall, Alan Ruck and Daryl Hannah, doesn't live up to "Walking Dead" expectations, or even last year's "Rise of the Zombies" (Syfy, 7 p.m.).
"The Good Witch's Destiny" (Hallmark, 9 p.m.) brings back for a sixth time Catherine Bell's character Cassie Nightingale.
A horror in its own way is "The Husband She Met Online" (Lifetime, 8 p.m.), a new film about internet dating gone wrong.
Other scary fare tonight includes "The Bride of Frankenstein" (TCM, 8 p.m.), "The Amityville Horror" (AMC, 8 p.m.), "Addams Family Values" (ABC Family, 8 p.m.), "Scary Movie" (Bravo, 8 and 10 p.m.), "The Evil Dead" (Starz, 7:30 p.m.), "Hostel" (IFC, 8 p.m.) and "Hostel Part II" (IFC, 10 p.m.), "Halloween" (Spike, 9 p.m.), the 1935 "The Mummy" (TCM, 9:30 p.m.), "Hocus Pocus" (ABC Family, 10 p.m.), "The Omen" (AMC, 10 p.m.), "Cat People" (11 p.m.), "White Zombie" (12:30 a.m.), "Psychomania" (2 a.m.) and "The Devil's Own" (3:30 a.m.).
The ambitious adaptation of "Cloud Atlas" (HBO, 8 p.m.), with Tom Hanks, Halle Berry, Jim Broadbent, Keith David and Susan Sarandon, makes its premium cable debut. Also running: "The Bourne Legacy" (Cinemax, 10 p.m.), "The Hurt Locker" (Sundance, 8 p.m.), "Cast Away" (FX Movie Channel, 8 p.m.) and "Goodfellas" (Encore, 9:40 p.m.).
Game 3 of the World Series has Boston at St. Louis (Fox, 7:30 p.m.) and the series tied 1-1. It plays opposite the featured prime time network college football game, Penn State at Ohio State (ABC, 8 p.m.).
Other college football games tonight include UCLA at Oregon (ESPN, 7 p.m.), South Carolina at Missouri (ESPN2, 7 p.m.), Baylor at Kansas (ESPNU, 7 p.m.), Texas at TCU (Fox Sports 1, 7:30 p.m.), Stanford at Oregon State (ESPN, 10:30 p.m.), Fresno State at San Diego State (ESPN2, 10:30 p.m.) and California at Washington (Fox Sports 1, 11 p.m.).
"48 Hours" (CBS, 10 p.m.) looks at the case of a teenager from Wayland, Mass., murdered by her ex-boyfriend after she broke up with him.
Good weekend for Vampire Weekend to play a new "Austin City Limits" (PBS, 9 p.m.) with Grizzly Bear.
Edward Norton hosts a new "Saturday Night Live" (NBC, 11:30 p.m.) with Janelle Monae.